Surprise, surprise. The Edmonton Oilers are in the midst of yet another losing season.
What the Oilers have done over the past few seasons is the definition of insanity: icing relatively the same team year in and year out and expecting different results.
At this point, it would be an understatement to say that the current Oilers roster is simply not capable of playing a successful and sustainable brand of NHL hockey. Despite what management and fans would like to think, the Edmonton Oilers still possess massive holes in their lineup, despite the trades and free agent signings of this past off-season.
Given the consistently stagnant play of the Oilers, now is as good a time as any to make major changes to instill successful play in Edmonton.
Trading Eberle Makes Sense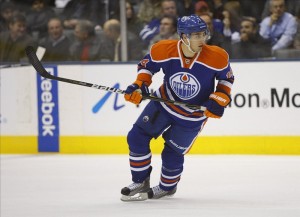 The Oilers are known for their wealth of young, star players with overwhelming skill. Yet too much of a good thing is not necessarily a benefit, as the youth laden roster of the Oilers is largely inexperienced and cannot be expected to successfully lead an NHL team through a rigorous 82 game season.
Enter Jordan Eberle, the most realistic option of the young Oilers forwards who should be moved.
Eberle, at the age of 24, is currently in the middle of a six year contract which pays him six million dollars per season, a contract of great value given his skills and production. What makes Eberle expendable is the fact that he is a right winger. Although Taylor Hall is also a winger, he is by far the teams best player and is therefore an untouchable.
Some may argue that Nail Yakupov, a winger, should be traded first, which is a realistic thought, yet his struggles over the past two seasons have degraded his trade value to the point where the Oilers can not get an adequate return. Ryan Nugent-Hopkins is another young, skilled and valuable player, yet on an Oilers team whose second line center is only 19 years old, Edmonton is in no position to trade a centre man.
All in all, Eberle is the odd man out. He is the only young Oilers player who can be dealt where the Oilers receive valuable players in return. Further, his spot in the lineup can be filled by players such as Yakupov, Teddy Purcell, Benoit Pouliot or David Perron.
Determining Eberle's Trade Value
Often times, especially with a team as poor as the Oilers, it can be difficult to quantify a players potential value in a trade. In order to evaluate Eberle's potential value in a trade, it is helpful to compare his production with players similar to him
                     Age           Career PPG
Hall                      23                      0.91
Tavares                24                      0.9
Eberle           24               0.8
Couture                25                     0.74
Landeskog           21                     0.65
O'Reilly                23                     0.55
Johansen             22                     0.55
By simply comparing Eberle's career points per game, it is clear that Jordan is amongst the best young players in the NHL today. As a result, Eberle's trade value is extremely high. Players in the NHL who are this age and produce as well as they do offensively are highly coveted and sought after players. All of those listed are without a doubt great players, yet those at the top of the list are potential game changers whose presence on a given team creates instant excitement, and most often, positive results.
As a result, Eberle's availability would bring significant league interest, as would the availability of a similar player such as Logan Couture or Gabriel Landeskog. It would be a fairly accurate approximation to expect a player like Eberle to draw huge value in return, most likely an established roster player, a first round pick or a promising prospect coming to Edmonton.
What are the Oilers Major Needs?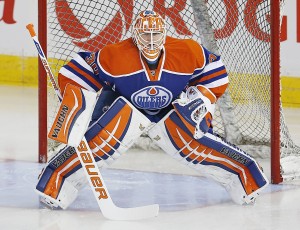 Goaltending and Defense, its a simple as that. Could trading Jordan Eberle garner help in those areas in return? Absolutely.
Let's face it, the tandem of Ben Scrivens and Victor Fasth in net is simply not a sustainable model for a winning team. Both career backups, neither has the skill or experience to provide the stability the Oilers need in the crease.
This issue goes hand in hand with issues on the blue line. Acquiring Mark Fayne and Nikita Nikitin was a good start, but neither of which are a top two defenseman in the NHL. The Oilers need to strengthen both their goaltending, as well as their defense if they hope to become a successful NHL team.
Attractive Pieces
Goalies:
Frederick Anderson (Anaheim Ducks) Anderson would be a great fit with the Oilers. The Ducks have future star goaltender John Gibson ready and waiting to take his rightful place as the starter, while Anderson is simply too good to be a career back up. Anaheim would love to have such a skilled player in Eberle to help them compete with the big boys of the West.
Jake Allen (St. Louis Blues) Allen is off to a great start in his rookie season, yet may still be available. Allen projects to be a franchise goaltender, yet the Oilers would likely need to give up Eberle and a second asset in order to nab Allen.
Petr Mrazek (Detroit Red Wings) Mrazek is another goalie whose excellence is being held up by a depth chart. With Jimmy Howard and Jonas Gustavsson mending the net, it is unlikely that Mrazek will be able to reach his huge potential given is currently restricted playing time.
Defensemen:
Jake Gardiner (Toronto Maple Leafs) Gardiner has huge potential and projects to be a top two NHL defenseman. His development has been slowed largely by coach Randy Carlyle, yet Jake's career could still be extremely successful if he is given a fresh start in Edmonton.
Brent Seabrook (Chicago Blackhawks) In the second last year of his current contract and with the Blackhawks in a cap crunch, it is highly unlikely that Chicago will be unable to re-sign the former Olympian. Why not pick him up? A proven top two defender who has had consistent success in the NHL at both ends of the rink, Seabrook would be a significant upgrade to the Oilers back-end.
Roman Josi (Nashville Predators) Known for their defensive strength, the offensively challenged Predators would likely be willing to move one of their top defenseman in return for a young player with high end talent. Based on early returns from Filip Forsberg, the Predators could be willing to take on another skilled youngster with room to grow.
Obviously the acquisition of all of these players is strictly speculative, yet it gives one the idea of what Jordan Eberle could be worth in a trade situation.
Time will tell what the Oilers decide to do in order to improve their team, yet, trading Jordan Eberle, however painful, would be a step in the right direction. Although his skill will be tough to replace in the lineup, in the end it can be, while those returning in the trade (depending on the players) will have the ability to significantly improve the Edmonton Oilers over the long term.