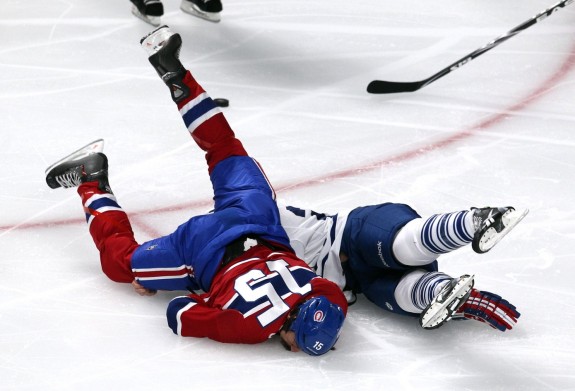 Last night the 2014-2015 NHL season opened and we were graced with hockey's presence for the first time in 116 days – or since Friday the 13th (no, preseason doesn't count in my book, and yes – I do think it's weird that there was a "Blood Moon" for the opener). Although it was inevitable that excitement would be in abundance, there was one familiar component missing from the lineup. Where are those fighters, the enforcers, those players best known as goons? Not so long ago the role of the enforcer was celebrated – even spotlighted in Jay Baruchel's movie, Goon. So why the sudden disappearance of hockey's physical appeal that it's brought for so many years?
A New Approach
This summer the league decided to take a new approach to winning games. Teams like the Oilers, Leafs, and Devils all hired notable statistics bloggers during the off season. Fighters getting cut from team rosters and advanced stats taking the reins may be the biggest weapon the game has seen to eliminate fighting so far.
The #Oilers have hired Tyler Dellow (@mc79hockey) to consult with Hockey Operations.

— Edmonton Oilers (@EdmontonOilers) August 5, 2014
Some of the prominent statistics analysts hired include: Tyler Dellow (Edmonton Oilers), Darryl Metcalf and Cam Charron (Toronto Maple Leafs), and Sunny Mehta (New Jersey Devils). Even Hockey Canada has jumped on the wagon with their recent hiring of Misha Donskov who will be the Manager of Hockey Operations, Analytics and Video this year.
Extinction versus Endangered Species
That's not to say that fighting will be completely eliminated (we saw some fighting last night between the Flyers and Bruins, after all).  When tensions are high and games are emotionally fueled fighting is still likely to exist, however not solely for intimidation purposes.  The fighters also won't be your standard specialist enforcers; fighting will come from talented players playing harder who are notable when it comes to tallying points, rather than the specialist fighters known for their fists. So who's been cut? Some noticeable losses to the enforcer role come from the Leafs, who cut Colton Orr, Frazer McLaren, and Korbinian Holzer; the Bruins, who parted ways with Shawn Thornton; the Blackhawks who decided to trade Brandon Bollig this summer; as well as the Coyotes (and I suppose the Blues) who released forever twitter famous Paul Bissonnette.
If the Leafs cut both Colton Orr and Frazer McLaren, then you know this team is actually moving into the future.

— Bruce Arthur (@bruce_arthur) October 6, 2014
Support for the Enforcers
While most teams seem to be moving away from the enforcer role, it may come as no surprise that Brian Burke, who now sits in the Calgary Fames' front office, has a team that continues to hold onto their so-called goons. It appears that Burke loves them.
The argument could be made that younger teams can find benefit from the enforcer role. Having an enforcer can provide confidence for the younger guys, who veterans will typically push around or attempt to intimidate – I'm looking at you Mike Rupp (recall when Rupp called Jody Shelly irrelevant when Shelly stuck up for his young teammate as the Flyers and Rangers faced off in 24/7). The idea is that having a tough guy on the ice will make those veterans less likely to pick on the young guns, helping the future of the sport develop without risk of elevated violence. Enforcers have long been respected for their work ethic. Their efforts may not always translate to the boxscore, but their on-ice efforts can shift momentum in critical games, allowing them to be priceless assets to their team. Who sets a better example at having to work hard and sacrifice their bodies for a paycheck more than the 4th line enforcer?  Calgary has notables such as Brandon Bollig, Brian McGrattan, and Deryk Engelland which leaves them pretty stacked when it comes to the enforcer role.
Safety Concerns
What may also be contributing to the decline of the enforcer role are the concussion lawsuits which have finally made their way to the NHL, years after first appearing in the NFL. After the deaths of enforcers such as Derek Boogaard, Rick Rypien, and Wade Belak in recent years, there has been more attention to the injuries sustained by the enforcers and the mental health outcomes that follow. The dangers of concussions and head injuries are an obvious concern for enforcers, as they are more likely to sustain hits to the head due to their fighting role. Since the NHL is trying to keep players as safe as possible in a fast paced sport, it makes sense that with further medical revelations, more will be done to decrease the chance of concussions and other head traumas.
With the rising interest in advanced statistics and the added worry over the long term effects of head shots, it will be interesting to see how the season pans out with a seemingly dying breed of enforcers. Who knows, maybe the Flames will have their day and show everyone the power of the enforcer (Broad Street Bullies 2015?  Red Mile Maniacs?). On the other hand, maybe it's time for the nerds to rule and for the Flames' Northern Albertan arch-rival Oilers to take on a title with their young/behind the bench brainy franchise.
Marinna is a Chicago-land native who was introduced to hockey in the form of an Aztec Keith Tkachuk jersey. Currently living in Illinois, she recently earned her Masters degree in Professional Counseling from Philadelphia's La Salle University. You are likely to catch her wearing memorabilia from various teams because she can't pick just one. A former Wildcat at Northern Michigan University, she is an avid member of the fitness group November Project, a fan to all levels of hockey, and she hopes to bring a fresh perspective to the game. Follow her on Twitter @marinnamil.