Paid Post
By Kent Tukeli from canadasportsbetting.ca
Fantasy NHL hockey pools are an annual, joyous tradition that's all about destroying the hopes and dreams of your frenemies. As a beginner's guide to this competitive pursuit, the advice published within consists of information that your "buddies" keep from you to maintain an edge. Websites such as canadasportsbetting.ca provide solid information about NHL odds and trends, but you could probably brush up on the basics to apply your knowledge well in competitive fantasy situations.
The following preparation, drafting and team maintenance advice protects you from common mistakes and opportunistic vets, helping you enjoy the entire fantasy season instead of bowing out of contention before the All-Star break.
Preparing For Fantasy NHL Drafts
Reading up on a variety of trustworthy sources will prepare you for the entire fantasy year, so spend some time catching up on the latest news from each NHL team. Get an idea of where they're projected to land in the standings and zero in on key contributors. Don't be the poolie who drafts Martin St. Louis because you believe he's due for a bounce-back year.
ProTip #1 – Retired NHLers do not collect stats in pools
You'll want to learn the rules of the fantasy pool that you join. This way, you'll avoid catastrophes such as "forgetting" to draft defensemen for your team. Your league should have a page that lets you look over the info for yourself. Standard details include number of players and positions drafted, stats counted, trade limits and deadlines, move limits, games allowed and injured reserve policy. Another significant detail involves whether the pool will be run as a rotisserie or a head-to-head competition.
Rotisserie Pools Vs. Head-to-Head Pools – Know The Difference
The most popular types of pools tend to be either head-to-head or rotisserie leagues. Head-to-head pools often pit one poolie against another to see which one earns the best stat line each week, resulting in a win, loss or tie in each category after the week has finished. You'll compete against a different member of the pool every week, and the poolie with the best record becomes the eternal champion, until next year.
ProTip #2 – Rotisserie pool doesn't refer to grease collecting beneath slow-roasted meat
Rotisserie pools involve cumulative stats gathered throughout the season. For each stat category, you earn points according to your position in that stat. In a 10-person rotisserie pool, if you're first in goals you'll receive ten points, but if you're third in assists, you'll receive eight points. The poolie that wins the crown in this type of competition is the one who earns the highest point total across all categories throughout the year.
Regardless of the type of pool you enter, you'll be targeting the best possible players for your draft. Performing basic research on NHL teams, important players and pool rules will help you defeat that one guy who always drafts nothing but Leafs on an annual basis. Losing to that guy in your fantasy hockey pool will be remembered by friends and family at least once a year for the rest of your life.
Fantasy NHL Draft Day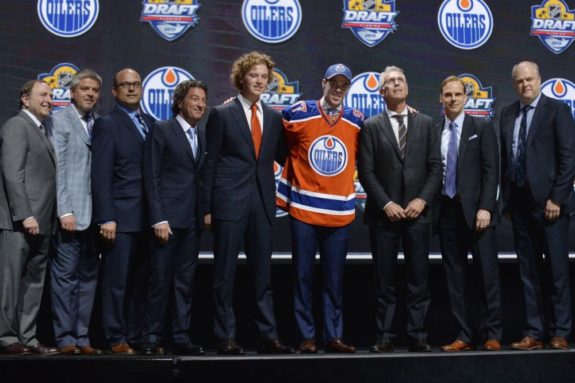 Assembling Your Starting Squad
Other than winning, draft day is the most enjoyable part of the NHL fantasy hockey experience, akin to Christmas. As an official fantasy GM, you select gifts for your team that will sustain you throughout the rest of the hockey season. Aim to assemble your team more like Stan Bowman than Mike Milbury, otherwise you'll doom your squad to a fate worse than Yashin. Begin the draft by creating a nifty team name, such as the Body Czechs, except more clever and threatening.
ProTip #3 – Don't Borrow Draft Notes From Friends… Unless You're Cheating
If you're drafting with friends in a pub, you'll want to tip the service and bring your own stats and notes with you. Digital or analog notes work equally well. In-person drafts allow you to annoy fellow draft participants through bluster and verbal emasculation, similar to Esa Tikkanen back in the day. Nothing distracts vets and hockey curmudgeons worse than a rookie poolie running their mouth.
On the other hand, online drafting allows you to quickly Google stats and opinions. Before drafting, check to see if the system that facilitates your draft provides detailed stats. Some of the most popular online draft systems have stats and hints baked in, helping guide you during the crucial draft night.
A Bad Draft Ruins Everything – A Good Draft Doesn't Guarantee Success
You can draft the best player remaining for each position throughout the draft and still lose your pool due to injuries. This is the harsh reality of fantasy hockey. More cruel is the certainty that drafting badly will ruin your team from day one. Avoiding season-long irrelevance is the best you can do when drafting your fantasy team, so don't panic. Draft with a towel present to deal with extraneous fluids.
Since the most valuable fantasy NHL players disappear first off the list, mistakes at the beginning of the draft cost more than errors in the later rounds. Picking Jason Spezza instead of Tyler Seguin for your first-rounder will submarine your team at the knees. Reserve risks for later rounds, where the potential of Bryan Little becomes bigger and more exciting.
ProTip #4 – Anger Your Friends By Drafting According To Scarcity
While drafting, it's also important to remember that certain positions are more valuable than others for the pool. Erik Karlsson's appeal as a fantasy asset revolves around his offensive production at a defensive position. Solid left wingers tend to be slightly less numerous than good fantasy right wingers, while the centre position tends to be the deepest of all positions. Put simply, a 40-point defenceman is worth more than a 50-point centre, because 50-point centres are as common as athlete's foot in the NHL. Maximize the production of each position as much as possible.
Grabbing a rock-solid goalie on a strong team also tends to be a good idea in the early rounds, especially if you drafted a top-five offensive player in the first round. Keep track of the positions that you've picked to prevent your team from becoming lopsided in pools which are position dependent. For both rotisserie and head-to-head pools, you'll want to make sure that you draft a group of players that help you compete in all stat categories. Nabbing scarce resources at the right time, such as 50-point defencemen, can create a run on a position. This infuriates GMs who wanted to wait until the next round to pick a defenceman.
ProTip #5 – NHLers who are bad at hockey might be good for your hockey pool
In mid-to-late rounds, you might want to consider choosing a 'specialist'. For example, if your league rewards penalty minutes, feel free to choose a player who exists solely to punch the other team into submission. Enforcers may not contribute to the score sheet, but they can single-handedly win you points in pools with penalty minutes. Power play specialists are worth taking a risk on if coaches puts them in situations that don't ruin your plus-minus numbers.
One aspect of drafting that can grind the psyche of a new fantasy player into the dirt is the unpleasant sensation of having your next pick stolen from under your nose. Preparing two or three solid picks before your turn comes up ensures that you're not scrambling to find a last-minute solution as your friends yell impatient obscenities.
NHL Fantasy Team Maintenance
Leading Your Squad To Victory
The sense of well-being you feel for clutching out a solid draft will quickly subside once the puck drops. Throughout the NHL season, you'll need to track your team's progress and respond strategically to developments in your pool. For the most part, this involves setting your lineups before the game to make sure your best players collect stats. Sometimes, the best move will be to bench a player who's up against a hot team. When your goaltenders face powerhouse offensive teams, have confidence in your bench.
ProTip #6: Using 47 out of 50 moves in your first month will ruin you. Stop.
Rotisserie and head-to-head pools often have move limits to combat that one guy who thinks he'll win by turning over half his roster every week. Tinkering with your fantasy lineup will be a constant desire that you must resist. Using your allotted moves wisely will ensure that you're not stuck with injuries or players in a slump for the last half of the fantasy pool season. In addition to an overall limit, head-to-head pools often have a weekly move limit that prevents you from dumping a third of your team to take advantage of a busy schedule.
Rotisserie Vs. Head-to-Head Play
The bench exists for a reason. In rotisserie pools, the number of man-games you're allowed to play is limited, which means that you want to focus on playing the hottest and most consistent players whenever possible. Bench cold players and bad matchups to maximize overall production. Using all your games allowed with 20% of the regular season remaining will guarantee a last place finish, and the rightful scorn of your contemporaries.
In head-to-head play, you want to play as many games as possible to maximize stats for the week, instead of focusing on 82 games as a whole. NHL schedules vary from team-to-team, and there will be some weeks in which your player only has two games. To boost your chances of winning as many week-to-week battles as possible, keep an eye out for players and teams with a busy schedule. However, never drop top players because of a slow schedule. This buffoonery is strong enough to screw up the entire pool, and some online NHL fantasy systems will literally refuse to let you make this mistake.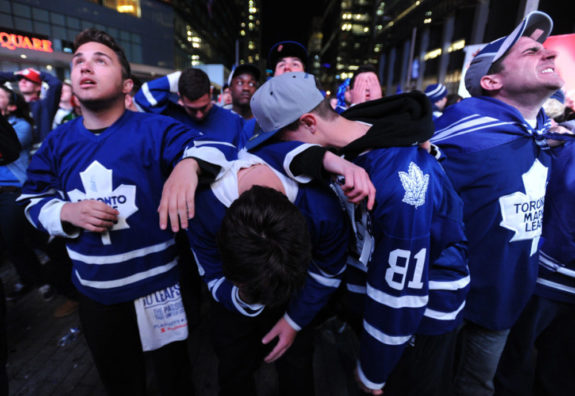 ProTip #7: Stop feeling emotions when possible – they make you lose
Swapping players in frustration will eventually lead to dropping a great player who's on the verge of breaking out big, enriching your enemy. Patience is a virtue at the beginning of the season, when solid players occasionally take time to rev their engines to mid-season form. If a good player or a team appears to be headed for an unexpected slump, trading him to your enemy potentially poisons their team while improving your own squad. It's not easy, but if you can get decent value from another GM in a trade, it's often better than swapping the player you don't want with a player on the waiver wire.
A single, crucial caveat to remember: every year, breakout NHL fantasy stars flare into existence as another fades into obscurity. These valuable players typically remain undrafted at the beginning of the season, which means you can pick them up for free as they ascend. If you can snag one of these assets early on, you'll make the rest of the pool feel inadequate, earning the right to razz vets who missed the opportunity.
Don't Hesitate To Upgrade Your Roster Through Smart Trades
Most pools will allow you to trade with other fantasy NHL GMs, giving you a chance to update both rosters in a mutually beneficial fashion. Of course, as a pool noob, seasoned GMs have already marked you as a potential victim in a lopsided trade. After a few weeks, expect a predator to offer you Zach Parise and Ryan Callahan for Alex Ovechkin. The numbers might work out, but the GM who receives the best player tends to win the trade in the long run.
ProTip #8: Never trust a smiling and salivating GM when making a trade
One of the dirty secrets behind fantasy hockey pools is the fact that a single lopsided trade can significantly increase your chance of winning. The best way to achieve this coup revolves around leveraging hot streaks to your advantage. A steady contributor on an opposing squad, off to a slow start, might be easier to let go if the player you're offering is on a 12-game point streak. There's little chance that the streaky player will continue the pace, while the steady contributor will likely break out soon, progressing to his mean. Use your enemy's emotions against them.
At some point, every fan of fantasy hockey started out as a newbie, so focus on enjoying the game more than anything else. As you become more familiar and gain experience, you'll notice that everybody has their own style and opinions about how to draft and manage and NHL fantasy teams. With a bit of luck and thoughtfulness, you can surprise experienced poolies with your smarts instead of asking them who to pick next.
Source: http://www.canadasportsbetting.ca/fantasy-sports-betting/