In the summer of 2011, the Los Angeles Kings were going places. A franchise that had spent a decade in darkness had finally figured out how to master the rebuilding process. They pushed two quality hockey teams to the max in the playoffs (the Canucks in 2010 and the Sharks in 2011). The Kings were close, and they knew it. But they were not there yet.
Something was missing. Across every major sport the same unfortunate tale is unfolds: a team full of rising potential never completely realizes it. A championship window with no end in sight abruptly shuts without glory. L.A.'s roster was loaded with young talent, from a budding Slovenian center named Anze Kopitar, to a highly touted 21-year-old defenseman by the name of Drew Doughty. With Jonathan Quick shutting teams down in goal and Dustin Brown serving as an exemplary captain, the Kings had youth and skill at every position. What they didn't have was a veteran presence, somebody with experience shining in big games, and somebody who could out-perform their role in the most physically taxing postseason there is. That's when the Kings brokered a deal with the Philadelphia Flyers to acquire forward Mike Richards, a deal which changed the course of their franchise's history.
Mike Richards had an interesting ride in the city of brotherly love. In 2005 he skated onto the scene at the age of 20, scoring a goal in his first game. After an injury-riddled 2006-07 season, Richards spearheaded the Flyers run to the 2008 Conference Final with 14 points in 17 games. As the team's captain he was a driving force on a squad that made the Stanley Cup Final as a No. 7 seed, before losing to the Chicago Blackhawks in six scintillating games. For a brief moment in time, Mike Richards was the embodiment of hockey in Philadelphia.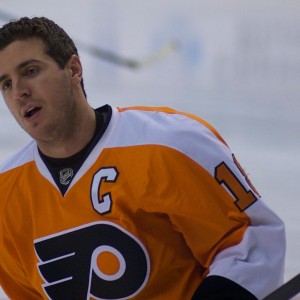 Seems like Richards was destined to be a Flyer for life, right? Well despite his glowing reviews on the ice, the Flyers captain was making quite a name for himself off of it. First he went to war with the Philadelphia media, and you don't have to ask Donovan McNabb or Eric Lindros how that will unfold. Richards went periods of time without speaking publicly, as reports of his off-ice party habits grew louder. I'm not going to speculate on what exactly happened, but one thing was certain: Philadelphia Flyers brass was not thrilled with the commitment of their captain. In 2011 the Flyers were swept out of the playoffs by the Boston Bruins, and serious issues about the direction of their team came to the forefront. Richards was at the center of discussions, as the club debated on if or even how a deal that shipped their captain out-of-town would be fathomable.
Enter the Kings, who had the one bargaining chip that makes every franchise interested in trading. L.A. had a surplus of young talent, and players that were immediately NHL ready. The deal that was eventually finalized, Mike Richards and a prospect for forwards Wayne Simmonds, Brayden Schenn, and a second round draft pick in 2012, sent shock waves throughout the entire league. The Kings were willing to sell two rising stars under the age of 25 for a proven big-game player with a scorer's touch and a commitment to defense. Both teams knew the stakes, and both knew the short and long-term successes of their counterpart would weigh greatly on the final review given to this trade. The Kings had to win championships in the near future, and the Flyers had to set themselves up as contenders for the next decade.
Unfortunately the NHL doesn't work that way. One tantalizing deal might push a squad over the championship cusp, and contrarily a disastrous personnel decision could be crippling to franchise success. But how often does one roster shakeup truly define an organization? Look no further than the L.A. Kings for your answer. Richards never reached his goal plateau again (his 18 goals in 2011-12 was his highest total in L.A.), but it really didn't matter. The Kings hired a defensive guru in Darryl Sutter as head coach, and proceeded to stifle teams for 60 minutes a night with his conservative approach to the game. What Richards lacked in offensive production was made up in his increased defensive-zone effectiveness, evidence that Richards had bought into being a two-way player for the good of the Kings.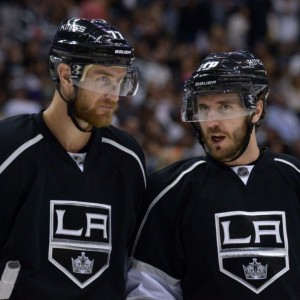 Then at the 2012 trade deadline, the team acquired disgruntled, somewhat injured, natural goal scorer Jeff Carter from the Columbus Blue Jackets in exchange for defensive stalwart Jack Johnson. Carter and Richards were legends in Philadelphia for better or worse, and Carter seemed thrilled to be playing alongside his buddy again. In 2014 the Kings returned to their personnel ATM bank in Columbus and acquired another goal scorer in Marian Gaborik. Both seasons resulted in Stanley Cup trophies, in large part due to those major acquisitions. But it cannot be understated how much Mike Richards meant to those championship teams, as well as the one that came up just short in 2013 (losing to the Blackhawks in the Western Conference Final). He never backed down from anyone, was on top of every assignment in his own zone, and always showed up on the score-sheet when it mattered. In each of Richards' three playoff runs with the Kings, he hit double digits in points. The man was a gamer, and without him the Kings would be ring-less.
Yet as is the curious case of Mike Richards' career, there is more than what meets the eye. The Kings sacrificed two core members of their future for a player they thought would retire in L.A. He lasted four seasons, and I'm being generous on number four. There was a noticeable drop-off in Richards' performance during the 2013-14 campaign, leading many to wonder if this was another classic example of a player in early decline, or something much worse. Rumors ran rampant about his commitment to hockey again, and not coincidentally the Kings needed more goals than he was capable of giving them (funny how that works hand-in-hand). But Richards dusted himself off the canvas for another quality postseason run, highlighted by a 6-2 whooping of their cross-town rivals the Anaheim Ducks in the deciding game of their 2nd round series. Richards set the town early in Game 7 with a goal and an assist, and was all over Anaheim's best players until the final whistle. That was the Mike Richards the hockey world knew, and the one Kings fans had grown to love and appreciate.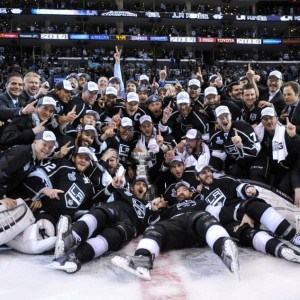 But it wasn't the Mike Richards they could expect. The 2014 off-season brought up the same questions as before with the embattled player, and Kings General Manager Dean Lombardi had a difficult decision to make. The franchise was on the hook for the second half of Richards' mammoth 12-year deal he had signed with the Flyers for a staggering $69 million. Lombardi could have given Richards a compliance buyout that summer (paying him 2/3rd of his remaining contract) and avoided a massive cap hit for the organization, but he chose not to do so. The GM believed Richards would improve his approach to the game, and revitalize a career that had been sputtering save for a few brief shining moments. Sadly but not unexpectedly, Richards looked worse than ever before in the 2014-15 season. He scored just five goals in 53 games, was a minus 10 on the season, and was even sent down to the AHL by a team running out of options with him. Lombardi openly admits that he felt lied to, and that Richards never intended to make the necessary changes in order to achieve success again. The team was looking for any way out on his contract, and they found one when he was stopped at the U.S./Canadian border with illegal substances this past summer.
I'm not going to pass judgment on the Kings decision to buyout the contract, the manner in which they did so financially, or Mike Richards as a person who may or may not be in need of some serious help. I can't blame Lombardi for believing what Richards allegedly told him in the summer of 2014 either. This was a key part in the golden era of Kings hockey, one that the GM knew was capable of playing the style of hockey needed to reach the hockey mountain top. But the book was out on Mike Richards by then, and L.A. knew exactly what it was getting. Franchises like the New England Patriots and San Antonio Spurs have achieved sustained success because they are willing to make the correct personnel moves even if they have emotional implications. Richards would have been better suited to get a fresh start elsewhere, where he could start at the ground-floor in the process of regaining his effectiveness.
In the academic world in which we live, I don't know who you could give the Richards deal any lower than a C, or any higher than a B. Kopitar, Carter, and Gaborik had more time and space to operate, and Quick had fewer defensive-zone breakdowns as a result of his presence. The team always had an additional scoring option in crunch time, and Sutter got exactly what he wanted out of Richards in two marathon climbs to the Cup. He also had a sizable leadership role among his teammates, serving as the glue that held the group together in dark times like George Harrison or Paulie Walnuts. I'm a huge fan of Wayne Simmonds' game as a skillful power forward, but he wasn't the player he is now in 2011. Brayden Schenn continues to enhance his game, but he had no NHL experience at the time of the trade. Richards gave the Kings a clearer identity, one which propelled their decision to acquire those elite goal scorers at those trade deadlines. To be frank, there would be no victory parades without #10.
But there's no way anyone thought Richards would have such a short shelf life. Four seasons is a hardly a footnote in NHL years, and the price the Kings paid both financially and in players given up was way too much for such a short tenure. I know Stanley Cups are always the end goal, and any fan, player, or executive would sacrifice basically everything to win one. Sports organizations though are businesses first and foremost, and the most important objective will always be to create a winning culture and brand that stands the test of time. The Kings have won titles, but their culture is in danger of fading away in light of recent events. Slava Voynov is back in Russia after a heinous domestic violence incident, Jarret Stoll was not re-signed after an arrest in Las Vegas, and then the Mike Richards fiasco occurred. How do these events affect L.A. Kings staff members, their fan-base, and most importantly, their locker room? Most of the championship roster is still intact, and players that they went to battle with have been shunned both locally and publicly. This has certainly taken a toll on the Kings.
I don't know if this is the end of Mike Richards as a hockey player, but I know it doesn't have to be. He's still only 30 years old, and has a skill-set that should not deteriorate with age as much as more speed-driven players. Richards needs to get in shape, and he needs to take care of his demons. It's impossible to walk a day in the shoes of someone else, and if the recent events in the hockey and athletic communities have taught us anything it's that sports are such a small component of a person's well-being. If Richards walks away from the game and lives a healthy life, who's to say he's wrong? I would commend him as much as any person who puts health and family first. In that same regard, if he re-examines his work ethic, and falls in love again with the same game of hockey that took a small town boy from Kenora, Ontario, to NHL glory, he will succeed. Because that's what a passionate Mike Richards does.
Just a hockey loving American. I grew up in Cleveland, Ohio, and attended Saint Louis University where I skated for the Billikens. From 2013-14 I covered the St. Louis Blues for ESPN Radio St. Louis. I currently work in sports video production in Los Angeles, and will always show solidarity for stay-at-home defenseman.