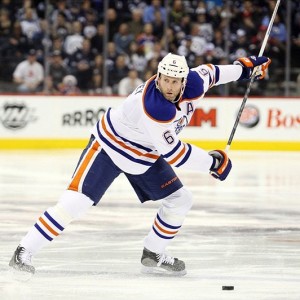 When he was drafted fifth overall by the Pittsburgh Penguins in 2002, big things were expected from defenseman Ryan Whitney. Whitney was billed as a offensive-minded blueliner who could log a ton of minutes and use his size to his advantage against the opposing teams top players. His first few years in the NHL were successful, scoring a career high in goals, assists and points in 2006-07 (14-45-59). But his point totals have steadily declined since then. Whitney was traded by the Penguins to the Anaheim Ducks in 2009, and then traded to the Edmonton Oilers in 2010.
Whitney is slated to become an unrestricted free agent this summer, and his future with the Oilers looks murky. The Oilers priority should be to sign fellow UFA blueliner Ladislav Smid, but neither have had any contract talks as of yet. The Oilers have some very solid defensive prospects in their system. Oscar Klefbom, David Musil, Martin Marincin and Taylor Fedun are all poised to have a future on the Oilers blueline. Recently acquired Marc Fistric also needs a contract this summer, and young players such as Justin Schultz and Jeff Petry will continue to have bigger roles on this team. So where does that leave Whitney?
For the first time in his pro career, Ryan Whitney was a healthy scratch against the Vancouver Canucks. He has had some injury issues with his foot over the course of his career, but the foot was not the reason he didn't play. And the decision didn't set well with the ultra-competitive d-man.
"It's really frustrating but he's the coach. Obviously I have to play at a higher level. I can play better, for sure, and I will do it. I've never been scratched, first time for me. He told me I'm not playing well enough…obviously I'm not happy with the decision but I respect it." – Ryan Whitney (Edmonton Journal)
Ralph Krueger"My message to him was that he has some things to work on.My job is not a popular one" on taking Ryan Whitney out of the lineup

— Gene Principe (@GenePrincipe) February 4, 2013
When a team is winning, coaches are usually weary about changing the line-up. But a loss against the Canucks on Monday provided the perfect opportunity for Whitney to get back in against the Dallas Stars. His play early in the game was shaky, causing his critics to jump into action. Whitney seems to be struggling with the speed of the game, and is making bad decisions in his own zone, but he has the skill-set to be a valuable player in this league in the right situation.
Ryan Whitney is a proud guy. He's also happy being a member of the Edmonton Oilers. But he needs to show management that he can be part of the future of this young team. He needs to prove he can still contribute at a high level. At this point, it's not looking good.