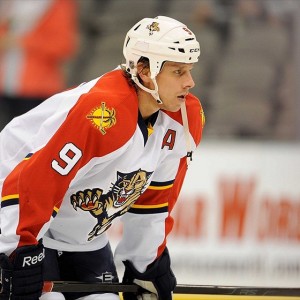 As hard as it may be for many hockey fans to believe, the time has finally come for the Florida Panthers to part ways with their longtime center and current alternate Captain Stephen Weiss. Since being taken fourth overall in the 2001 NHL Entry Draft, Weiss has been one of the most recognizable faces on the Cat's roster and the closest thing the team has had to a "Mr. Panther" since the Scott Mellanby days.
Although he has never become a superstar nor made an all-star team, Weiss has been a symbol of consistency for the Panthers throughout the past decade. Weiss could always be counted on to score around 50 points a season and play a good portion of the team's 82 game schedule. As it currently stands, Weiss is the Panthers' all-time leader in both games played (642) and assists (392).
However, as the Panthers continue their monumental rebuild toward relevance and success, Weiss now stands out as the last remaining pivotal member of the Florida Panthers before the arrival of General Manager Dale Tallon. Upon his arrival, Tallon quickly made his mark on the Panthers franchise by shipping out underachieving Panthers such as Michael Frolik, Rostislav Olesz and David Booth – yet Stephen Weiss remained.
To the surprise of many, the Panthers were able to win the Southeast Division last season, earning Weiss his first trip to the Stanley Cup Playoffs. While some choose to believe that this was a sign of the Panthers' new look taking over, I prefer to believe that it was the last gasp of Weiss and the Panthers' old guard. Although they may have some success over the next few seasons, the real effects of the Panthers rebuild won't be seen until their talented prospect pool is ready to blossom at the NHL level.
With Weiss now set to become an unrestricted free agent at the end of the season, the Panthers now must decide what to do with their most tenured player before the NHL trade deadline on April 3rd. Like many, I believe that Weiss must be dealt in order to continue the Panthers' rebuilding process and to truly begin a new era of professional hockey in South Florida. While the Panthers will most likely let this situation drag out deeper into the season, here are the reasons why I believe the Panthers must trade Stephen Weiss before the deadline.
The Money
As we all know and lament, the Florida Panthers are one of the most frugal franchises in the entire NHL – a trait that will severely hurt Weiss' chances of returning to the team. For the 2013-2014 NHL season, the Panthers currently have $44,930,375 committed to 17 skaters and will still need to spend even more money to fill out the rest of the team's roster.
Under the new collective bargaining agreement, a salary cap of $64,300,000 is set to begin next season with a salary floor of $44,000,00. The Panthers will most likely not want to stray too far from the cap floor and will already be over that number with only 17 skaters under contract.
If the recent market is any indication, Weiss could command a similar contract to that of New Jersey Devils' center Travis Zajac. This season, Zajac agreed to an 8-year extension with the Devils worth $46 million ($5,750,00 cap hit per season). Obviously the Panthers will not want to pay anywhere near that kind of money to extend Weiss' contract, but if history has taught us anything it is that there is always a team out there willing to overpay.
Considering Weiss has refused to partake in contract negotiations during this season, it is clear that he is ready to test the free agency waters. The Panthers could keep Weiss and cross their fingers hoping he decides to take a hometown discount to remain in South Florida, but given the fact that he is no longer the team's number one star, there is no reason to take that risk.
Emergence of Peter Mueller
A once promising young talent and the 8th overall pick in the 2006 NHL Entry Draft, Peter Mueller's hockey career was derailed by serious concussion related issues that almost led to him becoming an afterthought in most NHL circles. However, this past offseason the Panthers decided to take a chance on the 24-year old center by offering him a low risk 1-year contract.
Although it is still very early in the season, the Panthers' gamble on Mueller has already begun to pay off in a big way. During a streak of atrocious play by the team, Mueller's stellar play was a silver lining on most nights as he was able to create plays and even score goals in a career best four consecutive games.
Currently, Mueller is playing alongside rookies Jonathan Huberdeau and Drew Shore on what is not only the Panthers' youngest line, but also possibly their most talented. On the other end of the spectrum, Stephen Weiss has gotten off to a very slow start, compiling two assists so far this season and only a handful of shots on goal. Both fans and media have been critical of Weiss' defensive efforts and overall lackadaisical effort given during most games.
While he currently symptom-free from the concussions that nearly ended his career, there is always a hesitancy to invest in a player with a history of head trauma. However, given the new rules set in place to help prevent head injuries as well as the NHL's united effort to make the game safer for players, I believe that Mueller will continue his rise from the ashes rather than suffering the same fate as former Boston Bruins' center Marc Savard.
At the end of the season, the Panthers will most likely only be able to re-sign one of these talented centers and most believe that if given the option of only keeping one, Peter Mueller would be the correct choice. As fans begin to question the future of Stephen Weiss, their love for Mueller grows. With his inspiring story, amazing hair, and impressive play, Mueller is well on his way to becoming a fan favorite in South Florida.
Talented Center Prospects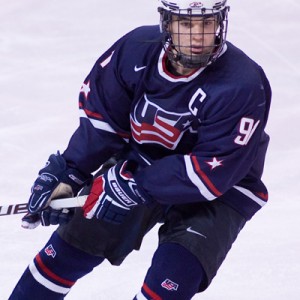 If there is one thing the Florida Panthers have more than most other NHL teams, it is a plethora of talented prospects at the center position.
Since his arrival in South Florida, General Manager Dale Tallon has made it a priority to draft players with exceptional size and/or speed at center. Players like Rocco Grimaldi, Vincent Trochek, Nick Bjugstad and Corban Knight are all currently in the Panthers' prospect pipeline and are all expected to make an impact at the NHL level in the future.
Both Rocco Grimaldi and Vincent Trochek have already become household names around the NHL as both players were exceptional at the 2013 IIHF World Junior Championship, especially in Team USA's gold medal victory over Team Sweden.
Nick Bjugstad is probably the Panthers most talented prospect not playing in either the NHL or AHL. Bjugstad is a an exceptional hockey talent with a frame that would rival the Incredible Hulk, standing at 6'6, 215 lbs. Although he decided to return to the University of Minnesota this season, it is more than likely that Bjugstad will have a good shot at making the Panthers' lineup next year.
Although they are both currently playing on the wings in most games, rookie centers Drew Shore and Jonathan Huberdeau are just the first taste of talent to arrive in the NHL from the Panthers' deep prospect pool. Considering Jonathan Huberdeau, Drew Shore, Nick Bjugstad and Vincent Trochek will all most likely be starting for the Panthers' within the next 3-4 years, the team has little reason to invest multiple years in Stephen Weiss with such future depth at his position.
Potential Florida Panthers' Lineup for 2013-2014 without Weiss
Although a lot can happen in the offseason and a few players' futures are in doubt, here is what the Florida Panthers' forward lines could potentially look like at the start of the 2013-2014 season without Stephen Weiss.
Jonathan Huberdeau – Drew Shore – Peter Mueller
Tomas Fleischmann – Nick Bjugstad – Kris Versteeg
Sean Bergenheim – Marcel Goc – Tomas Kopecky
Quinton Howden – Jerred Smithson – George Parros
In Conclusion
Although the April 3rd trade deadline is still far off, the Florida Panthers should still be fielding offers for Stephen Weiss until then. However, unless the Panthers are seriously out of contention or are presented with an impressive offer, they should be in no hurry to make a deal. Even though he may be struggling so far this season, there is always a large market for a top-6 center in the NHL and waiting for a playoff contender to get desperate at the deadline may be the Panthers' best bet for dealing their once franchise player. Even with players as ingrained in an organization as Weiss is, we must always remember hockey is a business – Gretzky left Edmonton, Jagr left Pittsburgh, and Weiss will leave Florida.
Follow Jameson on Twitter @JamesonCoop
An English major with a passion for pucks, Jameson has been a credentialed media member covering the Florida Panthers for Panther Parkway since the 2012-2013 season. Although his focus rests mainly with Panther Parkway, Jameson still contributes occasionally to the Sunbelt Hockey Journal. Through player interviews and discussions it's his goal to help bring players closer to their fans through interesting stories and personal pieces. With a unique brand of humor and insight, Jameson looks to provide hockey fans with articles that not only entertain, but also educate.