Happy February, Detroit's outdoor game is just around the corner when the Red Wings visit Colorado for the NHL Stadium Series. But now that January is over, it's time to outline the Red Wing of the Month.
January was a traveling month for Detroit and while their struggles at the Joe continued, they won seven games on the road for a month record of 7-3-1. Goaltender Petr Mrazek continued to cement himself as the undeniable number one, Pavel Datsyuk is back to his old ways and rookie Dylan Larkin set the all-time record for fastest lap at the Skills Competition.
Jacob Messing: Pavel Datsyuk
After a slow start, the 37-year-old dazzler appears to be back to full health. Some may have doubted him and pointed out his age when he only had three points through his first nine games, but the reality is off-season ankle surgery and no training camp were the reasons The Magic Man didn't come out full-force.
Fast-forward to December with 11 points in 14 games, then even further to January where the Russian tallied ten points (1 G, 9 A) in 11 games and you'll see that Datsyuk is playing at an elite level again. He posted two multi-point games, one against Arizona in which he contributed a goal and two assists for a 3-2 OT victory.
Even when the points weren't flowing, Datsyuk was still working magic on the ice, controlling play and giving Detroit the ability to ice two threatening lines when played separate from Henrik Zetterberg. For all you analytic fiends, Datsyuk ranks twelfth in 5v5 Corsi-for, controlling 57.2% of shot attempts among all players with a minimum of 500 minutes played.
After going plus-6 in January, Datsyuk sits second on the team in plus/minus at plus-12, behind only league-leading Larkin (plus-24). His two-way play is a big contributor to his team's success. So is his ability to stay out of the penalty box (2 PIM through 34 games) for a team that sits in the middle of the league, killing just 80.9% of penalties; in addition to Detroit being the only team without a shorthanded goal this season.
Brandon Peleshok: Danny DeKeyser
Although Mrazek is the clear-cut selection for Red Wing of the Month in January, there is something to be said for the way Danny DeKeyser has continuously improved over the course of the 2015-16 season. Diagnosed with a strained ligament in his left foot during the preseason, the expectation was that he would be out of action for roughly 3-4 weeks.
Instead, DeKeyser returned to the line-up roughly two weeks ahead of schedule. Slowly, but surely, he has returned to his 2014-15 form over the last few months.
Through the month of January, DeKeyser has maintained the solid defensive play that Red Wings fans have come to expect from the 25-year-old defenseman. In addition, he is also contributing offensively. In 11 games, DeKeyser notched four goals, two of which were game winners, and added an assist. In addition to putting up at least a point in each of his last three games, he also led the team in plus/minus for the month, registering a plus-7 rating.
[RELATED: Detroit Red Wings' Danny DeKeyser Finding His Form]
With Niklas Kronwall sidelined for another 2-3 weeks after getting his knee scoped, Jeff Blashill will likely lean on DeKeyser more than ever. Already, he has seen an increase in his time on the penalty kill, and was used (sparingly) on Detroit's second powerplay unit.
While he probably won't reach his offensive totals from last season, DeKeyser will have the chance to play a prominent role on the Wings' blue line heading into the month of February.
Tony Wolak: Petr Mrazek
Few players in the entire NHL had a better January than new Detroit Red Wings starting goalie, Petr Mrazek. In nine January games, Mrazek was absolutely lights out with a 7-1-1 record and two shutouts. If the Red Wings could score more, his record could have easily been 9-0. Additionally, his 1.32 GAA in January was tops in the NHL among starting goaltenders. Mrazek's .952 save percentage wasn't too shabby either.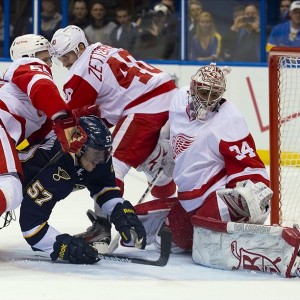 In January, Blashill turned Mrazek loose on the NHL. In previous months, Mrazek had split duties pretty much evenly with Jimmy Howard. January was (finally) a different story. Mrazek started nine of the 11 games and performed admirably. His laser focus and overall competitiveness gave the Red Wings an opportunity to win every night. On top of that, he was consistent game-after-game.
Mrazek's style has also impacted the Red Wings. His ability to make otherworldly saves and deny surefire goals gives the Red Wings a boost when they need it. They feed off of his intensity and it certainly showed in January.
Looking forward, the Red Wings should ride Mrazek into the playoffs. Again, he gives Detroit a chance to win every night—and if the Red Wings can score, they will win most nights.
Comment below and let us know who you think January's Red Wing of the Month was.
I offer opinions and insight on the Detroit Red Wings organization and its prospects.