The 2016 NHL Trade Deadline is quickly approaching. Before the big day, Feb. 29th, each respective general manager in the league is actively calling around to get a feel for the market. They each know their surplus' and lacking areas, narrowing done to just a few players in the end.
Over the past few years, teams have become more accustomed to pulling the trigger on trades far in advance of the deadline itself. What was once like Christmas morning for hockey fans, is now more of a month-long activity.
We have already seen 10 trades in the new year, as opposed to just five in January of 2014-15. With that being noted, general managers know that they need to be quick in acquiring their desired pieces, or they will risk losing out in the last-ditch opportunity to improve.
As for the Leafs, they are expected to be one of the busier teams in the league this February. As one of the basement dwellers of the NHL, they will be shipping out several pending unrestricted free agents. Arguably, there are only one or two untouchable players on the Leafs current roster, in Morgan Rielly and James van Riemsdyk. That leaves 23 players that Lou Lamoriello and Brendan Shanahan will be actively testing the waters on.
Of those 23, there are five players that must be traded before the clock strikes 3:00 pm EST of the ever anticipated Monday morning, that is Feb. 29th.
Five Players the Leafs Must Trade Before Feb. 29th
In reality, the Leafs should be trying to move every piece of their roster that they don't see being apart of their future after the rebuild. Every piece that has an inflated value right now should be dealt for the best available offer. Yes, diehard Leafs fans, that includes fan favourite, Leo Komarov.
James Reimer –
8-8-6, 2.10 GAA, .932 SV%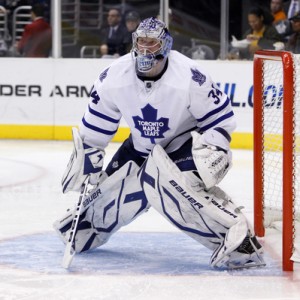 There is one feel good story on the Leafs in what has been a sickening year for the once great franchise. James Reimer is having a career year, individually. He has posted his best numbers ever, besides a six-game stint with South Carolina of the ECHL in 2008-09. The Morweena, Manitoba native has picked the right year to be tops in the NHL in save percentage, with his unrestricted free agency pending in July of 2016. Unfortunately for the Leafs, that means they may have to overpay for a goalie who remains largely unproven.
In Reimer's six-year NHL career, he has never played more than 37 games in one season, although he is on pace to play 41 this year. Over that time, the 27-year-old has been extremely inconsistent from year to year. Aside from 2013-14 to 2014-15, his goals against average has varied by at least 0.50 goals per game each year. Meanwhile, his save percentage has differed by at least 2.1% each year, the difference between having a .921 SV% and a .900 SV%, an extremely drastic change.
With that being said, the Leafs cannot afford (figuratively, not literally) to overpay for Reimer after this season. If they were to sign him to a long-term contract with an acceptable cap hit, they also cannot rely on such an inconsistent goaltender when they begin their turn around to success in their rebuild. With all these facts in mind, the solution is blatantly obvious. The Leafs need to trade Reimer while his value is inflated.
Leo Komarov –
16 G, 15 A, +5, 52.0 CF%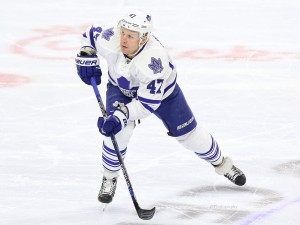 The fan favourite and 2016 NHL All-Star, Leo Komarov, is signed through 2017-18 to a great cap hit of just $2.95M. He is in the midst of a career year, including his time in the KHL, scoring 16 goals and 31 points through 48 games this season. But the 29-year-old's game is focused around much more than putting up points. He ranks third in the NHL with 216 hits. He is a very effective special teams contributor, scoring seven points while playing 1:35 on the power play each night, as well as adding a goal while playing 2:04 on the penalty kill per game.
The native of Estonia leads the Leafs in both goals and points this year, becoming the most potent player on the ice. However, as the Leafs enter the crucial stretch of the season, they are quietly going to want to drop down in the standings. Going just 1-7-2 in their last 10 has helped them become vigorous sellers at the deadline. Unfortunately, Komarov will never help them to increase their chances at the 2016 NHL Draft Lottery. And, realistically, he isn't likely going to be an all-star year after year.
The Maple Leafs would be wise to trade Komarov before Feb. 29th, with his value very likely reaching its peak at the time being. Luckily, they also have his contract on their side. Most potential playoff teams would be able to add Komarov's contract without any real problems, making a deal easier to complete, and the return being that much sweeter for the Leafs future.
P.A. Parenteau –
11 G, 12 A, -1, 50.3 CF%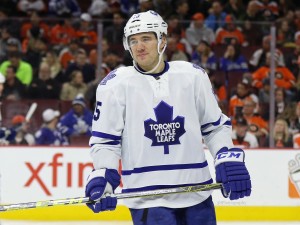 The Leafs signed a number of free agents in this past offseason for two obvious purposes. One, to fill their roster with respectable guys, which would allow them to stack their AHL affiliate, Toronto Marlies, and develop their prospects properly (finally!). Second, to increase the amount of trade chips they would have come Feb. 29th, 2016. With a month left, Parenteau is one of those guys who are pending free agency and will be heavily shopped. He was signed to a one-year deal worth $1.5M.
Parenteau has been a pleasant surprise for the Leafs this year, scoring 11 goals and 23 points thus far, a bit of a rebound year from 2014-15. Not only that, but he earned a spot on their first power-play unit, where he has added four goals and seven points. The 32-year-old could be a cheap depth addition to any contending team. The Leafs will have no use for Parenteau at the end of the season, nor do they for the remainder of the 2015-16 campaign, as thy hope to fall down the standings.
Lamoriello and Babcock would be wise to move Parenteau for the best deal available, even if that is just a draft pick. As a rebuilding team, Toronto is finally developing prospects and drafting well. Who knows, that extra pick at the draft could turn out like reigning Art Ross Trophy winner, Jamie Benn, who was a fifth round pick.
Daniel Winnik –
3 G, 8 A, -2, 44.8 CF%
Daniel Winnik was yet another free agent signing by the Leafs this past offseason, agreeing to a two-year contract with a $2.25M cap hit. Valued as a bottom-six forward who can play the penalty kill with great effectiveness, Winnik could be a desired asset for any team needing to improve their penalty kill, as he currently plays 1:35 a night shorthanded with the Leafs.
The 30-year-old is in his ninth NHL season, playing for six teams over that time. His best offensive season cam just last year, when he scored nine goals and 34 points while splitting time between Toronto and Pittsburgh, showing he still has some strong years in him. However, his 44.8 Corsi For percentage ranks dead last on the team this year.
As it stands right now, the Leafs could still use Winnik in their lineup through next season. However, if they choose to keep him around for 2016-17 as well, he will be a pending unrestricted free agent at the deadline and garner far less return. Seeing as Winnik likely doesn't have a permanent place in the lineup once the rebuild in complete, the Leafs should get the highest return possible for him.
Roman Polak –
1 G, 9 A, +8, 49.0 CF%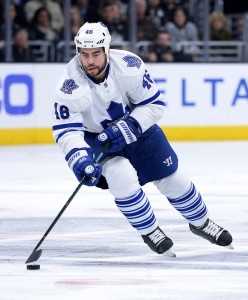 Roman Polak was acquired by the Leafs in a trade with the St. Louis Blues in 2014. With a $2.75M cap hit, Polak will become an unrestricted free agent this July. During his 10-year NHL career, Polak peaked with 21 points in 2009-10 with the Blues. However, he is better known as a stay-at-home defenceman, and quickly became the Leafs top pairing on the penalty kill, averaging 3:24 a night shorthanded. The native of Ostrava, Czech Republic currently ranks first on the team in plus/minus, with a +8 rating.
The 29-year-old would be a solid pick up by any team looking to bolster their defensive side. At just 29, he could also be convinced to re-sign after the year's end, with a very reasonable cap hit. The Leafs will still have they top-four in tact to run out the rest of the season, and could easily replace Polak with AHL All-Star, T.J. Brennan for the remainder of the season.
Summary
Without a doubt, it is going to be a long two months to finish off the 2014-15 season for Leafs fans. The most exciting part of it could be the 2016 NHL Draft Lottery, where they should have excellent odds at nabbing the first overall pick for the Draft. If the Leafs can pull off all five of these potential trades, Toronto will be much better of, not only in increasing their odds at the draft lottery, but also in the future by acquiring draft picks and project prospects. It's going to be painful, as Mike Babcock and Brendan Shanahan have pointed out plenty of times. But, if the team and fans can get through the next three years or so, they will be in for a very exciting future.