Wouldn't it be nice if the Detroit Red Wings could feature prized, rising sophomore Dylan Larkin on a line with his two Team North America linemates, Nathan MacKinnon and Ryan Nugent-Hopkins?
The reality is, however, that Larkin will join the Red Wings following the conclusion of the World Cup of Hockey tournament and center a line of his own in Detroit. This differs from his utilization last season when he was used exclusively as a winger on Henrik Zetterberg's line.
In a recent interview with NHL.com, Red Wings GM stated that Larkin would likely switch to center for the 2016-17 season, with Zetterberg probably moving to Frans Nielsen's left. With that said, Larkin's linemates are still to be determined.
In this week's edition of The Grind Line, THW's Red Wings coverage team examines who would be the best fit as the wings on Larkin's high-flying line. Be sure to check out our picks and comment on which line would work best.
Tony Wolak: Tomas Tatar & Justin Abdelkader
When Detroit's players return from the World Cup of Hockey, Jeff Blashill should start Larkin, Tomas Tatar, and Justin Abdelkader on a line to maximize offense.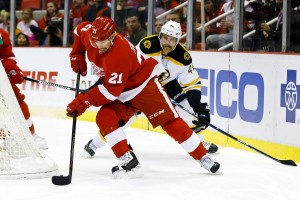 In Tatar, Larkin is joined by the Red Wings' most dynamic forward. Both Tatar and Larkin have blazing speed and deadly shots. They are also great at setting up their teammates. Larkin is a little better at stealing the puck from opponents—something Tatar can be a direct beneficiary of. The Slovak winger is excellent at finding space to get a quality shot on net. Larkin can draw attention and dish the puck off to a waiting Tatar.
Abdelkader would resume his role as a "piano mover" on Larkin's line, though he would still be expected to contribute offensively, as he's had to do on Henrik Zetterberg's line. In an ideal world, Abdelkader would be the first player in on a forecheck and force the opponent to cough up the puck, Larkin would stealthily swoop in to it pick up, and Tatar would float high, ready to receive a pass and fire the puck on net.
Abdelkader's size would also compliment Larkin and Tatar well. Additionally, all three players are strong positionally in the defensive zone and have speed to transition the puck up-ice. On the attack, the Larkin, Tatar, and Abdelkader have all the skills needed for a quality offensive line: speed, playmaking, size, creativity, and deadly shooting.
Jacob Messing: Gustav Nyquist & Justin Abdelkader
With two playmakers on the top line in Henrik Zetterberg and Frans Nielsen, they'll need a more natural goal-scorer to play with—likely Tomas Tatar.
With Tatar on the top line, Gustav Nyquist can slot in on the second line alongside Larkin and presumably Justin Abdelkader, who has shown chemistry with Larkin and a knack for keeping opponents in check against Detroit's rising star.
Abdelkader, a big body who has posted 23 and 19 goals in the last two seasons, respectively, can be the net front presence for what will be a high shot output alongside Larkin and Nyquist. Larkin led the team in shots on goal last season and Nyquist finished sixth on the team among returning players and new players.
Abdelkader picking up rebounds and screening goalies for two shooters and offensive weapons can also go a long way.
Nyquist ranks 36th in the NHL in goals over the past three seasons, has shown a unique ability to put the puck in the net. Playing alongside a more gifted centerman in Larkin will go a longer way than regular 2015-16 linemates such as Riley Sheahan and an aging Brad Richards.
He also brings more speed to the line to play with the NHL's fastest skater per the 2016 NHL Skills competition.
Brandon Peleshok: Henrik Zetterberg & Justin Abdelkader
Larkin spent the majority of his 2015-16 season – roughly 45% – on a line with Zetterberg and Abdelkader. He experienced most of his success and scored 28 of his 45 points in the first half of the season while skating with the pair of forwards. With management looking to shift 20-year-old to the center position, it makes sense to surround him with a couple of familiar faces.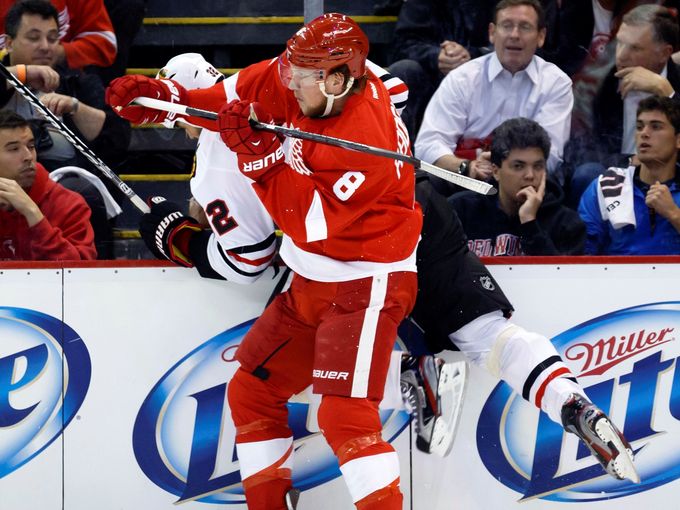 There are still those who doubt Abdelkader's ability to flourish as a top-six forward (myself included), and it's fair to assume that other players could generate more offense in the position. That said, Pavel Datsyuk has affectionately referred to the rugged winger as a "guy who pulls the piano", and it's a role that Abdelkader has fully embraced. There are very few on the team who have the ability to score 40-45 points, establish a physical presence and "keep the flies off" his linemates. Considering what Abdelkader brings to the table, he's an ideal winger for Larkin.
For his part, Zetterberg can bring both skill and experience to the line. There is a reason management is making the decision to shift him to the wing, but the Red Wings captain can still serve as an insurance policy. Should Larkin struggle at center, Zetterberg can jump back into the position when necessary. Certainly, the Wings do not want to make a habit of 35-year-old resuming his role down the middle, but a lot of learning can take place if the seasoned Swede can stick as Larkin's winger.
Which Detroit Red Wings players will join Dylan Larkin on the second line to start the season? Comment below with your picks.