Detroit Red Wings forward Dylan Larkin will be returning to center in 2016-17 according to general manager Ken Holland.
Larkin led the Red Wings with 23 goals during last season's rookie campaign while playing on the wing with captain Henrik Zetterberg. Despite his success on the wing, Larkin's preferred position is at center and Holland is ready to start playing him there.
"That's our plan going into camp," Holland told NHL.com's Dan Rosen. "He's obviously been a center his entire life. We drafted him as a center, but when you have guys like Henrik Zetterberg and Pavel Datsyuk down the middle, guys who are so good 200 feet, it's tougher."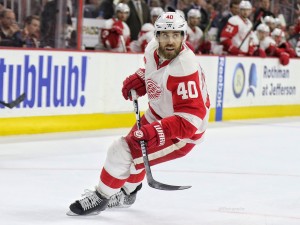 Holland does not know what position Larkin will be playing for Team North America at the World Cup of Hockey but foresees him as a center for the Red Wings in the future. "Long-term, the plan is that Dylan is going to be a center for us. Obviously, when we start camp, Dylan is going to be at the World Cup. I'm not sure what the plan for him will be there. I know when Dylan went to the World Championship, he asked the U.S. team if he could play down the middle, which he did. I'm not sure what the North American team is planning for him in the World Cup. Our plan is he's going to be given every opportunity to play down the middle," Holland said.
With Datsyuk's return to Russia earlier this offseason and the acquisition of Frans Nielsen, another center, Holland anticipates shifting Zetterberg to the wing and making Nielsen and Larkin the team's top two centers entering 2016-17.
Steven is a lawyer and writer with a passion for the game of hockey. He's the Lead Writer covering the Tampa Bay Lightning with THW. He's also been press credentialed through the Lightning since 2016. His work has been published at The Fourth Period, LightningInsider.com, Bolt Prospects, The Sports Daily Network, U.S. College Hockey Online and College Hockey News. He's had radio appearances on TSN 690 in Montreal, Lightning Power Play Live and multiple podcasts to give insight and analysis on the team. He can be reached on Twitter @StevenDiOssi and by email at sdiossi@gmail.com.