The Red Wings are sending seven players to compete in the eight-team 2016 World Cup of Hockey in Toronto. The series 'Wings at World Cup' will feature each of those players and the impact they will have on their respective teams as well as chronicle the player's history of international play.
Two U.S.-born players, Justin Abdelkader and Dylan Larkin, will take the ice on Sept. 17 at the World Cup. However, they will be representing different teams as Abdelkader will represent Team USA and Larkin will represent Team North America.
Justin Abdelkader: Team USA
Justin Abdelkader, a member of Team USA, may have the least experience in international tournaments amongst his Red Wing counterparts. He has represented his country on three separate occasions, including two IIHF World Championships in 2012 and 2014 as well as an appearance in the 2006-07 U-20 World Junior Championships.
Team USA will have plenty of grit with forwards like David Backes, Brandon Dubinsky, Derek Stepan and Zach Parise. With his style of play, heavy forecheck and physicality, Abdelkader will fit right in with his countrymen. In fact, that hard-nosed style of play should open up space for goal scorers like Patrick Kane and Max Pacioretty.
Don't expect Abdelkader's primary contribution to be on the scoresheet, as his offensive production has been limited in international play. However, his presence could be quite pivotal to Team USA's success, as Abdelkader's high-energy play will allow his teammates to thrive.
International History
Abdelkader first represented his country during his sophomore season at Michigan State University. He helped Team USA to a bronze medal in 2007, where they topped Team Sweden 2-1 in the consolation game.
In 2012, following the conclusion of his second full season in the NHL, Abdelkader competed in the IIHF World Championships for the first time. In eight games, he scored one goal and four points with a plus-four rating, as Team USA went 6-1-0 in pool play before being eliminated in the quarterfinal round by Finland.
In 2014, Abdelkader returned to the World Championships for the second time in three years. This time around, he served as captain of Team USA, as they went 5-2-0 in pool play before getting eliminated in the quarterfinals by the Czech Republic. He scored three goals and four points in seven games and racked up 31 penalty minutes.
His offensive numbers may not be the most impressive, but Abdelkader could prove to be a very important part of Team USA's success in the World Cup. Based on the makeup of its roster, Team USA is sure to be physical and play with an edge, which is perfect for Abdelkader.
Dylan Larkin: Team North America
Representing Team North America, Dylan Larkin is the youngest Wings player competing at Worlds. In fact, he's one of the youngest players on Team North America, which consists of NHLers that are 23-years old or younger born in both Canada and the United States.
While the team may be young, it is filled with young talent, including the last four players taken first overall in the 2013 (Nathan MacKinnon, Colorado), 2014 (Aaron Ekblad, Florida), 2015 (Connor McDavid, Edmonton) and 2016 (Auston Matthews, Toronto) NHL Drafts.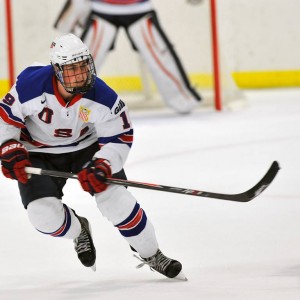 Team North America has plenty of flash-and-dash with several players, including Larkin, capable of scoring goals. The team also has a plethora of centers, which means Larkin could be bumped to a wing like he played most of the 2015-16 season in Detroit.
International History
Larkin has represented USA as a member of the U-17, U-18 and U-20 teams and also competed in the World Championships on two separate occasions. He has quite a knack for producing in international play as well.
In 2015, Larkin competed in the U-20 World Junior Championships in which he led the Americans in scoring with five goals and seven points in five games.
He would also go on to compete in each of the next two World Championships in 2015 and 2016, scoring two goals and 10 points in 20 total games.
Team USA is built for speed and with players like Larkin, McDavid, Jack Eichel, Johnny Gaudreau and others, there's a ton of young guns that will get up and down the ice in a hurry. That style of play bodes well for Larkin — the "Fastest Player in the NHL" after his performance at the All-Star Skills Competition — so look for him and Team USA to generate plenty of scoring chances off the rush.
---
The Hockey Writers coverage of the World Cup of Hockey 2016 is being brought to you by PrimeSport, the official Fan Travel & Hospitality Package Partner of the World Cup of Hockey 2016.