Facing Off is a weekly column debating five of hockey's hottest topics each and every Monday. From current events like trades and hat tricks to bigger-picture stuff like scandals and expansion — you name it, we're debating it. Albeit, not always with a serious tone. We're keeping this column light, so keep that in mind when reading, and feel free to join in on the fun by leaving a comment. Follow us on Twitter (@FacingOff_THW) and get in on the debate there too.

Baseball is in its homestretch.
Football has officially kicked off.
Golf. NASCAR. Soccer. You name it, fall is a great time to be a sports fan across the board.
Yet, all of that pales in comparison to the fact hockey is back.
The offseason is over. The preseason is upon us. And soon, very soon, the games will be meaningful again.
The puck drops for real in the World Cup of Hockey on Saturday, and NHL rookie tournaments will already be under way by then. The KHL has been going strong since last month, and some lower-level junior leagues have recently started up, with major junior to follow soon enough.
The highlights are beginning to trickle in, and this past weekend produced an early goal-of-the-year candidate from my backyard in the BCHL.
https://twitter.com/HKY_Tweets/status/775076465796939776
There were also a couple feel-good stories worth highlighting from last week.
Elliotte Friedman, now back in his element and over his Olympic blunder, made a heartfelt video for the family of a teenage boy, who passed away suddenly with one of his final social-media messages expressing sympathy for Friedman's error in Rio. Have a tissue handy before clicking that link because it's a tearjerker. The video has since been removed, but it was over five minutes long and as sincere as it gets.
Braden Holtby also went above and beyond, by customizing his World Cup helmet in tribute of The Tragically Hip, to be auctioned off following the tournament with the proceeds going to the charity of Gord Downie's choice. Another gesture that tugs at the heartstrings.
Braden Holtby's mask that he will be auctioning off after the WCOH to support Gord Downie's charity of choice. pic.twitter.com/qiXwXm2eIr

— Scott Salmond (@SAMMYSAYS2010) September 9, 2016
Knowing Holtby on a personal level and hearing nothing but good things about Friedman's character, it's safe to say the world could use more people like them. Hats off to both for being such class acts.
Dan Mount, who I know to be a Hip fan and also as THW's beat writer for the Nashville Predators, is back in the saddle for his monthly Facing Off appearance. We'll be hitting up the World Cup again, along with PTOs, the Preds' captaincy and the evolution of line combinations.
On a scale of 1 to 10, what is your interest level in the World Cup of Hockey? Have you been following or watching the pre-tournament games so far? Do you have a rooting interest?
MOUNT: I'll say seven because in America it seems like ESPN doesn't really care. I've hardly seen any promotion for the tournament, but I have enjoyed some of the exhibition games. I was blown away by Nate MacKinnon's moves when he made Jaroslav Halak look silly.
The USA-Canada games have been great because they've been full of intensity and the teams have split them.
I'm rooting for Team USA, but I love the North America under-24 team. They are intriguing because they are fast and skilled. I love their energy and they could do something if their defense and goaltending holds up. They have an exciting team and I love the concept. If this tournament continues, I hope there will be another version of this team when the time comes.
I do love Team USA, but John Tortorella is really grating on my nerves. There was no need for him to make the statement about not standing for the "Star Spangled Banner" in light of what's going on with Colin Kaepernick. Now he's calling out players like Max Pacioretty and demoting him to the fourth line.
I was not a fan of the Torts selection as coach to begin with because he stifles creative playmakers. (Ask the New York Rangers how they did when Alain Vigneault took over. Heck, even ask New York hockey reporters like Larry Brooks.) I would have loved to have Dan Bylsma be the bench boss because he's good defensively, but allows guys like Patrick Kane to make plays. I'll root for Team USA, but won't be surprised if they get eliminated early.
FISHER: Eleven — no, really, 11 . . . as in my interest level is off the charts. I can't wait for this tournament to start, and even the exhibition games have been must-see TV. The bad blood between Canada and the U.S. has set the stage for an intriguing rubber match in the preliminary round. Circle next Tuesday, Sept. 20, on your calendar and clear your schedule because that should be can't-miss TV. And if it happens to come down to a best-of-three final between those arch-rivals, hockey fans will be the ultimate winners. Hopefully, for Dan's sake, ESPN gets with the program between now and then.
I've been watching as much as possible so far, if not live, then thanks to PVR. Yes, I've been PVRing the pre-tournament games — that's how hardcore I am. I'd have to say my favourite moments so far were the MacKinnon penalty-shot moves that Dan mentioned — that was downright nasty — and the case of karma for Ryan Kesler, who cheap-shotted Shea Weber from behind in the opener only to be taken out by John Tavares in similar fashion the next night. Not that I necessarily enjoyed seeing either guy go head-first into the boards, but what goes around comes around.
https://twitter.com/myregularface/status/774408683992322049
https://twitter.com/myregularface/status/774749877221883905
Normally, I'd be on Team Canada's bandwagon. However, I can't help but root for Team North America in this tournament. That feels a little wrong, being Canadian and knowing there are more American-born players on that roster — albeit just 12 to 11 — but this team is stealing the spotlight so far and winning over a lot of fans in the process.
I boldly predicted in last week's preview edition of Facing Off, prior to any pre-tournament games or even practices, that North America would surprisingly run the table in pool play and beat Team USA in the semifinals before falling to Canada in a third-and-deciding championship game. I'm feeling pretty confident about that prediction a week later after watching North America toy with Europe to the tune of 11-4 over two games, prevailing 4-0 then 7-4. Granted those were relatively easy tune-up games, with Finland, Russia and Sweden representing a step up in competition, but I do consider North America the team to beat in that pool.
Unfortunately, I'm afraid these gimmicky teams will be a one-off. Europe isn't going to be strong enough and North America might be too strong. If not in this tournament, then certainly the next time around. Assuming the World Cup is held again four years from now, Connor McDavid would still be captaining North America, with Jack Eichel and Auston Matthews remaining on the roster too. I can't see that flying with Team Canada, nor Team USA, so we better enjoy this dream team for as long as it lasts in the present.
Who's going to lead this tournament in scoring? Which line will combine for the most points?
MOUNT: I think Sidney Crosby has a shot to lead the tournament in scoring, but I wouldn't be surprised if someone like McDavid or Eichel challenge or surpass Sid "The Kid."
The line of Johnny Gaudreau-McDavid-Eichel has me excited and could garner buckets of points. If they stay together when the tournament starts, I'll say that trio gets the most points.
Team North America is going to try a Gaudreau-McDavid-Eichel line https://t.co/WND0z0EIYG

— NHL on NBC Sports (@NHLonNBCSports) September 11, 2016
I do like the line of Crosby with Bruins teammates Brad Marchand and Patrice Bergeron because it's a good mix of passing, defense, scoring and toughness. Bergeron and Crosby are great at winning draws and can be relied upon when you need a big win at either end of the ice. Also, Marchand has just enough of an edge to him that he'll make someone pay if they go after Crosby.
That line may not get the most points, but that could be a line that wins Team Canada the World Cup. I'll trust them when the game is on the line because they are all proven winners.
Who is going to lead the World Cup of Hockey in tournament scoring? #WCH2016 #NHL #THW

— Facing Off (@FacingOff_THW) September 12, 2016
FISHER: Well said, Dan. You pretty much took the words out of my mouth — or, rather, my keyboard.
Todd McLellan did the hockey world a favour by loading up his top line with McDavid and Eichel — the top two picks from last year's draft — and another dynamic talent in Gaudreau, who scored twice in Sunday's game. McDavid is still without a point through two contests, but he'll turn it up as soon as there is something at stake. He's got another gear that he must be saving for the Finns. I'll admit, it's a little strange seeing those Battle of Alberta rivals — McDavid and Gaudreau — playing nice, but their skill-sets do seem to complement each other.
First shift for Gaudreau/McDavid/Eichel line results in a nice scoring chance turned aside.

— Craig Custance (@CraigCustance) September 11, 2016
Therefore, I agree with Dan that the kid line might have the best odds of leading the tournament in total points, with McDavid as strong a candidate as anybody to be the top scorer. I also agree that the Crosby line is built to win, if not to light it up every game. I think the rest of Canada's lines could end up changing, and I'd like to see Mike Babcock try a "kid" line of his own with Steven Stamkos, John Tavares and Tyler Seguin. They could, presumably, challenge for the scoring title too.
Two other lines that are going to do a lot of damage? Russia's top trio with the Washington tandem of Alex Ovechkin and Evgeny Kuznetsov, joined by Nikita Kucherov. And Sweden's all-Vancouver unit featuring the Sedin twins, Daniel and Henrik, plus Loui Eriksson, who signed with the Canucks as a free agent this summer.
Tis the season for PTOs in the NHL, which ones have been the most surprising to date? Which players on tryouts have the best chance of earning contracts? Which remaining free agents are you most intrigued to see where they end up? Any of them a potential fit for your Preds?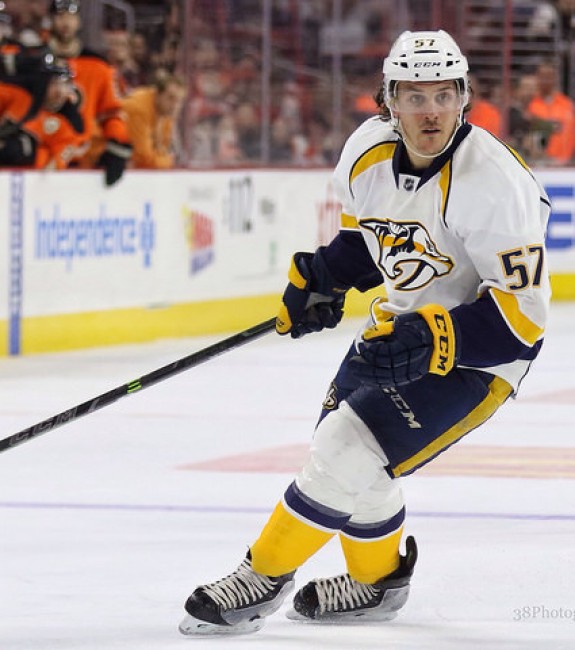 MOUNT: I like the Avalanche giving Gabriel Bourque a shot. I felt his injury cost him a spot on the Predators and players like Miikka Salomaki and Austin Watson became younger and cheaper options. Good penalty killers are hard to find and the Avs will be happy to get a guy like Bourque, who can give you good minutes when down a man.
I also think Kris Versteeg can make it in Edmonton. He's got a winner's mentality on a young team that's on the edge of success. He can give you some goals on the bottom end of the lineup and he's a veteran. He'll be in the mix for a spot on the Oilers.
I was hoping the Predators were going to sign Brandon Pirri or Jiri Hudler to solidify their depth a little more on the bottom half of the lineup. However, I would love to see Tomas Fleischmann get an opportunity for a PTO if I was David Poile. The Czech did make the Canadiens last year after signing a PTO deal and was shipped off to Chicago after some early-season success. He's been in the position before to fight for a spot, and I think he could succeed again. He'd also be another one of Polie's bargain-basement finds that he loves so much.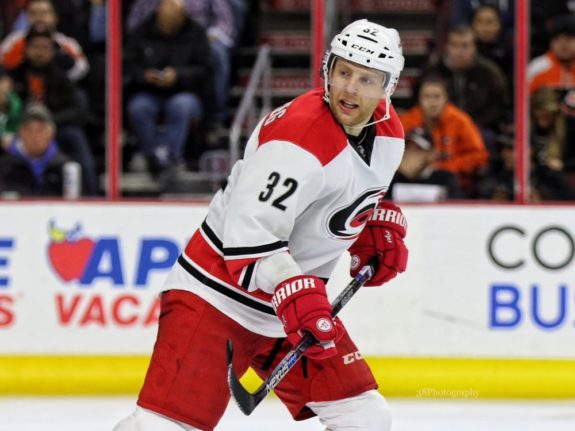 FISHER: Versteeg has a very good chance of cracking Edmonton's roster. He's almost a lock to get signed by the Oilers, in my opinion. I'd put the odds at 80-20 in his favour. It was weird that Versteeg went to Switzerland in the first place and that he wasn't inked among the initial wave of free agents back in July. Now he's getting an opportunity in Edmonton and I fully expect Versteeg to make the most of it.
The Oilers are lacking depth on the right wing, with a bunch of what-ifs behind Jordan Eberle in Nail Yakupov, Zack Kassian, Jesse Puljujarvi, Iiro Pakarinen, Anton Slepyshev and Tyler Pitlick. Edmonton could also shift Leon Draisaitl to the right side of Ryan Nugent-Hopkins, but Peter Chiarelli's preference is stay three deep down the middle. Versteeg has skill, versatility and Stanley Cup-winning experience, so I'd go as far as to say a spot is his to lose in training camp. If Versteeg sticks, Puljujarvi starts out in the AHL or Yakupov is traded prior to the season opener.
I like Justin Fontaine's chances of joining the Florida Panthers full-time too. That PTO flew under the radar — similar to Bourque in Colorado — but Fontaine is another serviceable bottom-six forward with some offensive upside. I foresee Florida taking a liking to him.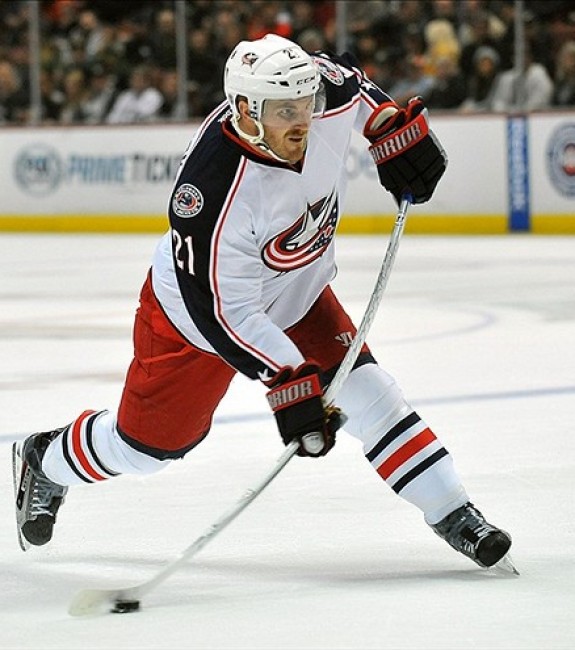 I've been surprised by several PTOs so far, starting with James Wisniewski to Tampa Bay. The Lightning appear pretty loaded on the back end and he'd seemingly have to outplay Andrej Sustr, Nikita Nesterov and Slater Koekkoek. Wisniewski will likely still get signed by somebody, but he could have made it easier on himself by auditioning elsewhere. Like Edmonton, for example.
I'll be keeping an eye on a trio of former Oilers as well, but they will be facing longer odds. Jarret Stoll's faceoff ability might become an asset to Columbus, with the Blue Jackets also taking a look at Marc-Andre Bergeron on defence. The latter is coming off a solid campaign in Switzerland but hasn't played in the NHL since the lockout year (2012-13), so I'm thinking Bergeron was brought in as training-camp filler. Columbus has three blueliners away at the World Cup — Jack Johnson, Ryan Murray and Seth Jones — and Bergeron meets the minimum criteria to be considered a veteran for preseason games. Every team needs to dress at least eight veterans per game, but I highly doubt a contract offer comes his way.
Lastly, Raffi Torres is getting one last chance with Carolina and that seems rather hopeless too. If Torres could contain himself — and that's a huge IF — the Hurricanes could benefit from his rambunctiousness in their bottom-six. He brings energy and physicality, but I just think the risk probably outweighs the potential reward there. I think he's likely done, but I'd still like to see Torres get another shot at the league minimum.
Devin Setoguchi to Los Angeles was probably the biggest shocker — well, next to Bergeron — but he's clean and sober and also put up decent numbers in Switzerland last season. Setoguchi won't have Joe Thornton setting him up in the preseason, so he'll have to make it on his own and I don't see that happening either. I think the Kings will go with a kid instead, be it Michael Mersch or Adrian Kempe.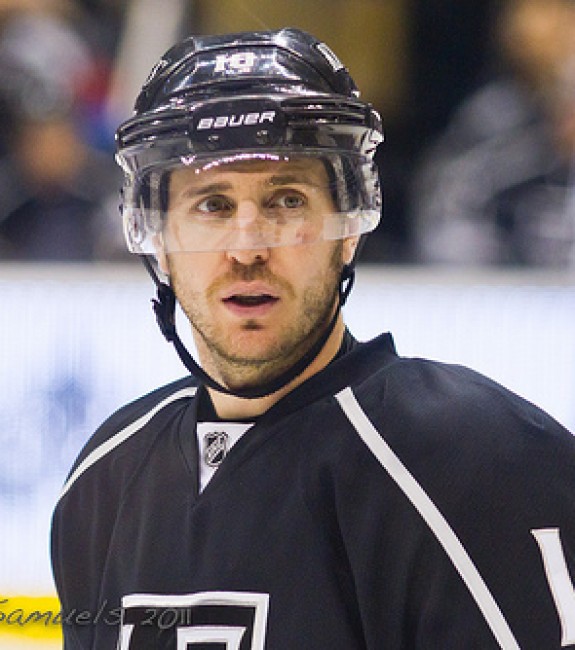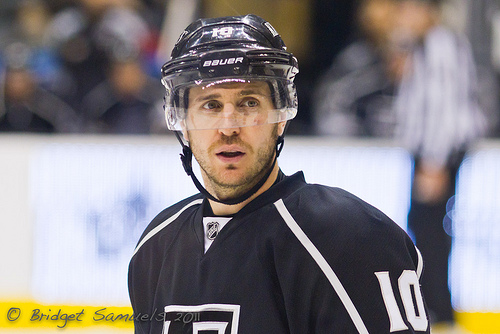 Of the players yet to commit to a PTO, Mike Richards jumps out at me as another guy with Stanley Cup rings. The Oilers are apparently interested in him too and that could be another good fit in terms of adding proven winners to change that losing culture in Edmonton. I could also see the Oilers reaching out to Dan Boyle as a power-play specialist. He was leaning toward retirement the last we heard, but that was back when the Rangers were eliminated from the playoffs and Boyle didn't make that announcement over the summer. He's obviously familiar with McLellan from their San Jose days and Edmonton is also short on right-handed defencemen, so I wouldn't be stunned if Boyle showed up to the Oilers' camp.
Fleischmann would make sense for Nashville and Lauri Korpikoski, Brad Boyes or David Jones could be of interest there too. I do wonder where — if anywhere — Cody Hodgson will turn up after his failed stint with the Preds.
Speaking of the Predators, Mike Fisher wasn't your first choice for captain back in July, but do you like that decision now? Love it or loathe it? Is he the man to lead Nashville to its first Stanley Cup or should have the 'C' went to somebody else?
MOUNT: I wasn't a fan of it at first, but it makes sense the more that I think about it. He's well-known to people outside of hockey as being the husband of Carrie Underwood, so he can pull in fans that might be casual fans. He's also one of the faces of the franchise, along with Pekka Rinne and Roman Josi.
Fisher also had somewhat of a bounce-back season after questions about whether or not he had anything left in the tank. The team missed him in the 2015 postseason when he missed a few games in the series against the Blackhawks. His heart and guts helped get the Preds to within a game of their first conference finals' appearance this spring.
RELATED: Mike Fisher Shows Heart in Game Five Win
I think it's the right choice for now, but I have a feeling the Predators could be looking for another captain in less than a year's time. This is the last season on Fisher's contract, and he could be left unprotected in the upcoming expansion draft or decide to call it a career at the end of the campaign. A team wants continuity at captain, but this is the best move at the moment.
"We knew for sure Mike Fisher was the right choice to be our captain."

📖🎥 >> https://t.co/h8YfGws6aJ pic.twitter.com/RIWpiCUW3w

— Nashville Predators (@PredsNHL) September 11, 2016
FISHER: I totally called this, going back to our July 4 edition of Facing Off. Dan favoured Josi at that time — and he would have been a solid choice as well — but I just felt Fisher was more of a traditional, heart-and-soul leader. His playoff performance was convincing, not only to myself but presumably to Poile and coach Peter Laviolette too.
Fisher will certainly be a transitional captain, likely only wearing the 'C' for a year or two as a vet while the next in-house leader develops. Dan had thrown out the names Filip Forsberg and Ryan Johansen as possibilities, but I argued it was far too soon to saddle either of them with that kind of responsibility. This buys the Predators more time to evaluate those two and any other emerging candidates.
I honestly think P.K. Subban will enter that conversation before long, once he gets acclimatized to Nashville. In saying that, Josi is still probably next in line.
It looks like several teams are planning to roll four scoring lines this season. Is that a good strategy? Or should rosters still be constructed with a distinct checking line and role players?
MOUNT: It depends on the team. The league is slowly evolving from two or three lines of scorers followed by a line with enforcers and heavy-hitters to a four-line league. However, I think players should have a diverse skill-set because sometimes you need to get goals and other times a team needs to play defense.
My favorite player is still Brendan Shanahan because he could do it all. He could score. He could play defense, and he could fight if needed. However, you can't have a team full of Shannys, so a coach has to able to mix and match players when the time calls for it.
I know Predators fans might kill me over this, but Joel Quenneville does a great job at shuffling lines. Sometimes he'll have Patrick Kane and Jonathan Toews on separate lines, but he'll put them together when the chips are down. This type of shuffling lines is something that's needed a lot more now.
https://twitter.com/PensDieHards/status/626057350198218752
FISHER: I'm starting to think the four-line team will be the way of the future. Pittsburgh just won the Stanley Cup with four lines and managed to keep that roster intact over the summer. San Jose was the other finalist and is projected to start this season with the following depth chart:
Meier-Thornton-Pavelski
Boedker-Couture-Donskoi
Marleau-Hertl-Ward
Karlsson-Tierney-Nieto/Wingels
Dallas was already loaded but decided to sign Jiri Hudler to further bolster this lineup:
Benn-Seguin-Sharp
Janmark-Spezza-Nichushkin
Hudler-Faksa-Hemsky
Roussel-Eakin-Eaves/Ritchie
Even the Rangers, who were possibly trending toward rebuild territory earlier in the offseason, now look pretty potent up front:
Nash-Stepan-Zuccarello
Kreider-Zibanejad-Pirri
Vesey-Hayes-Miller
Fast-Lindberg-Grabner/Gerbe/Buchnevich
The list goes on — it's probably almost 10 deep, nearly a third of the league — but you get the drift. There isn't a lot of defence, checking or fighting among those forward lines. It's all about the offence, and perhaps this shift in mentality will spark more scoring around the league this season.
It will also be interesting to see what happens come playoff time. Who comes out on top — the teams designed to outscore or the teams still determined to defend?
By all indications, the Oilers plan on icing an offensively-challenged fourth line, likely comprised of Matt Hendricks, Mark Letestu and Zack Kassian. The question is, would Edmonton be better off going with Anton Lander between Jesse Puljujarvi and Drake Caggiula or Anton Slepyshev or Tyler Pitlick? I'm tempted to answer "yes", which tells me the checkers might not be far behind the enforcers in going the way of the dinosaurs. Time will tell but chew on that as some food for thought until next week.
---
Who won this round of Facing Off? Feel free to weigh-in with your opinions in the comments below. We will be checking in periodically to both defend and expand on our initial answers. If you want to see us face-off over a topic, we're open to suggestions as well.
---
The Hockey Writers coverage of the World Cup of Hockey 2016 is being brought to you by PrimeSport, the official Fan Travel & Hospitality Package Partner of the World Cup of Hockey 2016.