Pavel Datysuk's time as a member of the Detroit Red Wings is over, as he officially declared his intent to return home and play in the KHL next season. He leaves behind the memories of his fourteen-year career, filled with dekes, dangles, jaw-dropping plays, and Stanley Cup runs. The Magic Man, while seemingly underappreciated during his time in the NHL, will end up as one of the most gifted athletes ever to play in the Motor City.
Certainly, the Red Wings will feel the impact of Datsyuk's departure on and off the ice. Replacing his offensive contributions and elite two-way play will prove a nearly impossible task. With one year remaining on Datsyuk's contract, the team will also have to decide on how to handle his $7.5M cap hit. In this week's edition of The Grind Line, THW's Red Wings discuss some of Ken Holland's options moving forward.
Geoffrey Chiles:
While the Red Wings could potentially shed some salary this offseason, they have plenty of restricted free agents and they are expecting huge paydays. Danny DeKeyster, Petr Mrazek, and Alexey Marchenko will command new deals. A quick scan down the list of teams needing to reach the $52.8 million cap floor indicates Arizona, Buffalo, and Carolina all could take on Datysuk's cap hit, but they'd want talent in return. Talent, I don't believe, Detroit is willing to part with.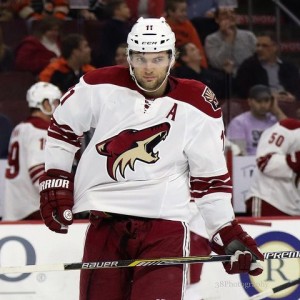 It's been rumored that Steven Stamkos, the big fish in this year's free agent class, wants upwards of $10 million. Even if the Wings could ship off Datysuk's deal to the Coyotes or Hurricanes, they'd have to say goodbye to burgeoning young talent. My advice? Don't do it.
Carolina just took Bryan Bickell's contract off Chicago's hands, but the Hawks also dealt Teuvo Teravainen, who's a rising star. Instead of putting another hefty contract like Stamkos's on the books (for the record, he hasn't cracked 50 goals since 2012, injury-shortened seasons noted), give larger roles — and lesser money — to your young players.
The 2017 free agent class really gets you salivating. The Wings could find themselves flush with cash to spend on names like Hedman, Shattenkirk, and Hanzal in 2017. A lot can change between now and then, but each player is noteworthy and would not force the Wings to free-up cap space.
If Holland were to have faith in Athanasiou and Mantha to pack a bigger scoring punch, while giving players like Andy Miele and Tomas Nosek a chance to make the club, the Wings could have a nice mix of youth and players in their prime to contend again in 2018 and beyond. Patience and prudence now could result in a return to playoff runs down the road.
Craig Peterson:
If (that's a big if) Holland is able to move Datsyuk's contract, the focus will most certainly be at targeting a high-profile top-six forward. The odds of Holland freeing up the dead money is minimal. Even if he does find a way to free up the cap space, the chances of that money being used to sign the likes of Stamkos are even smaller.
So with all that said, the next tier of popular names would be Milan Lucic, David Backes and Kyle Okposo. The problem with those guys is that they don't really fit into the makeup of this Wings team. While I like their styles of play — the gritty, heavy forechecking and aggressive board-play — that is not the type of team the Wings are. I know many fans out there want these types of players in the Wings lineup, including myself, but Holland isn't going to force a square peg into a round hole. He knows the type of team he has and will pursue players to fit that system.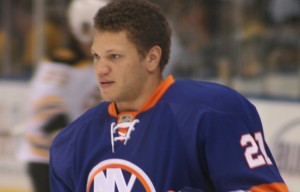 Many rumors have already swirled regarding Alexander Radulov. If Holland can agree to terms with him — Wings want a short-term deal, Radulov seeks a long-term — that could be a possibility. Other potential targets that could rise are names like Radim Vrbata from Vancouver or Loui Eriksson from Boston. What about David Perron from Anaheim? These types of names seem to be more realistic and if Holland can manage to sign two of them, the Wings' top six forwards would be serviceable.
It's not as "sexy" or as impactful as a 60-goal scoring Stamkos, but when was the last time Holland made a free-agency move like that? That time he signed Luc Robitaille and Brett Hull while trading for Dominik Hasek? That was 15 years ago, pre-salary cap.
Eriksson — yet another Swedish Olympian — would fit right in with all of his countrymen. A 35-year-old Vrbata that's played with the Sedin twins could offer some veteran leadership. And Perron, whose played for five teams in the last four years, is simply looking for a home. Given Holland's track record and the makeup in place on this team, any one of those three potential free agents seem to fit the mold of an atypical Wings offseason signing.
Brandon Peleshok:
The odds of Holland moving Datsyuk's contract without giving up assets he is hesitant to part with are slim-to-none. During his preliminary discussions – with more than one team, according to the Wings' general manager – the asking price for another team to eat the $7.5 million cap hit is too high. With a number of core players on the team slowing down, the importance of hoarding key picks and prospects is at all all-time high.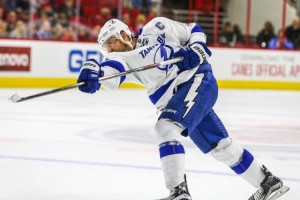 That said, it's rare for a 26-year-old, elite goal-scorer like Stamkos to hit the open market. Holland has stated he does not think there are any "game-changing" players in the free-agent pool this offseason, but that's exactly what Stamkos represents.
While the Red Wings are hopeful Dylan Larkin can develop into a top-line center, the potential for someone else within the organization to step into a similar role is unlikely. The reality is there is no one like Stamkos – or even Larkin, for that matter – within Detroit's pool of prospects.
It's not to say that I believe Holland should move Datsyuk's contract at any cost. If it's clear they have no shot at landing Stamkos, they should stand pat and afford younger players bigger roles on the team.
For a number of years, Holland has made several "band-aid" signings – Stephen Weiss and Daniel Alfredsson come to mind – that have not worked out in the Wings' favor. Moving assets in order to free up space for a Backes, Ladd or Brouwer would be a mistake. The Red Wings' cap situation is already a bit messy, as the team has a number of underperforming, veteran players signed to long-term deals.
With the NHL's free agent interview period kicking off on June 25th, Holland should have a better idea of his chances at landing the biggest free agent on the market this summer. If he believes the Red Wings have a quality chance to sign a first-line center, then it's a risk he needs to take.