After Ken Holland was unable to add a premier defenseman to the Detroit Red Wings blue line this summer, the team was forced to enter the season with a collection of second and third-pairing defenders on the roster. Making matters worse, it was determined that veteran leader Niklas Kronwall would require additional time to rest his ailing knee, leaving Jonathan Ericsson as the team's elder statesmen on defense.
Now six games into the 2016-17 season, the Red Wings blue line has had its ups and downs. Despite contributing offensively, the group has struggled to a degree in their own end. A collection of mistakes contributed to the Red Wings' demise when they opened the season with a winless Florida road trip. After Detroit's record fell to 0-2, The Hockey Writers' Tom Mitsos penned an article breaking down the lack of cohesive team defense.
However, the Red Wings managed to reel off four consecutive wins following the disastrous Florida trip. In those four games, the defense has played better overall. Following Saturday's win against San Jose, goalie Jimmy Howard praised the team for their most complete game of the season.
With Kronwall back sometime soon, Jeff Blashill will have eight healthy defensemen to choose from when picking his six to dress for any given game. Who plays and who watches from the stands?
In this week's edition of The Grind Line, the Red Wings coverage team from The Hockey Writers ranks Detroit's seven defensemen based on their play thus far. Take a look and see how Hockeytown's blueliners stack up.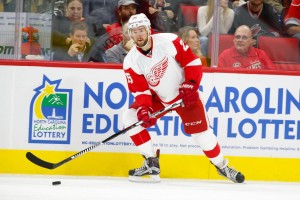 Tony Wolak
Mike Green
Brendan Smith
Ryan Sproul
Xavier Ouellet
Jonathan Ericsson
Danny DeKeyser
Alexey Marchenko
Living in Washington D.C., I've had the good fortune to see Mike Green play in person a number of times. And when he signed with the Red Wings, I knew that Detroit's system would be a perfect fit for the goal-scoring, right-handed defenseman.
Now fully integrated with the Red Wings' system, this is the Mike Green that I expected to see. Along with Brendan Smith, the two have been Detroit's best defensemen so far. Despite a few gaffes, Green and Smith have been steady anchors on a sub-par blue line.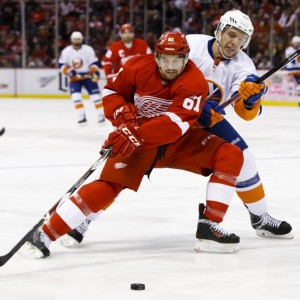 Ryan Sproul and Xavier Ouellet have been solid in their limited action. Blashill and Houda may want to increase their ice time and responsibility if the two continue to meet and surpass expectations. Sproul's cannon from the point and Ouellet's strong play moving the puck up ice have certainly benefitted the Red Wings early in the season.
Though he's constantly criticized for being a traffic cone on defense, Jonathan Ericsson hasn't been that bad so far. He's certainly played better than both Danny DeKeyser and Alexey Marchenko is his own end. After signing the huge contract extension over the summer, DeKeyser has started slow out of the gates but is improving each night. Marchenko has been adequate at best but continues to make poor choices in the defensive zone. However, Marchenko was effective against San Jose, hopefully turning the page on what has been a rough season.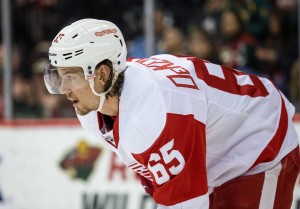 Jacob Messing
Mike Green
Danny DeKeyser
Xavier Ouellet
Alexey Marchenko
Ryan Sproul
Jonathan Ericsson
Brendan Smith
Green is scoring like he's back in his prime. While he won't maintain this pace through 82 games, he's gaining confidence in a system that asks him to play offensively and it's clearly working.
DeKeyser leads the Red Wings with 13 blocked shots this season and is tied with Green for the defensive lead in plus/minus with a plus-3 rating. He needs to stop playing so safe and start taking more chances to help facilitate his offense.
Ouellet is a very capable defenseman—Mike Babcock used to say Ouellet plays like a ten-year veteran. However, Ouellet hasn't so much played his way into the top three as other have played their way out.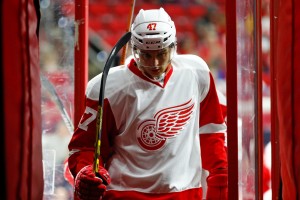 Still just 24, Marchenko is still learning the NHL game and is an underrated defenseman for the Red Wings. Not every blueliner has an offensive touch, but it's his defensive mind that keeps Marchenko in the lineup and growing his NHL game.
Sproul is the only Wing to score on the power play this season, aside from Green. His ability to not look out of place and contribute as a right-handed shot in the lineup helps him slide into the number five spot.
The good news about Ericsson is that I can't currently think of one play that sticks out this season that made me want to pull my hair out. Through six games, he hasn't looked brutally out of place.
Smith just can't seem to get out of his own way. He chooses risky plays that often don't pan out and still gets beat too many times. He is the only Red Wings defenseman yet to record a point this season.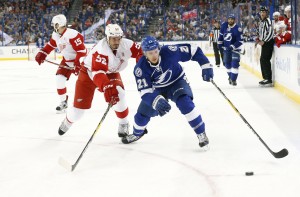 Tom Mitsos
Mike Green
Jonathan Ericsson
Brendan Smith
Ryan Sproul
Xavier Ouellet
Danny DeKeyser
Alexey Marchenko
Without a doubt, Green has been the best team's best defenseman. Not only is he tied for the team in scoring (seven points through six games), but he's been the defense's best generator of offense.
According to Natural Stat Trick, Green is fifth on the team in score-adjusted goals for per 60 minutes at 4.1 and second with a 0.58 goals against per 60. He also leads the defense in scoring chances against per 60 minutes at 16.52 and is third on the team in high-danger scoring chances against at 6.31.
Ericsson, usually one of the weakest defensemen on the team, has been fairly solid. He has a relative Corsi for percentage of 9.09, which trails Ouellet's 13.57 for all defensemen. It appears the less ice time this season (17:04) compared to last year (18:31) is helping his defensive game.
Although Ericsson hasn't been atrocious, it still boggles my mind how often he throws the puck up the boards without looking, trying to clear the zone. It's a problem that hampers the team's ability to push the play forward and generate speed with the puck through the neutral zone.
Sproul currently leads the team in Corsi for percentage (59.80), but with only two games under his belt, I don't expect him to keep that lead for long. He has looked solid in those two games, but small sample sizes need to be taken into consideration for all players.
DeKeyser, fresh off a six-year, $30-million deal, and Marchenko clearly have been the team's weakest defensemen. DeKeyser is last in Corsi for percentage (35.40), and Marchenko has a 44.68 Corsi for percentage, which is second worst among defensemen. DeKeyser and Marchenko also tie for the team lead in giveaways with five each.
Brandon Peleshok
Mike Green
Jonathan Ericsson
Xavier Ouellet
Ryan Sproul
Brendan Smith
Danny DeKeyser
Alexey Marchenko
Without question, Mike Green has been the Red Wings best defenseman through six games. He has notched seven points so far, and leads all defensemen in ice time with an average of 23:56 TOI/GP.
Jonathan Ericsson is playing fewer minutes than he has in the past, and it has worked out so far. He has made simple plays, and even chipped in offensively with two points through six games.
Through four games, Xavier Ouellet has played the simple, mistake-free brand of hockey. While it does not always show on the scoreboard, his ability to break up plays in the defensive zone lead to his only point this season. Fellow youngster Ryan Sproul has been a shot in the arm for the Red Wings' blue line. He has points in back-to-back games, and has displayed confidence shooting the puck and joining the rush.
It is probably fair to label Brendan Smith as "unlucky" through six games. He has gotten himself into trouble a time or two while pinching or joining the rush. While his gambles have not paid off yet, it seems likely that he will break through soon.
Surprisingly, Danny DeKeyser has struggled early, committing several glaring errors in the defensive zone. While the sample size is far too small at this point, his possession statistics are not pretty.
Missed assignments, turnovers and ill-advised pinches have plagued Alexey Marchenko's 2016-17 season. He has had a rough start, to say the least.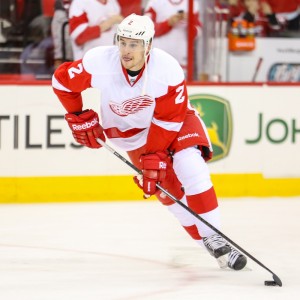 Definitive Defense Ranking
Here is how the Red Wings defensemen rank when the four writers' rankings are averaged together:
Mike Green (1.00)
Jonathan Ericsson (3.75)
Xavier Ouellet (3.75)
Ryan Sproul (4.00)
Brendan Smith (4.25)
Danny DeKeyser (5.00)
Alexey Marchenko (6.25)
---
Complete Red Wings Coverage From THW
---
Red Wings Notes
When Ryan Sproul was penciled into the lineup Friday night against Nashville, it marked the first time Detroit dressed three right-handed defensemen in a regular season game since the finale of the 2002-03 season. Sproul, Mike Green, and Alexey Marchenko patrolled the Red Wings' blue line almost 5,000 days after their right-handed brethren—Chris Chelios, Mathieu Dandenault, and Patrick Boileau—suited up against the Chicago Blackhawks in what was Sergei Fedorov's last regular season game with the Red Wings.
During Friday's game, Sproul recorded his first NHL point on a power play blast from the blue line. His shot was initially stopped by Pekka Rinne, but the rebound bounced off of Justin Abdelkader and into the Nashville net. Sproul followed up with another assist in Detroit's 3-0 win against San Jose with a nice forecheck and drop pass to Gustav Nyquist in the offensive zone.
How would you rank the seven Detroit Red Wings defensemen? Share your ranking by commenting below.