Like most things this year for the Detroit Red Wings, it just didn't seem to click for the speedy Darren Helm. Detroit's utility forward played on the second, third, and fourth lines at times throughout the season and spent time on both the power play and penalty kill units.
Related: Detroit Red Wings Playoff Guide: Who to Root For
Now, Helm's contract is up and the pending unrestricted free agent has had mixed emotions when discussing the possibly of returning to Detroit. The Freep's Helene St. James quoted Helm in a recent article:
I want to win. I don't really mind playing in the bottom lines as long as there is that respect factor. You're getting opportunities in different situations. If it looks like that is the case, I'll get to play in those situations that I feel I can play in, then I'll be happy. If not, if they tell me right away it's not going to happen, I might not want to stay.
So what should the Red Wings do with Helm going forward? The Hockey Writers' Red Wings coverage team debates the forward's future in this edition of The Grind Line.
Tony Wolak: The World Revolves Around Datsyuk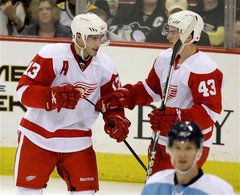 There's no doubt that, when healthy, Darren Helm is a valuable asset to the Red Wings. His role on the penalty kill, endless hustle, and ability to score goals has made Helm a fan-favorite in Detroit. But there's no denying that the Red Wings might find themselves in a cap crunch and Helm's value on the open market might make him a cap casualty.
To determine if Helm is part of the Red Wings' future, team management will ask two questions:
Is Darren Helm worth $3-3.5 million over three to four years?
If not, is there a replacement(s) in-house, on the trade market, or able to be signed as a free agent for his roles?
For the first question, if Helm can be locked down for three years at $3 million per season, then absolutely sign him. He is still an effective third line player that can contribute to special teams. If the asking price is closer to $4 million per, then it may be time to move on. But this is where Question 2 comes into play: who would replace Helm?
Looking in-house, a combination of Andreas Athanasiou, Tomas Jurco, and Teemu Pulkkinen could effectively replace Helm offensively. Athanasiou could replace Helms speed one-for-one. But, no one in the organization could step in perfectly for Helm's hustle and penalty kill ability. Maybe signing Drew Miller as a low-cost option would work, but Miller does not have Helm's speed or offensive touch.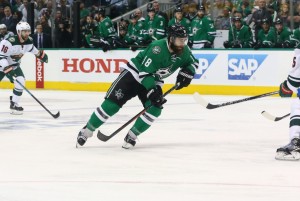 On the free agent market, a few names jump out as third or fourth liners with special teams skills and a bit of an offensive touch. Players like Matt Cullen. Shawn Matthias, Viktor Stalberg, Michael Grabner, and even former Red Wing Patrick Eaves stand out as low-cost options to replace Helm. Some would be better suited for the fourth line and some could contribute offensively with regular third line shifts.
Finally, the wild card. If Pavel Datsyuk does retire and the Red Wings cannot find a trading partner for his cap hit, then Helm probably isn't affordable—regardless of his price. Detroit will need all the cap space they can get to re-sign impact restricted free agents and sign/trade for a top-six forward to aid the scoring department.
Final verdict: It's a mess. Wait for Datsyuk and the aftermath to settle. Then, proceed accordingly. Helm has value, but the team would be fine without him if need be.
Jacob Messing: Bottom-Six or Nothing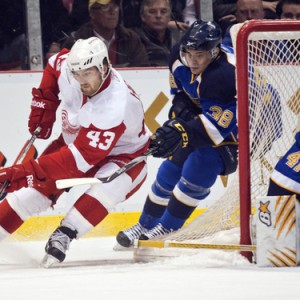 After nine seasons with the Detroit Red Wings, the speedy winger Helm seems to have reached the end of his career in Hockeytown. In last week's The Grind Line, I discussed how Ken Holland should move on from each pending unrestricted free agent, which includes Helm.
I even mentioned if any were to return, it should be for defenseman Kyle Quincey. Don't get me wrong, Helm has been an important forward for Detroit during his career, but with Detroit's continued re-tooling and the emergence of guys like Athanasiou, Helm has been replaced internally.
Helm's speed is what inevitably sunk his progression. He's too fast for his own good, more times than not finding himself on a breakaway and in the goalies face before deciding a finishing move.
He just never found that true scoring touch, even with the considerable amount of time he has spent alongside Pavel Datsyuk over the past two seasons, and at the age of 29 the odds are against him that he ever will.
His veteran presence, speed, and penalty killing make him a solid bottom-six forward on any team in the league. It's these assets that will garner interest league-wide, leaving a high chance that another team offers a longer term, higher salary, or both.
If Helm were to sign a new contract in Detroit, it would have to be a short-term, low-salary, bottom-six role to make it worth it to the fans and the youth coming through the system.
Brandon Peleshok: Time to Part Ways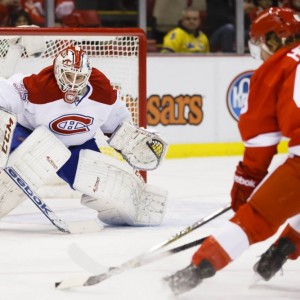 I've always been a big fan of Helm – I think he's the ideal third-line center. With the Wings' depth down the middle, however, he's spent a lot of time as a winger, bouncing between top and bottom-six roles.
The situation between Helm and the Wings appears murky. As the team cleaned out their lockers he had some curious words on his future, as Tony noted above.
So, in sum – Helm's fine with a bottom-six role, but he wants respect and opportunities in different situations. Of course, I can only speculate, but I'm assuming that he is referring to special teams. Taking a quick glance, Helm received 01:27 PP TOI/GP during 2014-15, which dropped to just :43 PP TOI/GP this season.
While his SH TOI/GP was similar from last season and this season – 1:32 and 1:48, respectively – the injury to Drew Miller created a void on the Red Wings' penalty kill. From the time Miller was injured, Helm received 1:57 SH TOI/GP, while Riley Sheahan (02:15) and Justin Abdelkader (02:39) played more minutes. With Abdelkader playing big minutes at even strength and on the power play, I can see how Helm may be frustrated by his usage (or lack thereof) on Detroit's penalty kill.
Despite understanding where Helm is coming from, I still believe the Red Wings need to move on. The 29 year-old forward is due for the biggest contract of his career – I can't see Helm settling for less than 3M per year. Considering the Red Wings' current cap situation, I believe it's a little too much. At the end of the day, the Red Wings have younger, cheaper players who can fill the gap left by the speedy forward.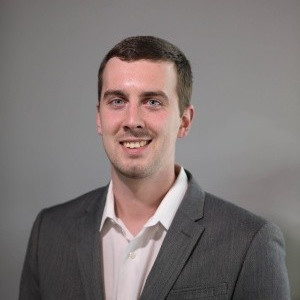 Tony Wolak is based in the Washington D.C. area and covers the Detroit Red Wings for THW. As a former junior and college hockey player, Tony has a unique perspective on Red Wings topics.