The series is tied and the team is back to its Penguins identity. They don't get rattled, they stay composed. They have quality players on all their lines and pairings. They have an all-world goaltender in the making. They have a stifling penalty kill, that has allowed just three powerplay goals against in 7 playoff games, one of which came 5-on-3. They also have a very dangerous powerplay that they obviously don't need to win.
But there is more to this team and most of it is psychological.
The Penguins Identity
The defining feature of this team is that they're a bunch of players who are all on the same page. They believe in who they are, what and how they do it. The Penguins identity is so much more than the allotted things in the introduction, but two things stand out: companionship and resilience.
https://www.instagram.com/p/BE3fapgupLc/?taken-by=penguins
That's what this team is all about. Their unwavering focus to play the game the right way and to execute properly when opportunities present themselves is beyond anything Pittsburgh has seen of late. Their mindset is not to force anything which isn't there. They play to the best of their knowledge and potential with the hands they're dealt – and they play them well.
It's no wonder that, on a given night, anybody on this team can set the Thames on fire.
https://www.youtube.com/watch?v=W1nRTuyiYsc
Could you possibly write a better storyline for Eric Fehr than to haunt his old team with the game-winner late in the third period?
The Definition of Resilience
Let's not forget that Fehr's decisive heroics came in the midst of a phase in which the Caps had all the momentum going their way. The Penguins had stymied their opponents to a 28-10 shot differential after 2 periods of play until the zebras compensated the Caps for not having the puck all game with a ridiculous tripping call against Kris Letang early in the third period.
Then Marcus Johansson tied it on the ensuing powerplay and thereby kickstarted the Presidents' Trophy winners. The third period was theirs and the Pens were starting to feel fatigue. They've been down a defenseman in Olli Määttä after Brooks Orpik illegally checked him to the head in the early goings of the first period. Määttä was helped off the ice after the incident and hadn't returned to the game after he eventually made it to the locker room.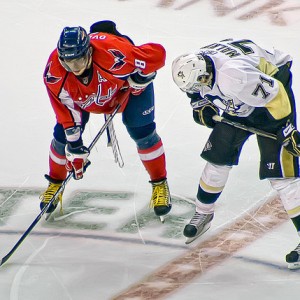 Their perfect puck-management wasn't there anymore, their break-outs weren't as crisp as before,  ill-advised changes happened at inopportune times and the course of the game had started to take its toll on the Pens' defense. Matt Murray was finally tasked with earning his paycheck – and boy, did he ever.
The Pens clearly were in scramble-mode late in the third, until…
Well, until an opportunity presented itself to Evgeni Malkin. He stripped Ovechkin off the puck after a Chris Kunitz shot produced a juicy rebound from Braden Holtby. Malkin then passed it down-low to the eventual goal-scorer, Eric Fehr, who found Kunitz again, wide open in the slot.
Kunitz, though, fanned on his second shot attempt in short succession. The puck caromed to the other corner where Malkin picked it up, turned around and fed a sweet dish to Fehr's backhand.
The rest is history.
Resilience's quintessence is the following: Where there's a will, there's a way – even when you're up against all odds. That is the heart and soul of the Penguins identity.
If, after this series, you're looking for a defining moment in the Pens' favor, look no further than this one.
Hi, I'm a 27-year-old hockey maniac from Switzerland who's studying Communication with a major in journalism at Zurich's college of applied sciences. When I'm not busy learning about the game or from books, I like cooking, watching films and going out or jamming with friends in my little home-studio.