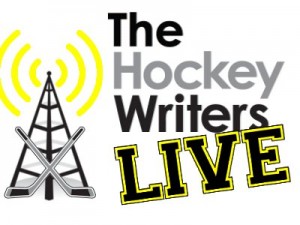 It is nearly that time. In just a few short days, we unleash THW Live on the sports podcasting world. There are so many people to thank, including The Hockey Writers of course. With the impending lockout close at hand, the first question we were asked is why now? The best answer is why not!? The show itself is about putting the best "hockey foot out there". The goal of The Hockey Writers is to be a little different than the rest and THW Live will do pretty much the same with interviews from all facets of the hockey world along with roundtable discussions on the hottest topics. If you want a show a little bit outside the box that is not afraid to ask some of the tougher questions out there, then this one is for you.
There were a few other concepts that were thrown at us. It was not easy to see this come to fruition but over the last four months, the steps were taken and needless to say the show is ready to begin. Sunday Night at 8pm ET is when the debut episode starts and every Sunday thereafter will be a time to get your hockey fix.
What could be on the docket for "Episode One"? There are some topics that just have to be touched on. Then honestly, to keep it unique, we went in a different direction. Here is our mini outline for the first voyage.
===========================================
THW Episode 1:
A brief introduction
What will the show be about?
A look at the CBA Roundtable style (Hello Ted Starkey)
The hockey world is far from just the NHL, we take a look.
We take a detour to the funny bone with Down Goes Brown.
The recap — tying everything up and adding a little quick news
Outro time
Then a little archive……

===========================================
Furthermore, we will be taking phone calls throughout the show at
1-347-826-7358
. If you have questions that you want asked via Twitter, just send it to us via
@ChrisWasselTHW
.
It plans to be a very entertaining debut and hopefully we can provide some solid hockey debate for the fan who is starving for just about anything at the moment.
In the meantime, please remember that there are other hockey alternatives and all anyone can hope for now is cooler heads to prevail at some point between the NHL and NHLPA. Until then, see you on Sunday Night.