The Boston Bruins chose not to retain much of their roster during the last lockout. It's a decision that failed to pan-out and saw the team struggle for several seasons. Bruins' GM Peter Chiarelli made certain that history would not repeat itself on his watch.
Signing three of the team's upcoming restricted free agents to long-term extensions, Chiarelli assured that the Bruins talented young forward corps would remain in Boston for years to come.
After giving Brad Marchand a significant pay-raise to $4.5 million annually (over the next four seasons), Chiarelli moved to lock-up twenty year-old Tyler Seguin with a six-year extension (worth $5.75 million per year). Finally, Saturday morning the Bruins announced Milan Lucic's new contract that will pay the power-forward six million per season through the 2015-16 season.
During the press conference announcement of the latest signing, Chiarelli called Lucic a "signature player" and a "solid contributor".
Of the three contracts and impending expiring CBA, Chiarelli offered:
"There's so much uncertainty going forward … but [the three recently-extended Bruins are] deserving of them, they're all very good players, and they're core guys. So at the end of the day it was more about keeping the core together."
Seventy million out the door in under a week? For many this flies in the face of the arguments of poverty the League put forth as the lockout drew nearer.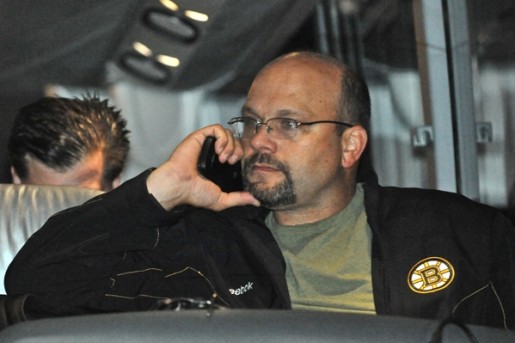 All three of the signings were met with their fair share of raised eyebrows and skepticism. Marchand and Seguin played just two years each to earn their massive paydays – and Seguin's single year of personal success earned him almost $35 million.
Do Milan Lucic's fistic intangibles warrant his hefty annual salary? Six million seems like a number associated with an offensive dynamo. Despite 25 goals and 60 points in each of the last two seasons, many consider him a second-line forward – and deserving significantly less 'compensation'.
With modest postseason production each of the past two seasons, Lucic – once ranked among the 'clutch' in Black and Gold – has seen questions raised about his value.
People tweeting Lucic's 2012 playoff stats as negative about extension. Because it's all about the stats, guys!!! #shortsighted

— Kirk Luedeke (@kluedeke29) September 15, 2012
But the truth – the uncomfortable truth for some – is that it was worth it… they were all worth it.
Marchand's produced two excellent seasons in Boston and plays the type of gritty game that fits well within the B's system.
Seguin's team-leading 67-point 2011-12 campaign isn't an outlier. Seventy, eighty, ninety points? Those targets are within range. Five and three quarters may seem like a slight overpayment – and a big risk – to some. However, with his consistently outstanding work ethic, drive and superlative natural talent should mean that number's a bargain by contract's end.
Heck, if he touches the century-mark, they might be calling it the deal of the century.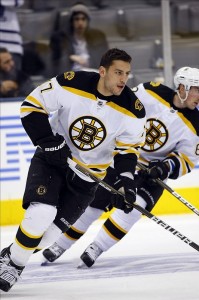 As for Lucic's production? It fails to match his salary. Lucic's back-to-back seasons of first-line caliber production warrant praise – but perhaps not to the tune of six per.
Six million places him just outside the top-thirty forwards in terms of cap hit for the 2012-13 season. Of those thirty, Lucic's offensive capabilities are outstripped by all but a handful – perhaps none – of that number.
But the Bruins… heck, any team… depend heavily on the power-game that Lucic supplies in buckets. He's an immovable object along the walls and in front of the net and possesses surprisingly soft hands and vision.
Of course the thing, the thing that makes Lucic unique is his ability to play top-six minutes and throw with the best of 'em. Few (if any) scoring forwards Leaguewide enjoy the pugilistic prowess that 'Looch' boasts – and none can fly off the handle as quickly (and wreak havoc as absolutely) as the Bruins' number seventeen.
Just ask the Sabres. Just ask Ryan Miller.
But you can't quantify toughness. We can argue a player's offensive or defensive value any number of different ways but PIM's and fight-totals don't paint anything close to a clear picture – or even touch their value to winning hockey games.
You can't put a number on how thoroughly a player like Lucic (or a team like the Bruins) can eviscerate a team's confidence or fill a player with doubt via rapid right-hands.
In the years since his 'arrival', a half-dozen or so Next Milan Lucics have been sought after by the other twenty-nine franchises … a great indication of his value. The Bruins have the benefit of at least four more years without searching. That, at least, is something to be thankful for.