Part 1:  Sign Of The Times
---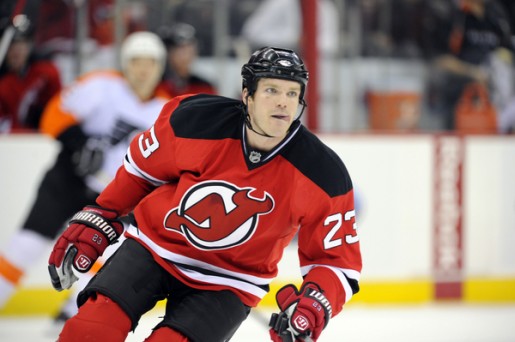 An Introduction To Women In Hockey………
===================================================
Women in hockey is something you have heard before I am sure. There have been stereotypes that have been used over and over again. This is a little bit different as far as scope as we take an angle more with the signage you may see around the arena ice. The old adage behind every good man there is an even better woman is true. Women in hockey have as much of a role in some ways as the players. If you add in the simple fact that females play hockey at higher and higher rates each year (take a look at the college explosion and those USA-Canada battles) and one understands completely. Sometimes we overlook minor details and take certain things for granted.
Also, sometimes as journalists and writers we may have crossed the line a few times along the way. However there are times where I have gone too far and maybe this in a small way can start to right some wrongs.
People may have noticed that the New Jersey Devils have seen quite the rise in attendance this year and honestly it should be no surprise. Award caliber marketing has finally caught up to an award caliber product. Most of you have heard of the Devils Army by now (its nice not to be called a nation). The Army is truly the entire fanbase to be perfectly honest. However, what is not realized is that a pretty big segment of the fans are women.
Without women, let's face it, there would be no hockey. I may be a little biased but I have to say the women behind the Devils are some of the best you will ever meet. In the last 30+ years, New Jersey has gone from a laughingstock into a team that can still contend (as evidenced by last year's run to the Stanley Cup Finals).
===================================================
Signs Of The Times
It was probably about three years ago when I first came back from California that I started going to "The Rock" on a more regular basis. At first, I will admit, the signs were not well thought out and such but then again I wasn't really paying attention to every single one in existence that game night. Honestly it just did not dawn on me.
However, as the Devils Army began to rise in the 2011-12 season, it was abundantly clear that there were a few people who put some creativity in their signs. Whether you agreed or disagreed as to their meaning did not matter. There was effort and thought going in that you had to at least admire.
Please understand the pictures truly make this a solid installment in our women in hockey series. Special thanks have to go out to Kim Sakevich for her permission to use the photos but more importantly her friends Jennifer Hoehl Birchenough and Diane Kuhn. One has to admit they are far more than a stereotype, they are Devils fans to the hardest of cores.  Simply these three ladies are a very big asset to all of womankind and especially this New Jersey team for all they do. I did not forget the pictures.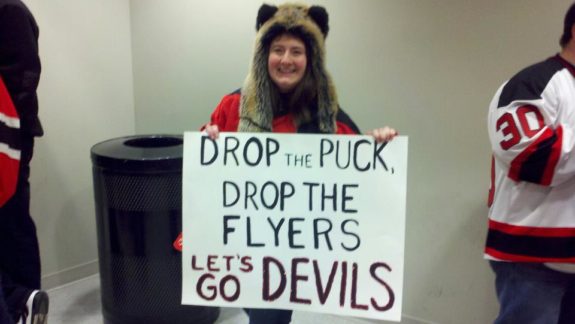 All I know is that these are not your normal fans. These are "Devils Army" fans. Most women in hockey are not the fans who know little about the game because there are quite a few men and kids who do not as well. Sitting down and talking to Kim even for just a few minutes reveals her knowledge of the game very quickly. Yes sometimes we may joke a little about swiping a hat and such but the reality is Kim is a woman in hockey who knows the sport very well. She is vocal when needed and quiet when needed but she is one of the nicest people you'll ever meet. Just do not get in the way of her Devils hockey.
The one thing I learned was that apparently we caught a group shot of a couple signs. So that everyone understands, Kim was generous enough along with her friends Diane and Jenn to let us use these pictures without any fuss at all. The second pictures shown below is Kim and a few of her "Devils Army" friends.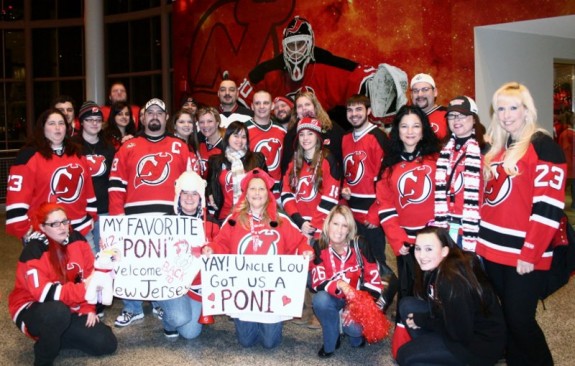 What else is left? It was said that we were going to save the simplest picture for last. I think this one may just have a big target placed on it. Personally the women of the "Devils Army" have been so good to me and Devil fans and writers alike. There are so many people that we wanted to spotlight but only so little time. There is that last picture, as promised.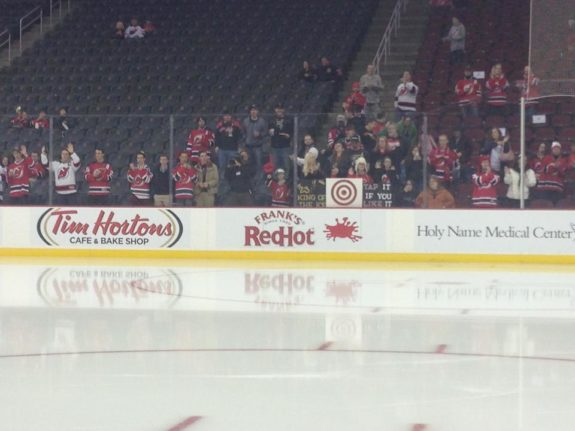 That is it for now. It was a pleasure to talk to Kim and enjoy the signs. Who will be next in this little miniseries? Needless to say, it is going to be probably a little more gory.
=======================================================
Editor's Note: There are times as a professional where one has to learn a very valuable and sometimes costly lesson in humility. We are all human and make mistakes but that never gives one the right to make disparaging remarks period. Hopefully as we continue to profile more "Women In Hockey and Fantasy Hockey", a little more is learned in that humility and what line not to cross no matter where it is on the internet. Thank you Kim and Rachel.