In the words of wisdom from Chinese military scholar Sun Tzu:
"If you know the enemy and know yourself you need not fear the results of a hundred battles."
Who can forget Charlie Sheen's inspiration hashtag: #Winning
And a great & inspirational quote from the film legend, Vin Diesel: "Winning's Winning."
It appears that the roller coaster ride called the Vancouver Canucks continues to climb, thanks to a four-game winning streak. Since the loss to the Minnesota Wild back on March 18, the Canucks have put together some gritty victories – that are no longer "stupid". The last four victories have been tight but they've been wins nonetheless. The team has showed their meddle with the players. Their latest effort is good enough to reclaim the top spot in the Northwest Division.
Who's on fire?
Cory Schneider has become the poster-child for the impossible. In all four wins, he posted a save percentage of .941 (St. Louis), .971 (Phoenix), 1.000 (Los Angeles), and .929 (Colorado). This achievement alone should be worthy of Player of the Week honours to say the least. It would appear that Schneider has finally found his groove this season.
Sometime during or after that horrendous victory over the St. Louis Blues on March 19 in which they were out-shot 34-19, something must have sparked the Canucks to just regroup and start playing harder. With no prospects or trades on the horizon before next week's trade deadline, it would appear that the current core of players are starting to gel and looking to finish the rest of the 2013 Season hard. What did they do? They went with what they got, and players like Mason Raymond and Alex Burrows contributed. What would be the strategy? Go with the hot goalie in Schneider for as long as you can, and fix the power play. What risk would they take? Recall Jordan Schroeder and give him, Andrew Ebbett, Chris Tanev and Dale Weise a chance to perform past their expectations. And boy, did they ever.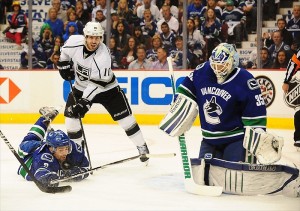 The Canucks and their play probably won't change until the end of the season and perhaps longer post-season. There is still room for improvement, but until they improve on their special teams, the Canuck fan will have to resort to taking Aspirins or drinking bismuth to help calm their nerves. St. Louis was a dangerous game. You could say that L.A. was as well, and the Canucks squeezed by only because of Schneider's heroics. The victory over Colorado was a meaningful win because their forechecking and aggressiveness was relentless. You could also say that Schneider started lighting a fire with those amazing saves. He gave the Canucks every opportunity to win and the men in front of him have responded.
Who needs to get lit up?
Injuries are a part of the game, and with Dale Weise as the latest player being on the shelf, the remaining collective on the starting lineup will need to continue to support Schenider while he's still hot. Coach Alain Vigneault and the management have done all they could with team they've assembled up to this point, so it's only fitting that the players still playing continue to display a full effort on the ice.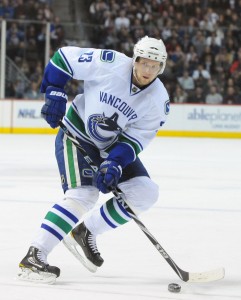 Let's hope the two-game suspension could serve Alexander Edler well. The time off should help Edler re-ignite his game which seemed to go uninspired ever since he signed his six-year, $30 million contract. This is his opportunity to show the management the return on their investment. Jason Garrison has started to get his offense going, and so should Edler.
Another player that should also step up is Roberto Luongo, sitting on the bench of course. Why? Schneider is on a high, but it's only a matter of time before the winning momentum could come crashing down again. It's not a matter of if the Canucks will get blown out, it's when the next lopsided loss is going to happen and to whom. Luongo must be ready to go at a moment's notice. If the brotherhood of this unique goaltending duo means so much to these two, it's important for Lou to be Schneider's support crutch and to step in when the heat gets unbearable.
By the off-chance if Luongo doesn't stay before the trade deadline, everyone should remember Lou for what he's done for Vancouver. Part of me wants him to stay and get through this season and give all the he could give each and every day.
Just Win, Baby
"All we really got is each other." – Danny Glover, Flight of the Intruder
Don't expect any lopsided victories anytime soon. This may be what we'll be seeing for awhile – 1-0, 3-2, and 2-1 wins. But a win is a win.
When it comes down to it, the only support that the Canucks really have is with themselves. You can see it in their pre-game ritual that they're not being phased but more focused on the task at hand. They can ignore the newspaper stories, the hecklers, and the fickle fans that expect so much so unfairly. But that's the life of a hockey team in a major sports town. That's why players at this level are called professionals.
In a league where teams can rise and fall within a week, anything can happen. The Canucks go into battle every game. Some win, some won't, but they with the way they've been playing, they're ready to win the next game. They know their expectations are high, they want to win for the fans, but really they want to win for each other.