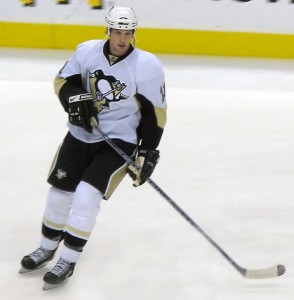 Evgeni Malkin, Marc-Andre Fleury, James Neal & Kris Letang receive all of the praise as the Pittsburgh Penguins continue to climb up the Eastern Conference standings. These four studs make the Penguins an elite team for years to come.
Although the Penguins top line of Malkin, Neal & Chris Kunitz were cashing in goals at a ridiculous pace, teams were recently starting to figure how to stop the Penguins top forward unit and beat the Penguins. Opponents were matching their top line against the MNK line of the Penguins, making the MNK line play in their defensive zone more than they were accustomed to playing.
The New Jersey Devils matched their top line of Zach Parise, Ilya Kovalchuk & Patrick Elias against the MNK line of the Penguins. Although the Penguins top line registered a power play goal, the Penguins 1st line had a combined plus/minus rating of -12 in a 5-2 defeat to the Devils.
Dan Bylsma had no other line that could match up with the Devils top scoring unit. The Toronto Maple Leafs were playing their top line against the MNK line and giving them fits in the Penguins' first game back after the all-star break. Coach Bylsma had no other option but to put the MNK line out against opponents' top lines because he had no other line that could match the skill of the top lines on the Maple Leafs and Devils.
This nagging issue came to an abrupt halt when Staal returned from a knee injury Saturday afternoon after missing nearly a month of action. Staal was on the receiving end of a knee-on-knee collision with ex-Penguins player and current New York Rangers winger, Mike Rupp, in the beginning of January.
The Penguins lit the lamp eight times Saturday afternoon against the Winnipeg Jets and scored four more goals against the suffocating 1-3-1 defensive trap of the Tampa Bay Lightning. The Jets game was no stellar defensive performance, and games with no defense take place here and there throughout every season, but Steven Stamkos, Martin St. Louis & Vincent Lecavalier were invisible in a Penguins' 4-2 victory Sunday night thanks to the defensive presence of Staal and his line mates.
Staal makes the MNK line even better since they do not have to be as concerned with their defensive play. The MNK line can play against 2nd, 3rd & 4th lines of opposing teams. The Staal effect had quickly taken its course over the weekend. The MNK line had 17 points in the two weekend games.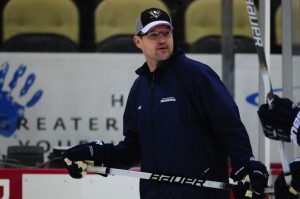 While this line gets all of the ink in the newspapers for their offensive production, the presence of Jordan Staal should not be overlooked. He was on a career pace in goal scoring before he went down with his knee injury. Coach Bylsma knows how important his young two-way center is to his team's success:
"I don't know if Jordan gets enough credit for his skating. Jordan fits right in with what we're asking from our centerman in terms of skating, speed and going north with how we execute. His offensive ability, I think this year better than any, he's understood exactly how big and strong he is skating-wise and physically-wise and has led to better offensive opportunities for him.

He's not a dangle in front of you and around you and through you type of player but when he uses his speed and strength, he can overpower people, he can overpower defenders, and they can't get the puck off of him. He's done that significantly better than he has in the past. You've seen him hang onto the puck longer and you've seen him go wide and use his speed and size and strength to out power people. Offensive zone-wise he's hanging onto the puck, using his body to keep possession, (and) moving into offensive areas to score goals, and add offense that I don't think we've seen him even come close to in the past. I think that's something he's realized and used to his advantage for offensive situations."
Bylsma could boast all-day long about his young phenomenal center, Staal. Before his injury, Staal had 15 goals in 34 games. He was on pace this year to break his career high of 29 goals when he posted this number in his rookie season.
As long as Staal continues to get better the Penguins will become more of a force. He has already proven he is a fantastic penalty killer and defensive forward anchoring the number one penalty killing unit in the league. He's becoming more and more of an offensive threat as he realizes his unique skill set.
With his solid two-way play, Staal is as important to the Penguins as any one of their offensive superstars. Staal is going to boost the Penguins into Eastern Conference contention as he continues to improve offensively. He cashed in a goal and an assist in his first game back against the Jets.