Hopefully the Los Angeles Kings faithful can get through this post, or at least the majority it, before they grab the pitchforks and torches and make their way to my front door. Here's the idea, Kings general manager Dean Lombardi should at least be open to trading a star player next season.
When I say "star player" I'm talking Marian Gaborik, Dustin Brown, maybe even Jeff Carter. Yes, Brown has been an integral part of the Kings for quite sometime and has been on the receiving end of Gary Bettman's Stanley Cup handoff twice. Both Carter and Gaborik can be seen as the missing piece brought in to get the Kings the Cup in 2012 and 2014 respectively. These facts probably only add fuel to the torches, but before you light them think about one thing, age.
All three of the aforementioned players are locked up for the foreseeable future by the Kings. If they go the distance all three will be a part of the Kings deep into both their lives and careers.Both Carter and Brown are signed until 2022 and Gaborik until 2021. Carter and Brown will both be about 37 by 2021. Gaborik on the other hand will be 40 by 2021.
Now all three players have a significant cap hit tied to their name. Brown has a $5.875 million cap hit, Carter carries a  cap hit of just over $5.272 million and Gaborik rounds out the three with a $4.875 million cap hit.
Unfortunately for the Kings, as players like Carter, Brown, and Gaborik's ages get higher, their trade value doesn't.
Over the last few seasons, Brown has already seen a steep drop in his production, which leads to a yearly debate as to whether or not he should be dealt. On top of his decline Brown will likely find himself in a bottom six role come October. There is a changing of the guard going on in Los Angeles, and it involves Carter handing off the offensive duties to players like his line mate, Tyler Toffoli. And finally, although Gaborik is still putting up respectable numbers, he's not getting any younger.
Depending on how next season plays out for the Kings, it may be a good time for Lombardi to test the waters and see exactly what he can get for one of his big name players. If the Kings are lingering around the playoff bubble, which they tend to do, it might be an opportune time to pull the trigger while there is still some trade value left in one of their aging stars.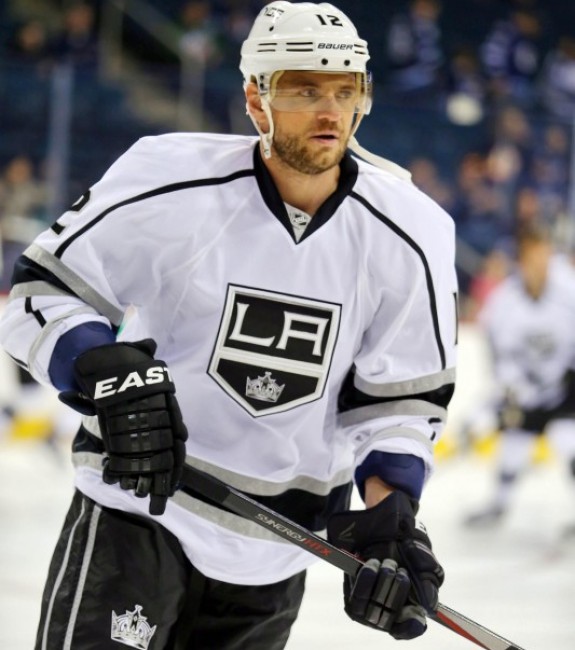 As the seasons go along it is safe to assume the trade value associated with all three will decrease. When it comes to Gaborik, who is already 33, you have to think about lingering injuries and whether or not he will even be able to get to the end of his current contract. Although some players can defy age it's probably safe to say Gaborik wont be pulling a Jaromir Jagr.
Carter has been a postseason hero for the Kings and has served as a catalyst for the Kings on their way to their first two Stanley Cup championships. However, as time has gone along he has become the old man on a line with young stars Tanner Pearson and Toffoli. The kids are taking over and Carter has likely already peaked.
Now when it comes to Brown his status on the team can be different every day of the week. One day, Kings fans will be calling for Brown's being traded because he can't produce. The next day, Kings fans will be backtracking because Brown scored a goal the night before and is again the best captain in the league. But as Brown's numbers trend down so does his return rate.
With the contracts associated to each Brown, Carter and Gaborik it is only going to get harder to move them if their production drops as they get older. It could be now or never on a deal that sees the Kings get something in return for one of their aging stars.
Eric received his BA in Journalism from California State University, Northridge. Eric has contributed to RinkRoyalty.com, Buffalowdown.com and California Rubber Magazine.