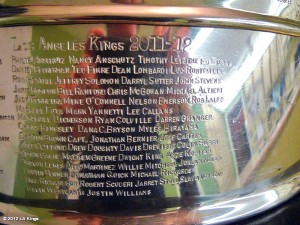 From Altieri through Westgarth, the 2011-12 Los Angeles Kings and their improbable, lightning-in-a-bottle championship team are now formally and forever engraved onto Lord Stanley's Cup. And then some.
Although the limit is technically 52, the league added co-owner Ed Roski's name on the far right of the top line, after owner Philip Anschutz, his wife Nancy Anschutz (surprisingly, their dog was snubbed) and team governor Timothy Leiweke. Why Roski's name was left off the initial list has yet to be explained, but according to Helen Elliott of the Los Angeles Times, the league determined it was too important to omit.
The list of names on the Cup is as follows:
Ownership/Front Office:
Phil Anschutz
Nancy Anschutz
Ed Roski
Timothy Leiweke
Dan Beckerman
Ted Fikre
Luc Robitaille
Mike Altieri
Chris McGowan
Hockey Operations
Dean Lombardi
Ron Hextall
Jeff Solomon
Jack Ferreira
Marshall Dickerson
Lee Callans
Coaches
Darryl Sutter
John Stevens
Jamie Kompon
Bill Ranford
Ryan Colville
Players
Jonathan Bernier
Dustin Brown
Jeff Carter
Kyle Clifford
Drew Doughty
Davis Drewiske
Colin Fraser
Simon Gagne
Matt Greene
Dwight King
Anze Kopitar
Trevor Lewis
Alec Martinez
Willie Mitchell
Jordan Nolan
Dustin Penner
Jonathan Quick
Mike Richards
Brad Richardson
Rob Scuderi
Jarret Stoll
Slava Voynov
Kevin Westgarth
Justin Williams
Scouting
Rob Laird
Mike Futa
Mark Yannetti
Mike O'Connell
Nelson Emerson
Trainers/Equipment Staff
Chris Kingsley
Darren Granger
Dana Bryson
Myles Hirayama
Interestingly, Andrei Loktionov and his 38 regular season (along with two postseason) games was left off. The criteria for selection isn't completely known, but Loktionov played in five more games than Davis Drewiske and Kevin Westgarth — combined. However, both Drewiske and Westgarth were on the roster the entire year, likely the tipping point to a permanent spot on hockey's holy grail.
It's a shame that broadcasters are not considered for inclusion. Bob Miller, the voice of the Kings since 1973 and a member of both the team's Hall of Fame as well as the Hockey Hall of Fame, should absolutely be on the Cup. For that matter, so should Nick Nickson, who does the radio broadcasts and has called games for the Kings since 1981. However, in a fitting tribute, Bob Miller's voice was carried over the Staples Center sound system as the final minutes ticked off the clock during game six of the Finals. As a long-time Kings fan, hearing his voice boom "It's over!" as the final horn sounded sends chills up my spine. Here is the final 1:42 of the clinching game, as called by Miller:
Kings news and notes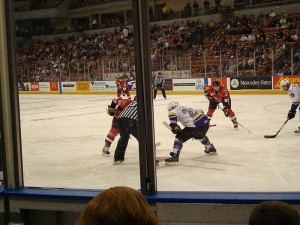 -The raising of the championship banner is scheduled for October 12th, prior to their game with the New York Rangers. However, with little progress having been made with respect to the labor dispute, cancellation of that game (and others, of course) is a virtual certainty at this point.
-Anze Kopitar became the first high-profile NHL name to join the Swedish league HockeyAllsvenskan, joining his brother Gasper on Mora IK.
-Dustin Brown has offers to play in Switzerland's top league as well as the KHL.
-The Kings' AHL affiliate Manchester Monarchs opened training camp on Saturday. Manchester finished second in the Atlantic division with a 39-32-2 record (83 points) before falling in the first round of the Calder Cup playoffs.