When the Toronto Maple Leafs drafted Mitch Marner 4th overall in 2015 NHL Entry Draft many were worried that his small stature would reduce his effectiveness as an eventual NHL player. That doubt in Marner continues into the debate about whether he should play another year in the OHL with the London Knights instead of joining the Leafs. Marner has proven himself and his ability as a hockey player on multiple occasions and it would be in both Marner and the Leafs' best interest if he played in the NHL next season.
Mitch Marner and Other Small Players
It seems like the first thing to address is the debate about Mitch Marner's height and strength. The issue of height in the NHL is always a persistent one, even though the game has moved away from having the biggest and toughest players on the ice. Now the focus is on skill and speed. Neither of which are reliant on the height of players. Evidence of this can be found in the 2015/16 leading scorer in the NHL, Patrick Kane. Kane finished the season with 106 points in 82 games and he is the same height as Marner at 5'11, so there aren't any issues for players under 6'0 playing in the NHL anymore.
Patrick Kane had 10 goals, 31 points in 16 playoff games for @GoLondonKnights in 2007. Mitch Marner has 12 goals, 31 points in 12 games now.

— Ryan Pyette (@RyanatLFPress) April 25, 2016
The only other issue for Marner playing in the NHL would be his weight and strength, since a lack of either can result in being easily pushed off the puck. According to the OHL website Marner is 5'11 and weighs 164 lb. Now compare that to Jonny Gaudreau who is listed as 5'9 and 157 lb. He finished 6th in scoring this season with 78 points in 79 games. Gaudreau shows that if a player has enough speed and skill then they will have no issue playing in the NHL, since the game has changed to the point that if a player is fast enough they can rely on their speed to get past players instead of strength.
A Star in the Making
The London Knights are in the third round of the OHL playoffs and Mitch Marner is continuing to show that he is a NHL star in the making with 31 points in 12 games. Marner was just as impressive during the regular season with 116 points in 57 games, which averages out to 2.04 points per game. Now that may not seem as impressive as it actually is since players in the OHL often break the 100 point mark. The difference comes from examining players by the ranking of points per game. This helps to eliminate the effect that games lost to injury has on the total number of points at the end of the season, which helps to truly gauge a player's point production.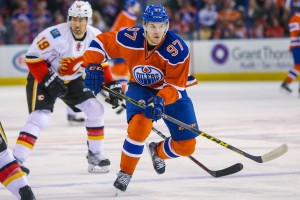 Since the 2009/10 season in the OHL, only three players have had a 2 points per game average in a season. During the 2014/15 OHL season Connor McDavid finished with a 2.55 points per game average and Marner finished with a 2 points per game average. This season Christian Dvorak finished with a 2.05 points per game average and Marner again with a 2.04 points per game average. (In 2014/15 Sam Bennett had 2.18 points per game, but only played 11 games. And this season Dylan Strome finished with 1.98 points per game, which is close enough to warrant being mentioned).
The point of this is not to say that Marner will be just as good as McDavid, but to show that Marner is an outstanding player and more than ready for the NHL.

Toronto Maple Leafs contributor for The Hockey Writers.
I've been a fan of the Toronto Maple Leafs since I was a kid and have always had an interest in writing. At The Hockey Writers, I get to enjoy both of my passions as well as writing about small convoluted details in player contracts and stats.