The Metropolitan Division is a division that has some serious goaltending competition. To me it has the best goalies top to bottom as a division in the NHL. Anyone who watched all seven games of the Rangers versus Capitals series last season witnessed a goalie matchup for the ages. Henrik Lundqvist and Braden Holtby were simply outstanding the entire series. Goaltending is a position that can be tough to rank because numbers can get inflated when playing in an excellent system with an elite defense.
This list is based on recent performance in the last few seasons and playoffs, and which goalie a team would want in their crease heading into the next few seasons. The margin for error at the position has been consistently decreasing and especially in the past decade. The average save percentage and goals against average for an NHL goalie in 2006-2007 was .905 and 2.77 respectively.
This past season in 2014-2015 the numbers were .915 and 2.52. This shows the improved play from the defense and goaltending position in the last decade and just how truly tough it is to score goals today. It is no coincidence that the top goalies on the list play for clubs that have had a lot of recent success. Here is the preseason list of my top goalies in the Metropolitan Division.
1) Henrik Lundqvist
To me Henrik Lundqvist is the best of the group. His style of playing deep in his crease, relying on his quick reflexes and ability to track pucks has worked for years and he still has a lot of hockey left. When the pressure rises, the Swede elevates his game.
Lundqvist was the main reason the Rangers were even in playoff contention from 2006-2011 before the team became a Stanley Cup favorite the last few seasons. Today the New York Rangers and Lundqvist are still searching for that long desired trophy, as the window of opportunity closes slightly each season.
Last season Lundqvist missed significant time for the first time in his career. In the regular season  games he played in he was 30-13-3 with a .922 save percentage and 2.25 goals against average.
Henrik Lundqvist, back in NYC, as motivated as ever to help #NYR take "that final step" http://t.co/vF112jZGuD

— Pat Leonard (@PLeonardNYDN) August 30, 2015
The 2012 Vezina Trophy Winner is a leader in the locker room for the Rangers and will give it everything he has each night to get the Rangers to where they want to be.
2) Braden Holtby
Braden Holtby was simply spectacular last season and I predict the young goalie to one day be at the top of these rankings. Goalie coach Mitch Korn proved to be a perfect match to work with Holtby and the young goalie has seen so many improvements to his game. In the past Holtby was known to over commit on plays and now he is staying a lot more composed in the net. His athleticism is evident whenever he takes the ice and the Washington Capitals have become very comfortable playing in front of him.
Holtby showed excellent rebound control last season as well and seemed to read the plays flawlessly. Holtby never seems to be shaken up after allowing a goal and appears focused instantly on the next puck that will come his way. He led the league last year in games played (73), was second in wins (41), seventh in save percentage (.923), fifth in goals against average (2.22) and second in shutouts (9).
His playoff record was 6-7, however his numbers were simply ridiculous. In 13 playoff starts Holtby had a .944 save percentage and 1.71 goals against average. Entering his age 26 season, Holtby is still a young goaltender and the league will take notice.
3) Cory Schneider
Cory Schneider is a goalie that I believe should have been a starter in this league a few years prior to when he got his opportunity. The 29-year-old American is an athletic and agile butterfly-style goaltender. Schneider was a workhorse last year in his first year as the clear starter for a below average New Jersey Devils team.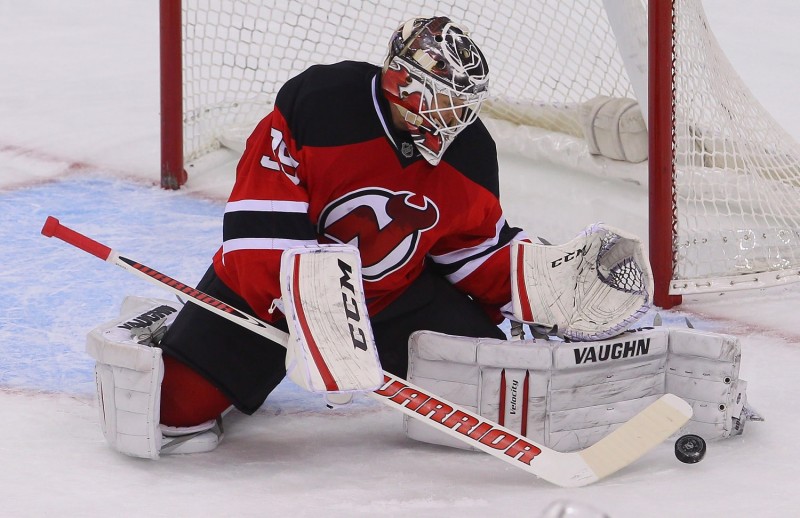 Schneider started the fourth most games in the league (69), was fifth in the NHL in save percentage (.925) and ninth in goals against average (2.26).
In his first year in New Jersey, Schneider appeared in 45 games and posted a .921 save percentage and 1.97 goals against average. Simply put, Schneider is an excellent goalie and the New Jersey Devils were very fortunate to get a goalie of his caliber after having one of the best of all time in Marty Brodeur. Schneider will be heavily relied upon next season to keep the New Jersey Devils in hockey games.
4) Marc-Andre Fleury
Marc-Andre Fleury has been the guy in Pittsburgh for several seasons now. He has had a lot of success there and is a 2009 Stanley Cup Champion. Fleury is a very good goaltender and has really turned things around the last two seasons for Pittsburgh after a lot of personal struggles in the playoffs.
In a down year for the Penguins defense and team overall in 2014-2015, it was Marc-Andre Fleury who led the team to the playoffs. Last season Fleury was 34-20-9 with a 2.32 goals against average, .920 save percentage, and led the NHL with 10 shutouts. Fleury will need another strong season and deep playoff run, where he is the reason the Penguins advance, in order to rise up these rankings in the future.
5) Sergei Bobrovsky
Sergei Bobrovsky is a young goaltender that has found success and a home in Columbus with the Blue Jackets. In the shortened season of 2013 there was nobody better than Bobrovsky. Bobrovsky played in the KHL during the lockout and was taught a new Finnish style known as the Reverse-VH.
Bobrovsky significantly improved while playing this style and carried the confidence back to the NHL that January when NHL hockey resumed. The young Russian won the Vezina Trophy that season with a record of 21-11-6, a .932 save percentage and 2.00 goals against average. He followed up that year with another very solid campaign in 2013-2014 and helped lead the Blue Jackets back to the playoffs.
Bobrovsky played in a career-high 58 games and had a record of 32-20-5 with a .923 save percentage and 2.38 goals against average. Last year Bobrovsky went 30-17-3 and saw a slight decline in his save percentage (.918) and goals against average (2.69). That was due to missing significant time last year with a groin injury. Bobrovsky should return to form next year with a fresh start for the Columbus Blue Jackets and the team should be highly competitive in the Metropolitan Division.
6) Steve Mason
Don't let his position on these rankings fool you, Steve Mason has found his game the last two years. The lefty-catching goalie has lightning fast reflexes and great flexibility in the net. Mason has played great the last two years for the Flyers. After winning the Rookie of the Year Trophy in 2008-2009 with the Columbus Blue Jackets, Mason struggled heavily the following four seasons before being moved to the Philadelphia Flyers.
In his first season in Philly, Mason finally lived up to the hype he created for himself in his first NHL season. During the 2013-2014 season, Steve Mason started in 61 games and had a record of 33-18-7, a 9.17 save percentage, and 2.50 goals against average. The Philadelphia Flyers were playoff bound that season; however Mason had to miss a few games during the playoffs as the result of an upper body injury. However, he was very good in the games he did appear in against the New York Rangers.
Mason went 2-2 that series in five appearances with a .939 save percentage and 1.97 goals against average. The New York Rangers would win the series in seven games and advance to the Stanley Cup Final. If Mason was healthy and played in every game in that series, who knows what the outcome would have been ( he appeared to be that dominant).
In 2014-2015 the Flyers took a step back and struggled throughout the year to play consistent hockey. It was not the fault of Steve Mason, who numbers wise had an even better year. Despite a mediocre record of 18-18-11, Mason was third in the NHL with a .928 save percentage and was seventh in the NHL with a 2.25 goals against average. Look for the lefty goaltender to continue to play well for the Flyers, as he is only entering his age 27 season, which is just entering the prime for an NHL goalie.
7) Jaroslav Halak
The 30-year-old Slovakian netminder is playing for his fourth NHL franchise and appears to have found a home in between the pipes for the New York Islanders. Halak formerly played for the Montreal Canadiens, St. Louis Blues and Washington Capitals.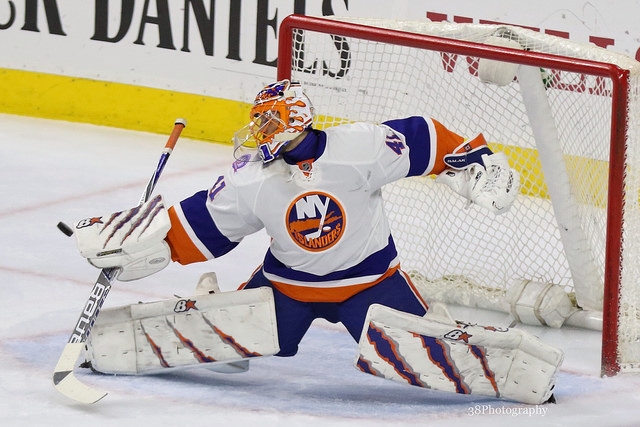 When I think of Jaroslav Halak, the first thing that comes to mind is the 2010 playoffs. Halak was sensational and led the Montreal Canadiens to upsets over the Pittsburgh Penguins and Washington Capitals before an Eastern Conference Finals defeat to the Philadelphia Flyers.
However, the Habs had other plans in net with a young Carey Price on the roster. This past season Halak appeared in a career high 59 games for the Islanders and posted a career-high 38 wins, which included a .914 save percentage and 2.43 goals against average.
8) Eddie Lack/Cam Ward
Carolina is the only team in the Metropolitan Division without a clear number one goalie heading into this fall's training camp. Ward has battled injuries in the last three seasons after being a workhorse in 2010-2011 and 2011-2012 and posting very respectable stats.
This past year Ward appeared in the most games since that 2011-2012 season and was 22-24-5 while splitting time with Anton Khudobin (now a member of the Anaheim Ducks). Ward had a save percentage of .910 and a goals against average of 2.40. The man that was brought in to compete with Ward for the number one job this season is Eddie Lack.
The 27-year-old Swede arrived in Carolina after spending his first two seasons in Vancouver. Lack was in a goalie controversy his first season with Roberto Luongo and Luongo was traded back to the Florida Panthers. Lack appeared in 41 games that season and went 16-17-5 with a .912 save percentage and 2.41 goals against average.
This past season the Canucks brought in Ryan Miller to help get the team back to the playoffs. Eddie Lack still saw plenty of action and again appeared in 41 games and improved his record to 18-13-4 with a .921 save percentage and 2.45 goals against average. Lack hopes to be the number one guy in Carolina this season. Carolina is a team in transition, but appear to be focusing on improving the defensive side of the puck right now with the acquisitions of James Wisniewski and drafting the talented young American Noah Hannifin fifth overall in the 2015 NHL Entry Draft. Despite these very good improvements, whoever starts for Carolina will likely see a lot of pucks this season and must be ready to go.