At the beginning of March, the Minnesota Wild acquired Chris Stewart from the Buffalo Sabres. Stewart was a bit of a risky move based off of his previous play, and I'm not sure any of us expected the former Sabre to turn out the way he has. Luckily for the Wild, Chuck Fletcher seemed to know exactly what he was doing, and Chris Stewart has become an integral piece of Minnesota's dominant top line.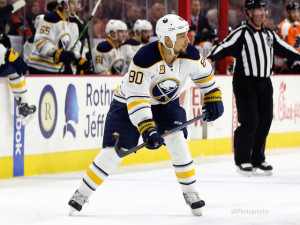 The Terrific Trio
Okay, so that's a really lame name for these guys, but Mikko Koivu, Chris Stewart and Nino Niederreiter definitely need a cool line name because they've been incredible.
Since the Wild picked up Stewart, and Mike Yeo pieced together this combination of players, these three guys have been difference-makers every game. Maybe it's the combination of grit and good passing. Or maybe it's just three big bodies out on the ice. I don't know. Maybe the three of them just like each other and enjoy playing together. Whatever it is, I'm really glad Yeo put these guys together and they've clicked as well as they have.
During the month of March, the Wild played 14 games and scored 43 goals in the process. This top line combined for 10 of those goals and also collected 15 assists. Koivu recorded four goals and five assists; Niederreiter had three goals and four assists, and Stewart tallied three goals and six assists.
Those numbers don't include the numerous goals that they helped create for other teammates, or the plays they broke up to stop a goal from being scored. These guys just click. In the team's last game of the month against the Los Angeles Kings, this line was responsible for all 4 of the goals scored that night. That's not a fluke.
There were many other reasons Minnesota was so successful throughout March, like Devan Dubnyk, Zach Parise and Matt Dumba, but this top line was impossible to ignore.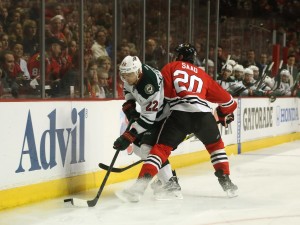 Moving Forward
As the season continues, injured players like Kyle Brodziak, and possibly Jason Zucker, are going to start returning. Although Jason Zucker isn't supposed to return until May, the winger is apparently trying to push his return and make it back in time for the playoffs. Zucker is an incredibly talented player, but why fix something that isn't broken when he returns?
Now don't get me wrong, having too many talented players is never a problem, but there are some things that shouldn't be messed with, and I think this line is one of those things. These three guys clearly have some chemistry, and I can't imagine Mike Yeo is planning to break that up any time soon.
Alli covers the Minnesota Wild and has been a contributing writer with THW since August 2014. She is currently a journalism and sports management student at the University of Minnesota. For all of your Minnesota Wild news and updates, follow her on twitter: @allibaker23