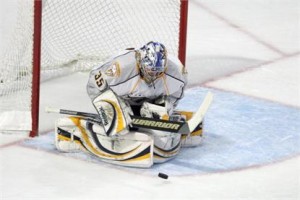 The typical offseason program has started for the Nashville Predators.
Last Friday the Preds signed the seventh-overall pick in last year's draft, Colin Wilson, to a three-year entry level deal. For a team with some goal-scoring issues from their younger players at points in the season, the 19-year old Connecticut should be able to create some scoring for the Preds' immediate future.
Not a huge goal-scorer, Wilson will most likely develop into a 20-25 goal man with some great playmaking ability (61 assists in 80 games at Boston U.), the perfect guy to try and get Mike Santorelli or Patric Hornqvist going.
Then again, if Alexander Radulov could be coerced into rejoining the Predators, that combination might not be too bad either.
But those reasons, although exciting for the future of the Predators, are not the reason we're here today.
With the Predators' season over a little sooner than we're accustomed to, I guess it's time for the end-of-year awards, and giving some of the players their due for a great, competitive season that just came up a little short.
The Cliff Ronning Award: Leading Scorer in the Regular Season
Jean-Pierre Dumont
Cliff Ronning led the Nashville Predators in scoring for four-straight seasons to start the Predators off as a Franchise, so there's no one better than the 869-point scorer to have this award named after.
Jean-Pierre Dumont just led the Predators in scoring for the second-straight year. Despite seeing his goal totals fall off slightly from last season, Dumont nearly had 50 assists for the Preds (finished with 49) and he could've had his second-straight 70-point season if not for some untimely injuries to some of Nashville's top players.
The Sergei Krivokrasov Award: Leading Goal-Scorer in the Regular Season
Jason Arnott
Arnott became just the third player in franchise history to score thirty goals this year (33) and he essentially lost the entire month of March due to a concussion. Of those 33 goals, nine also came on the powerplay, proving that Arnott was devastating goal-wise on two fronts this year, but also just as effective at even-strength as he was with the man advantage.
Krivokrasov was the first-ever player to score 25 goals for this franchise.
Half a season later he was gone, but he certainly made an impact.
Or at least had a trophy named after him.
The Bob Boughner Toughness Award: Toughest Player on the Team
Steve Sullivan
Bob Boughner was a tough guy.
So is Steve Sullivan.
For a guy who missed more than 150 games in the NHL due to a back injury, simply to see him come back is heart-warming.
To see him comeback and play the way he did? It's uplifting.
Unrestricted Free Agent to be? Hopefully not. Resign in the Music City Sully. Please.
The Patric Kjellberg Award: The Late Bloomer
Joel Ward
After four years in the OHL and four years in the C.I.S (Canadian University Hockey League), Joel Ward went to the AHL in 2005/06 hoping to latch on with a team.
In 209 games with the Houston Aeros though, Ward didn't even crack the 100-point barrier. In an 11-game stint with Minnesota in 2006/07 he only registered one assist.
This year, the 28-year old proved that late-bloomers can have some fun too. 17 goals and 18 assists later, Ward had a very successful first-year in the NHL in all aspects of the game. He has four powerplay points, three shorthanded points, and two game-winning goals.
He even finished strong with 10 points in his last 13 games.
Kjellberg came into the NHL with Montreal in 1992/93 and wasn't very effective with no points in seven games. He came back six years later and scored 31 points in 71 games for Nashville.
Two guys who only needed a second chance I guess.
The Tom Fitzgerald Consistency Award
Ryan Suter
Tom Fitgerald may not have been the biggest star (or a star at all) in the NHL, but there was one thing he was for the Nashville Predators: Consistent.
Fitzgerald quietly led the team and became a fan-favorite in Cat Fish City. He missed only two games in his first three years with the team, and played 63 games with the Preds before being traded to Chicago in his last season.
Ryan Suter has quietly become a consistent producer for the Predators, constantly overlooked in favor of Shea Weber. He, Greg Zanon, and Dan Hamhuis each played 82 games for the Preds this season, all three of whom are quality candidates for this.
The Bill Houlder/Bubba Berenzweig Award: Best Defenseman
Shea Weber
Unfortunately for Suter, Zannon, Hamhuis, and the rest though, Weber was the best, finishing second on the team in goals, third in points, first in shots, and second in ice time (behind Suter by 18 seconds).
And besides, you thought we'd name this after Kimo Timmonen?
Yea…right.
The Tomas Vokoun Award
Dan Ellis
Congratulations Dan. Like Vokoun being unseated by Chris Mason and Mason being unseated by yourself, you were unseated by rookie-phenom Pekka Rinne this year.
Hopefully you don't end up getting traded like the last two "number ones".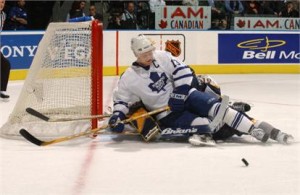 The Mike Dunham Award: Goalie of the Year
Pekka Rinne
If not for Steve Mason, Rinne would've been up for the NHL's Rookie of the Year trophy.
Rinne was sixth in the NHL with a 2.38 goals-against average, tenth with a .917 save percentage, and thirteenth with 29 wins.
He also had  seven shutouts, the most of any one goalie in a Predators season.
The Alexander Radulov Award: Rookie of the Year
Pekka Rinne
Seriously? Who else would it have gone to?
Honorable mention to Ryan Jones who put up 17 points in 46 games for the Preds.
Here's hoping we don't have to do these again until June next year!