Everyone knew Henrik Lundqvist would be the key for a Rangers' series upset, and thus far, he's done just that by stealing the show from the high-powered Washington Capitals.  Lundqvist held the Caps to one goal on 39 shots, while getting offense from Paul Mara and Chris Drury along the way.  A late furry by Alex Ovechkin and company fell just short as the Rangers are just one win shy from advancing to the second round.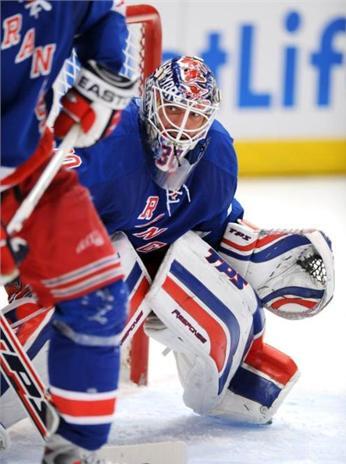 Simeon Varlamov had another solid game, but there was nothing he could do about the first goal.  Mara fired a shot from the point that was going wide until it hit John Erskine's skate and found its way to the back of the net.
New York remained up by a goal until early in the second period.  Drury skated in and took a routine shot on the "Iron Curtain." Instead of freezing the puck with Rangers closing him on him, Varlamov muffed the catch and Drury picked up the loose puck and put it top shelf from a tough angle to put New York up by two.  So far, rebounds have been the biggest knock on Simeon who has stopped 75 of 78 shots for the Caps.  Varlamov is also known to be very active within the crease, as seen on Drury's goal.  Had he been inside the crease when Drury shot from near the goal line, the puck would have been stopped without a problem.
In the third period, Ovechkin finally got his break.  He rushed into the zone and beat Lundqvist high glove-side to cut the lead in half with just under 18 minutes left.  Lundqvist had bested Ovie every time up to this point, and when Ovechkin did beat King Henrik, the goal post was right there to deny Alexander the Great.  Ovechkin finished with 14 shot attempts, 11 of them reaching the net, and one ringing off the post.
Washington now finds them self in a familiar spot: Down three games to one in the first round of the playoffs.  Last season the Caps won two in-a-row to force a Game 7 on home ice before losing to Philadelphia in overtime.  The Rangers can close out the Capitals when the teams meet again on Friday night in D.C.
Notes: Sean Avery took two bad penalties, both in the third period.  Avery punched Milan Jurcina in the face after an icing call.  Sean also high-sticked Brian Pothier with about three minutes left…Alex Semin picked up a tripping penalty while on his knees as an unexpecting Ranger skated by.  He was also whistled for holding in the first period…Brandon Dubinsky was 15/17 (88%) on face-offs…Mike Green skated for 29:51 but only had two shots.  His only points (two assists) came in Game 1.