Please "Click Here" for "Notes Up Front" and the "Legend" for various topics covered below in my "Live Updated" NHL 2011 Draft Preview article – The Next Ones.
Rocco Grimaldi
Date of Birth: February 8, 1993
Place of Birth: Rossmoor, California, USA
Ht: 5-6 Wt: 160
Shoots: R
Position: Center
NHL Draft Eligibility: 2011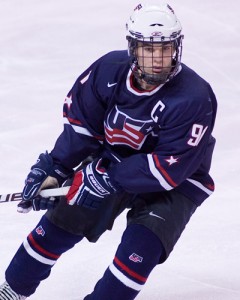 One Timer:
Rocco Grimaldi is the most skilled forward in the draft. He possesses an incredibly dynamic offensive game, and has all the right tools. The question remains, what is holding back scouts from declaring Grimaldi a consensus top five pick?
To put it simply, his size could hold him back from being elite. It's an unfortunate reality that players five and a half feet tall aren't too common in the NHL, and a reality that Grimaldi will have to deal with. Size is not something you can learn by putting extra hours in at the rink. It is either something that you have, or you don't.
Grimaldi spent the last two seasons playing for the US National Development team honing those elite offensive skills, and will take his talents to the University of North Dakota in the fall.
Those elite offensive skills include; lightning fast foot speed, a deadly quick release, dazzling agility, and a MENSA level hockey IQ. Grimaldi has the full package of a dynamic offensive player.
Among all the talk of his offensive ability, his heart and drive get lost when you read scouting reports. But that doesn't mean it's not there. If Rocco Grimaldi were asked what the most valuable thing he could bring to the team that drafts him would be, he would tell you it's his drive to be the best, and be a great leader.
Despite being undersized his whole life, Rocco Grimaldi hasn't given up. And he is not about to now.
Top Prospects Game
Playing in the USHL, Rocco Grimaldi did not participate in the top prospects game.
Statistics

Scout's Honor
"He's not very big, but in terms of his ability to make things happen, especially offensively, he's unbelievably dynamic," Rolston said. "He skates well and has a great first step. In terms of his skills, he's outstanding. He's someone on our team we look to create offense every game and, without question, one of our most dynamic forwards."
-Ron Rolston, Coach of U-18 US National Development Squad
"Grimaldi is a blur from goal line to goal line, but it's his quickness in close quarters that separates him from the pack. For those measuring under ideal NHL size, speed, acceleration and agility are not just assets, they're a means of survival when hulking D-men close in for the kill. And Grimaldi hasn't just mastered the art of elusion, he's also using his top tool to exploit bigger, but slower skaters."
-Brain Hume, ESPN Insider
Bio/Interview(s)/Link(s):
NHL.com Profile
USA Hockey Interview
International Tournaments:
Rocco Grimaldi is not shy to international success. He won Gold with the USA at U17 WHC. Grimaldi has also helped the USA capture gold, back to back years in the 2010 IIHF World U18 Championships. Grimaldi finished the tournament this year with two goals and six assists in 6 games played.
ETA = 3 years
Risk-Reward Analysis:
Risk – 2.5/5 Reward – 4.5/5
NHL Potential:
Top line sniper at his best, shootout specialist if his skill doesn't translate.
Strengths:
 *See "One Timer" section above.
Brilliant hockey IQ
Lightning quick speed
Excellent foot-work
Dangerous sniping ability
Strong vision
Good play-making abilities
Great Leadership
Flaws/Aspects He Needs to Work On:
To effectively use his size, Grimaldi must learn how to use his body better
Needs to add to his overall strength
Stronger on the fore-check
Fantasy Hockey Potential: Offensive = 9.5/10   Defensive = 6.5/10
NHL Player(s) Comparison
-Brian Gionta, Danny Brière
Video(s)
Off The Iron (Interesting Notes):
Wants to be a preacher after hockey.
2009-2010 WHC All-Star Team.
Led the 2009-2010 WHC in assists and points.
2010-2011 USHL All-Star Team.
THW's The Next Ones prospect profile template design architect: Chris Ralph
Patrick Kearns covers prospects for The Hockey Writers, and his local Rangers and Devils for The Fourth Period.
You can follow him on twitter @PatrickKearns to talk anything hockey related.