May 25th. It's a big day for the Pittsburgh Penguins franchise.
Twenty years ago today Jaromir Jagr was mumbling about Elvis while the city of Pittsburgh was in a frenzy celebrating their team's first Stanley Cup.  On the ice, Mario Lemieux was the driving force behind that 1990-91 Championship.
Five years ago – this time as team owner – Lemieux made a move off the ice that catapulted the Penguins to another Cup.
On May 25, 2006 Ray Shero was hired as General Manager of the Pittsburgh Penguins, taking over for long-time GM Craig Patrick whose contract was not renewed by the team.
Patrick took a great deal of heat in the early 2000's as he dismantled the Penguins into a roster of no-names and has-beens.  After the 2004-05 lockout led to a salary cap system, Patrick was suddenly seen as a visionary; an executive who stockpiled top draft picks, slashed payroll, and put the Penguins in a perfect position to take advantage of the new competitive landscape.
Patrick went on a shopping spree coming out of the lockout, spending big money on free agent gems like Sergei Gonchar, Ziggy Palffy, and John Leclair.  Those moves and the rookie debut of Sidney Crosby created a buzz around a franchise that had been missing for several years, but the team was still a mess.
An irregular heartbeat forced Lemieux to hang up the skates for a second and final time.  Gonchar's bulky $25m contract got in the way of his shooting and he couldn't hit the net.  Palffy shockingly retired at midseason.  The money spent on top-end talent left the Penguins with very little depth.  Meanwhile, rumblings about a new arena, relocation, and the future of the franchise were beginning to get louder.
At the time, Nashville GM David Poile was telling everyone willing to listen about how talented and ready-to-lead his underling Ray Shero was.  Shero was originally in discussions with the Boston Bruins to take over their GM position, but talks broke down for reasons still unknown.
Perhaps amidst the rubble left in the wake of Patrick, Shero noticed Crosby, Evgeni Malkin, Marc-Andre Fleury and a core of talented young players he could use to build his legacy.
Whatever the reason, when the Penguins reached out to Shero in the spring of 2006 and signed him to a five-year contract they were looking for success and stability.
They got both.
Back in February, Assistant General Manager Jason Botterill told us that under Shero the Penguins have always had a one-year plan and a five-year plan.
The first year of the Shero era was certainly a success.  His first signing – Micki Dupont, according to Pro Sports Transactions – was one most fans will never forget.  Okay, nevermind.  The 5-foot-10 Dupont played just three games for the Penguins.
But nevertheless, with Shero behind the wheel the Penguins ended a streak of four-straight last place division finishes in 2006-07:
2006–07 (47-24-11, 105 points) Lost in first round to Ottawa
2007–08 (47-27-8, 102 points) Lost in Stanley Cup Finals to Detroit
2008–09 (45-28-9, 99 points) Won Stanley Cup
2009–10 (47-28-7, 101 points) Lost in second round to Montreal
2010-11 (49-25-8, 106 points) Lost in first round to Tampa Bay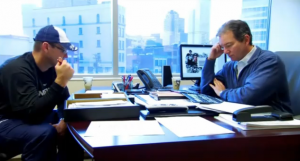 His five-year plan was also a success.  The Penguins have never finished below second place in the Atlantic Division under Shero and have made the playoffs every season.  The Stanley Cup in 2009 was obviously the highlight of Shero's career thus far, but he has new challenges to overcome as he heads into the second phase.
Under the constraints of the salary cap, can he win with his core now entering their prime?
It seems like a silly question, but in 2009 Malkin and Staal were still on entry-level deals with base salaries under $1m per year.  While both were key cogs in the Cup run, their low salaries also allowed Shero to fill out the team with a number of higher-priced veteran contributors.
Malkin's current contact pays him $8.7m per season while Staal carries a cap hit of $4m.  The salary cap continues to rise each year, but the hefty 'second-contracts' for both players obviously makes it more difficult to afford depth.
As we've chronicled in our 'Penguins Blueprint' series, Shero and his front office staff have found a variety of ways to ensure success and stability for the franchise.
Shero's greatest quality as a manager has been his willingness to take risks.   At the trade deadline in 2008, he shocked the world by going out and acquiring Marian Hossa.  The Penguins and Hossa made it all the way to the Finals that year before losing to a Red Wings team they would eventually overcome the following season.
Of course risk-taking also leads to mistakes.  Last year's deadline grab, Alexei Ponikarovsky, was a failure but Shero has learned that in order to win a Stanley Cup you can't sit idle.
To no one's surprise, Penguins ownership signed Shero to a new five-year extension in September that ensures he'll get plenty of additional opportunities to win another Cup in Pittsburgh.
In a joint statement following the extension, co-owner Mario Lemieux and Ron Burkle said:
"This was an easy decision.  Ray has done a tremendous job with our hockey operation – not only leading us to the Stanley Cup in 2009 but also building a team that can continue to compete for the Cup year after year."
Mission accomplished.