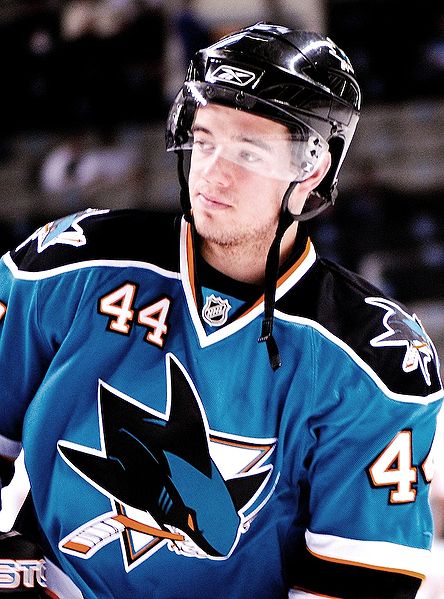 Out With the Old
After much speculation, the San Jose Sharks are now without a captain. Joe Thornton has been stripped of the captaincy while Patrick Marleau was also stripped of the alternate captaincy.  This development is far from shocking after Doug Wilson has constantly reminded both his players and the media that change would be coming to San Jose. The summer has been filled with questionable changes in San Jose so it seems fitting that the team is going in a new direction with its leadership.  At this time Patrick Marleau and Joe Thornton are the only two players left from the 2006 roster. Scott Hannan was also on the roster at the time but left San Jose as a free agent in 2007.
Since Owen Nolan was traded during the 2003 season there have been only three permanent Sharks captains in San Jose. Alyn McCauley, Vincent Damphousse and Mike Ricci served as interim captains during the beginning of the 2004 season. Patrick Marleau served as captain from 2004-2009, Rob Blake during 2010 and Joe Thornton from 2011-2014. All three Sharks captains managed to take the Sharks to the Western Conference Finals but were unable to advance any further. Despite the Sharks best efforts they have been unable to jump that last hurdle after making coaching changes, captaincy changes, and much more. Perhaps the Sharks have been cursed for dismissing both Darryl Sutter and Dean Lombardi during the 2003 season and now are forced to watch them succeed in Los Angeles.
Same Story Different Jersey
To add to the Sharks own struggles, the legacy of Joe Thornton and his failures are continuing. In Boston, Thornton was named captain to begin the 2003 season. The Bruins lost to the eventual Stanley Cup Winning New Jersey Devils in 2003 but met an even crueler fate in 2004. After grabbing a 3-1 series lead over the Montreal Canadiens they lost in seven games. After the lockout Thornton was traded to San Jose in 2006, holding the captaincy in Boston for just over two seasons. While in San Jose Thornton has managed to be more successful while wearing the "C" but has succumbed to another short lived captaincy of only four seasons, including one reduced by lockout.
Who will replace Joe Thornton and become the ninth permanent Sharks captain in team history? There are a lot of younger faces in San Jose but the captaincy will come down to these three names, Logan Couture, Joe Pavelski and Marc-Edouard Vlasic. All three are more than qualified to lead the Sharks in the dressing room. Couture is the only NHL-All Star and if not for an injury should have been nominated to the Canadian Olympic team. Pavelski is a two time Olympian while Vlasic is a a one time Olympian. All three are top players at their position both on the Sharks and in the NHL. With this is mind, who is the best choice?
Joe Pavelski
Despite being the oldest at 30, Joe Pavelski is perhaps the most well rounded entering his ninth season in the NHL. He has all the qualities of an offensive and defensive forward. On top of that he shares a lot of characteristics with Patrick Marleau, a former Sharks captain. Like Marleau he has the ability to play both center and wing. He may lack Marleau's speed but makes up for it in hockey sense and presence around the net. he also has a similar demeanor to Marleau in the dressing room as the both are more reserved when talking to the media. Pavelski is probably the safest pick to become the next Sharks captain but because of his similarities to Marleau and the new direction the team appears to be going in I would be surprised to see him wearing the "C" in 2015.
Logan Couture
On the other hand, Logan Couture is only 25 and is already entering his sixth season in the NHL. A rookie of the year nominee back in 2011, Couture is one of the reasons why the Sharks have been in a "winning rebuild." He plays more straightforward that Pavelski and is more aggressive both defensively and offensively. This is part of the reason why he took the 2nd line center role from Pavelski a few seasons ago. He struggled with injuries for the first time in his career last season but it had to happen sometime. One thing Couture boasts is that his demeanor in the dressing room is more upfront. While Pavelski is reserved, Couture shows his emotion and was one of the most vocal players during the playoff collapse to Los Angeles. The passion that he brings in the locker room may be something that the team needs.
Marc-Edouard Vlasic
The one candidate that is being overlooked is Marc-Edouard Vlasic. He will be entering his ninth season at only 27 years of age and has played more games than Pavelski and twice as many as Couture. This gives him the advantage of being as experienced as Pavelski while also having the youth of Couture. To go along with this Vlasic boasts numerous qualities that the other two do not. Pavelski's demeanor is similar to that of Marleau's while Couture's is aggressive. Vlasic has a healthy balance of both and was also one of the most vocal about the playoff collapse. His words were simply drowned out by Dan Boyle's and Logan Couture's. Also Vlasic is a physical player while the other two are softer players who typically avoid scrums and rarely get into altercations. Something the Sharks have been missing is a physical leader and they will only get that with Vlasic.
Marc-Edouard Vlasic may not be an offensive juggernaut but perhaps the Sharks need a captain who is not expected to do everything. Both Patrick Marleau and Joe Thornton were expected to both be the team leaders and point leaders every season which factored into their criticisms. If Vlasic is made captain it would permit him to continue to play defensive minded hockey instead of turning another player into something they are not. It allows the leaders up front to play hockey without the added pressure. Since Vlasic is a defensive defensemen there wouldn't any further expectations to burden him. For these reasons, Vlasic is the best player to take over the captaincy.