Curtains at the end of a long hallway hide the future NHL draftees at The International Centre in Mississauga, Ontario. Each player concentrating – readying themselves for the strenuous fitness exams that sit beyond the double doors.
In an open room, player personnel from every NHL franchise wait and monitor the young men as they prove their value to team scouts and player development coaches. Off to the side, members of the media sit watching – typing their observations out on their laptops and calling out to players for interviews just as they finish their tests.
Welcome folks, to the NHL's draft combine. Here, players are forced to give it their all – trying to boost their NHL worth heading into June's draft. Some of the players are coming off long playoff runs. Others have had time to rest and prepare for the week of mental and physical obstacles. But how exactly do these young men prepare for something as intimidating as the NHL combine?
"The workouts are tough. They push you to your absolute limit," said Barrie Colts' forward Brendan Lemieux. "But once they're done you really get a feel for how important good rest and good hydration are."
Lemieux added that what most people don't know about the combine is that each player has to go through team interviews leading up to the fitness tests – something that pushes them mentally before the physical part.
"At the same time, it's easy to get ready for a day like this. I've worked for this my entire life. Since I was a little kid, it's been my dream to play in the NHL so for me hard work is really everything."
Combine complete ✔️ one step closer #2014nhldraft #blessed http://t.co/xEFZNa5rZX

— Brendan Lemieux (@blemieux22) June 1, 2014
Have Fun With It
While it was the beginning of a dream come true for Lemieux and some other prospects, it was a week that other players just had to sit back and enjoy. Take Jared McCann. The 18-year old pointed to the team interviews as the best part of the combine week.
"You get to meet a whole bunch of different guys – you know, Stevie Yzerman and all the players you looked up to," said McCann. "I got asked what kind of animal I was [in one interview]. I said I was a cheetah."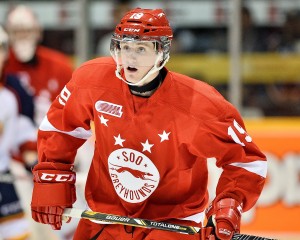 The Stratford-native entered the week ranked 11th among North American skaters. While players surely have their favourite teams, McCann knows that it's just about showing teams what kind of skills he possesses – leaving the rest up to them.
"I put everything I had into the tests and now it's up to the teams. If they want me, they'll come get me. It's a matter of just waiting," he said, recognizing his strengths.
"The bike tests were tough – VO2 and the Windgate were the toughest ones for sure. But my strengths were definitely the long jump and the vertical. I have some long legs, so I used those to my advantage," he said laughing.
Daniel Audette, son of former NHLer Donald Audette, had a similar outlook on the week of combine events.
"Obviously the tests are really hard. You have to give all out the whole time, so that's motivation, but at the same time it's hard," said Audette. "It's in the middle of summer, so it's in the middle of your training. I just came back from the U-18 [tournament] and I had less than a month to work out for this, but I was as ready as I could be."
Audette agreed, however, that the interviews were more fun than anything. He added that sitting down with the NHL teams was exciting and not mentally draining.
Combine Motto: Do Your Best
As the players left the test room, huffing and puffing, most of them would say the same thing. The combine is just about doing their best and being themselves. Guelph Storm's Robert Fabbri was no different.
"I just do the best I can," he said following his round of fitness tests. "Some guys have been off training for this while I've been playing games and that helps too. But there's no excuses. I have to come in and do everything I can to impress everyone. You know, you look back after and realize how much fun it was."
While club management teams and media seemed to be somewhat relaxed during testing day, players certainly weren't. Each prospect walked away from the testing room – tired and burnt out – with their water bottles in hand and sweat dripping from their foreheads. But each player ended their day with a smile on their face.
The consensus was that the tests were difficult – pushing the players to their limits. But at the end of the day, they're all one step closer to fulfilling their dream of one day playing for an NHL franchise.
For more, you can follow @AndrewGForbes on Twitter.