The Stanley Cup playoffs have a way of taking a good, if not great player, and turning them into a superstar.
Such is the case of Los Angeles Kings' defenseman Drew Doughty. Heralded as one of the best blue liners in the NHL during the regular season, Doughty quickly finds himself being considered the best defenseman in the league.
Every NHL fan has heard the conversation about how awesome Doughty has been, but what is it exactly that makes him as good as he is?
7-11: ALWAYS OPEN
It is a little ironic to be writing about a defenseman and then immediately mention Doughty's offensive ability. But it is his offensive capability that sets Doughty apart from being just a solid defenseman and being a superstar.
The first example of Doughty's offense is obviously his goal from Game 1 of the Stanley Cup Finals.
This goal shows that Doughty boasts a skill set not many defenseman or even forwards have. Soft hands to corral the puck, balance to stay on his feet while the puck is moving between his legs and acceleration to the net with a little fake to the outside to keep Henrik Lundqvist on edge.
Each skill displayed is impressive but what is the most important aspect of this play is Doughty's ability to get open. Some players have the intelligence to find open space and some have a high level of skill. It is rare when a player has both.
Yet Doughty displays each on this play as he has the hockey I.Q. to recognize that New York Ranger Brian Boyle is late getting back to the defensive zone, therefore Doughty takes advantage by joining the rush to become the trailer. Doughty's between the legs play is just his skills culminating in his innate ability to find open space in a dangerous area.
His goal against Norway from the Sochi Olympics is another great example of how he is able to get open and, once the puck is on his stick, find the open space in front. Doughty also shows that he is just as dangerous off the puck as he is on it, because when he doesn't have possession he floats around the offensive zone finding space in order to create mismatches in the offensive zone.
Just like how a great receiver in the NFL has an unquantifiable ability to get open, Drew Doughty has the capacity to find open space, move the puck into a dangerous area and capitalize on his chances.
WILL TO WIN
It's hard to understand why some players step up and play better in big games and why some wilt under the pressure. One thing for sure is that Drew Doughty belongs in the former category, as he is the most noticeable when the stage is the biggest.
From the Winter Olympics in Sochi to the 2014 Stanley Cup Playoffs, Drew Doughty has displayed the ability to elevate his level play beyond expectations.
Game 1 against the New York Rangers was particularly telling about the type of head Doughty has on his shoulders. His highlight reel goal came after he had forced a toe drag at the offensive zone blue line, one of the worst places to turn the puck over, which resulted in Benoit Pouliot's breakaway goal.
Doughty seemed to put retribution upon himself in any manner possible, which is what great players do. He possesses a strong frame of mind where he can forget a boneheaded mistake in order to continue and play his style of hockey.
None of this is to say Doughty doesn't avoid trouble, but the caveat is that Doughty can make up for his mistakes and he seemingly always does.
Drew Doughty's pig-headed refusal to dump the puck in from the neutral zone should be shown on a loop to young hockey players the world over

— Аrpon Basu (@ArponBasu) June 10, 2014
Doughty is on the verge of his second Stanley Cup title as well as a possible Conn Smythe. Add in his two Olympic gold medals and he begins to creep into Scott Niedermeyer's level of personal accomplishment. If Doughty's career continues to trend upwards and even comes close to being mentioned in the same category as Niedermeyer, then these past couple of years NHL fans have been witnesses to the genesis of a superstar.
DREW DOUGHTY IS A DEFENSEMAN AFTER ALL
Drew Doughty, despite all the conversation about his offensive prowess, is still a defenseman, but it is harder to quantify his importance on the defensive side of the ledger.
Drew Doughty played 41:41 in Game 2. He's the odds-on favorite to win the Conn Smythe Trophy and next year's Triple Crown in horse racing.

— Adam Proteau (@Proteautype) June 8, 2014
Game 2 and game 3 of the Stanley Cup Final were not Doughty's most explosive efforts, as he was held pointless, but he was still a rock with whom Sutter could rely on for eating up big minutes. His 41:41 over the course of Game 2's double overtime led all skatersand shows that even while not lighting up the stat sheet, he is still the L.A. Kings' most relied upon player in any given situation in any given game. Doughty is also thriving against the opponent's best players because his relative Corsi is 1.8 against a 2.452 Relative Corsi Quality of Competition.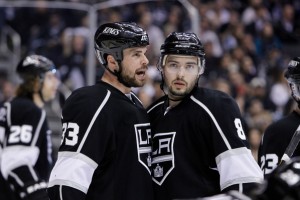 These advance stats only reaffirm the notion that Doughty has an uncanny ability to raise his level of play when the stage gets bigger and the competition gets tougher. Combine Doughty's mental toughness with his above average skill set and the Los Angeles King's defenseman begins to boast certain abilities that are seen only once every few generations.
Drew Doughty may not be the best defenseman of all time or even the best defenseman in today's NHL.
But he sure is playing like he believes he is.