The Stanley Cup has been won. The 2014-15 season trophies have been awarded. The NHL draft has come and gone and the frenzy that marks the NHL Free Agency period has begun.
In other words, the NHL off-season is officially on. For most NHL teams, this also means that for a period of about a week, they have held or will hold their development camps.
Purpose
NHL teams bring together the team's most recent draft picks along with many of the organization's prospects and perhaps a few free agents thrown in for a week of drills, practice and in the case of the Tampa Bay Lightning, a 3 on 3 tournament.
This camp provides for many of the invitees a chance to train at an NHL training facility. To work with the staffs of Steve Yzerman, vice president and general manager and Al Murray, director of scouting. It also provides an opportunity for the organization to begin developing the skills in their prospects. To determine who has or doesn't have what it takes to realize an NHL dream.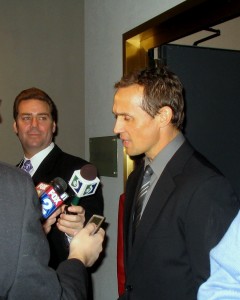 All these players know that the drills and the practices are being filmed for posterity as well as for scrutiny by upper management. All players know that this is an opportunity that cannot be taken lightly. The track of any potential NHL career can be made here. It can also be broken here.
For the first time in their careers, the draftees at the Tampa Bay Lightning Development Camp are in a locker room that is branded with the Lightning logo. The uniforms, the equipment, the door, the floor and any bit of building or equipment that can be branded is with the bolt of lightning. This is their small taste of being a pro.
Player Development
So for five days last week, the Tampa Bay Lightning held their development camp. There were the eight 18 year-old 2015 draftees who are on the verge of beginning their professional careers. For every kid in North America and Europe for that matter, that played on a frozen pond and dreamt of playing in the NHL, an invitation to an NHL development camp is the bridge from that kid's dream to a young man's reality.
Along with the newly drafted players are the 19, 20 and 21 year-olds who were drafted in the last three years. In these development camps, these are the grizzled veterans. Players who have had previous opportunities to showcase their skills for the team brass. For some, it may be the last development camp that they are invited to by any NHL team.
The remaining players are free agents, perhaps guys who had never been drafted or never signed by the team that drafted them before they went off to college or in the OHL or ECHL or any other L that plays hockey.
They are all here to see if they can play at this level. They all have had the dream on that frozen pond that they are playing in the NHL. Many still carry that dream and think about it daily, maybe multiple times a day. They all carry some or all of that kid's dream with them as they take the ice in their first professional camp. Time to make things happen because people are looking to see just what the future holds for these young men.
The Show
Welcome to the bigs! Well, sort of. For many in camp, it is the first taste of a pro career. Coaches in the organization from different levels will work with them all week. While in theory all the players play for the same team, in reality the battle is with the guy next to you.
When the time comes for a call to the show, is it going to be you? Or the guy who was next to you? We hear so many times, when players get traded, or retire or injured that this is a business. Well, the development camp is the bridge that shows these young players that the time where they were big man on campus or top scorer in their Podunk league means absolutely nothing here. Because this is a business.
Did you lead your league in scoring? Are you a good two-way forward? Will you stand in front of a puck that is coming at you at close to 100 MPH? Well, here is where you begin to show the skills you possess. You need to be ready, to show what you got. If you think it's going to be a cakewalk, think again. If you were the top scorer in your league, there's probably two more just like you in camp. If you were the best defenseman on your college team, there's probably four more here that are better. If you were the shutdown goalie, there's at least one more with that moniker on his resume.
Let's go back a couple of years to the development camp of 2013 when a young draftee from the previous year began to set himself apart from the pack. Cedric Paquette began to show the spark that turned into the surprise of the following year's training camp. Playing the way we have come to know his play in Tampa, Paquette was one of the outstanding campers in 2013.
Less than a year later, Paquette found himself on the playoff roster against the Canadiens in April of 2014. The following season he surprised many in the organization by earning a spot on the Lightning roster. He has continued to play with that spark that was seen at the development camp. NHL dream realized.
2015 Camp
Many of the players in the Lightning camp are complete unknowns. Sure, there are die-hard fans that have researched all the new draftees but a ventured guess says that at best, they found a paragraph or two on the kid. Maybe a YouTube video.
In addition to the newly drafted eight, there are six players who were drafted a year ago including first round pick, Anthony DeAngelo. From the 2013 and the 2012 draft, there are three invitees from each class. Yes, from both of those draft years there are three who already have a spot on the Tampa roster in Paquette, Jonathan Drouin and Andrei Vasilevskiy. But it also means that four from the 2012 draft and three from the 2013 draft are not in this year's camp for whatever reason. NHL dream delayed or worse, squashed.
There are even a couple of players from the 2011 draft, Matthew Peca and Adam Wilcox. Both working hard to show that they belong. Not in Tampa but in Syracuse the AHL affiliate for the franchise. Will this be their last year? They are now in their early 20's and this season could be a make it or break it year for them as other new faces want to claim their spot in the organization.
Tournament
During the last two days of the development camp, the Tampa Bay Lightning broke up the players into six teams to compete in a 3 on 3 tournament.  Peca, DeAngelo and Brian Hart, a 2012 draftee who last season played for Harvard, all rose a bit above the rest of the camp. In net, a free agent by the name of Jaime Murray outplayed his fellow goalies during the week and in the tournament.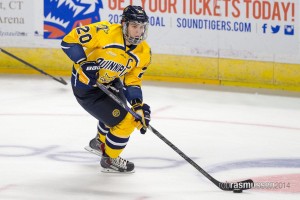 Of the 25 players in this year's camp, it is probably most logical to say that three, maybe four of them will realize the dream of becoming an NHL player. They have heard it all before from people who know this game. The odds are stacked against them but yet here they are. Playing this game that they have played since about the time they could lace up a pair.
The Lightning organization has shown over the last few years of not only identifying but developing NHL talent. Ondrej Palat, Tyler Johnson, Nikita Kucherov and Cedric Paquette are all under 25 and were drafted in 2011 or later. So, in less than three years, their dream of playing in the NHL came true. Which players from this camp will look back in three years to see this camp as the impetus for the career path they find themselves on then?
Most of the players in the camp didn't set themselves apart from the other campers. Perhaps for them they will be back next year, one more season of hockey under their belt. Maybe even one more year closer to realizing their NHL dream. For some the dream may have gotten a bit blurrier. At least now most, if not all of them now know the amount of work it will take to reach the pinnacle of their profession.
Born in Chicago, Illinois. Grew up playing and loving sports. Spent most of my formative years playing, debating, arguing and talking sports. for the last couple of years I have written about hockey. I am currently a Tampa Bay Lightning contributor for The Hockey Writers. I know that I may not always be right, but I am passionate about hockey and it is damn hard to hide that passion in my writing.