With five games left in the season, the top four Pacific Conference teams stood within five points of each other. Seven of the eight playoff teams were within a mere six points of each other. The total number of possible matchups involving eight teams is 28. Almost every one of the 28 possibilities were in play.
Does this mean a lot of jockeying for playoff position? Absolutely. Should it matter? Absolutely. Does it matter? Ummmm…
The data says it does not really matter. But as long as the players believe it matters, then we should get some good, exciting hockey, which is why a comment from one of the league's premier players should garner some attention.
A Star Speaks Up
Corey Perry's resume has plenty of accomplishments. At the head of the list are a Hart Trophy (NHL's most valuable player), a Stanley Cup and a pair of Olympic gold medals. For the last four seasons, his Anaheim Ducks team has won the Pacific Division and Perry has been the team's top goal scorer each time.
And when asked about winning the division again this season, he said it didn't matter. Literally. Here is Perry's blunt assessment:
"It doesn't matter. It hasn't mattered the last four years. Whatever happens, happens. There hasn't been any talk in here."
So why is all this "jockeying for position" unimportant to a star player? Perry's truth is a problem for the NHL. For 82 games, teams play their hearts out. At least, this is what the league wants. At the end of 82 games, 16 teams move into the Stanley Cup playoffs and 14 teams (next year 15 with the addition of Vegas) head home and await the draft lottery.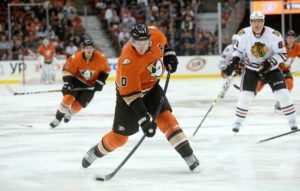 To Perry, the relative position of the 16 teams hardly matters, nor does a division title matter.
Late in the season, there are more teams that have an incentive to lose than teams that have an incentive to win. The most tangible benefits accrue to teams which miss the playoffs and lose a lot in the final weeks. A few additional defeats can improve a team's draft position, which is a genuine benefit.
During the latter part of the regular season, there is an uncomfortable paradox. There is more benefit for a team out of the playoff hunt to lose games than there is for a team solidly in the playoff spot to win games. The only teams with a strong incentive to win are the bubble teams, typically about a half-dozen teams who are barely in or barely out of a playoff spot.
Making It Matter
In other professional sports, winning a division matters. You would never hear a comment similar to Corey Perry's from a player in another sport. Win a division in baseball and you get to skip the gnarly wild-card game. Win a division in the NFL and you get a home game, which is a meaningful advantage. Two of the four division winners get to skip a round and advance automatically. In basketball, home court advantage is very significant, and so a higher seed matters.
In the NHL, a higher seeding does not give a meaningful advantage. Unfortunately, players have good reason to believe this. Perry's outlook is validated by both the data and personal experiences such as the opening round loss to the Nashville Predators in last season's playoffs.
For 82 games, teams battle for the chance to play in the playoffs. This is a lot of hockey to eliminate less than half the league while conveying very limited additional benefits to the four division-winning teams. A highly successful regular season should not be so undervalued.
When players stop caring about the division title, it is not healthy for the NHL. The powers that be in the NHL might not like what Corey Perry said, but Perry isn't wrong. It is up to the NHL to provide enough incentives to make winning a division title genuinely meaningful.