What have you done for me lately?
This motto has developed notably in the minds of New England sports fanatics who have been spoiled with 10 championships since 2002 across the four major professional sports. For all the support fans throughout the region give their teams and players, there is an equal amount of criticism dished out when things are not running perfectly.
For the Boston Bruins, the harsh commentary of players started soon after capturing the Stanley Cup in 2011 because fans wanted another championship. When the Bruins came up short, fans looked for players to blame. Not all fans agree on where the blame should be placed, creating a schism among the Bruins faithful. Most have differing opinions on every player, but the ones below are the those who appear to have divided fans the most.
Between the Pipes
The worst thing to ever happen to Tuukka Rask is Tim Thomas. After a run of mediocre goalies, Thomas came out of nowhere to capture a pair of Vezina Trophies, a Conn Smythe and put in a historical goaltending performance on the way to the 2011 Stanley Cup.
When he departed, the starting goaltending duties were turned over to Rask and fans had become accustomed to greatness between the pipes. The division between those who support Rask and those who feel he is not good enough started after the 2013 playoff loss to the Chicago Blackhawks. In two consecutive years, he had performances very similar to Thomas in the playoffs but never captured the all-important championship.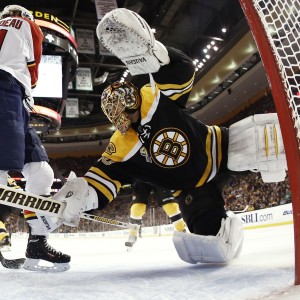 Rask's numbers have slid since the 2013-14 season, but if you ask his loyal supporters they will say he has provided quality goaltending. However, if you ask the crowd that expects more from him, they will say he allows too many soft goals and does not steal wins like a $7 million dollar player should.
At the start of the 2016-17 season, Rask was stellar behind a shaky defense, an unproductive offense and poor outings from backup goalies. He stole wins left and right, giving the struggling Bruins a chance to win most games, but once his production slowed, fans quickly forgot about his early season heroics.
The criticism is warranted on occasion as he has had strings of poor performances, but he has had his fair share of great games fans choose to forget. The battle between his supporters and non-supporters rages over Twitter during every game, and it appears Rask may never gain the full support of Bruins' fans until he raises a Stanley Cup over his head as a starting goaltender.
The Big Man
Zdeno Chara, the longtime captain, came to the Bruins via free agency before the 2006-07 season. In his first six seasons, there was not much to complain about as he racked up 284 points, a plus-101 rating, a Norris Trophy and helped lead the Bruins to their championship while playing over 25 minutes a night.
Leave it to the city of Boston to poke holes in his game as many felt he was too slow and turned the puck over too often. As his age started to catch up to him, Chara's production trailed off slightly, opening the door for critics to be heard more frequently. Despite entering the back nine of his career, he was still expected to play at the same high level he had when he first arrived.
At 40 years old, Chara logs over 23 minutes a game against the top lines of opposing teams. Fans of Chara will let you know he is still the best overall defender on the Bruins' roster. Their opponents are not shy about saying he should be traded, cannot shut down top talent and express their new found love for mobile offensive defenseman, which Chara is not.
The reason New England cannot accept his slight decline can be linked to Tom Brady leading the New England Patriots to championships at his advanced age. After all, if Brady can do it, why shouldn't the Bruins' captain? It is an unfair comparison, but in this professional sports market, there is no escape from coarse words, no matter how well you perform.
The Workhorse
When searching for a player that has come under fire their entire career, look no further than Adam McQuaid. He has spent his whole eight-year career with the Bruins and has heard negative comments for all eight of them.
He is an easy target for criticism because he is not great at moving the puck, rarely scores and is injury prone. These are the first things detractors will point to in a discussion about his game. While these statements are true, his supporters tend to paint a very different picture.
In a discussion about the positive aspects he brings, toughness and hard work are often mentioned. McQuaid will never be the best blueliner on an NHL roster, but he brings grit many cannot emulate each and every night. On top of his workhorse ways, he also sacrifices his body often to block shots, lays big hits and drops the gloves when the time is right.
It is hard to ask more from McQuaid than the 100 percent effort he brings to every contest, but some do not feel he fits into the Bruins ways anymore. Before his time in a Bruins uniform runs out, McQuaid will probably never see the majority of support from fans, but there are still many who respect what he brings to the team.
Anthony Pagliarulo is a Boston Bruins contributor for The Hockey Writers. He is a Massachusetts native and a Worcester State University alumni. You can follow Anthony on Twitter @APags87.