The Nuck Stops Here is a Vancouver Canucks news and analysis column that runs every Sunday throughout the season.
NEWS
Brandon Sutter Undergoes Successful Surgery
The following is a press release from the organization:
Vancouver, B.C. – Vancouver Canucks General Manager Jim Benning confirmed that Brandon Sutter underwent successful surgery to repair a sports hernia yesterday.
"Following a period of treatment and evaluation our medical team determined that the best course of action for Brandon was to perform this procedure," said Benning. "The surgery was successful and we expect a full recovery."
Canucks Recall Kenins, Reassign Pedan
The following is a press release from the organization:
Vancouver, BC – Vancouver Canucks General Manager Jim Benning announced today that the club has recalled forward Ronalds Kenins from the AHL Utica Comets and reassigned defenceman Andrey Pedan to Utica.
Kenins, 24, has appeared in seven games for the Comets this season registering an assist (0-1-1) and eight penalty minutes. He split the 2014.15 season between Vancouver and Utica. Kenins appeared in 30 games with the Canucks in his first NHL season, registering 12 points (4-8-12) and eight penalty minutes. In 36 games with the Comets in 2014.15, Kenins recorded 12 points (5-7-12) and 23 penalty minutes. He also made his NHL post-season debut in 2014.15, registering two points (1-1-2) in five playoff games.
The 6'0", 216-pound native of Riga, Latvia, was signed as a free agent by Vancouver on July 30, 2013.
Pedan, 22, made his NHL debut with the Canucks on December 1 versus Los Angeles and has appeared in 15 games with Utica this season, collecting seven points (1-6-7) and a team-high 28 penalty minutes. During the 2014.15 season, Pedan appeared in 42 games with the Comets registering 14 points (3-11-14) and 70 penalty minutes. Prior to being acquired by Vancouver on November 25, 2014, Pedan played six games with the Bridgeport Sound Tigers, recording three assists and 51 penalty minutes.
The 6'5", 217-pound native of Moscow, Russia, was originally selected by the New York Islanders 63rd overall in the 2011 NHL Entry Draft.
Alex Biega Re-Called
The following is a press release from the organization:
Vancouver, BC – Vancouver Canucks General Manager Jim Benning announced today that the club has recalled defenceman Alex Biega from the AHL Utica Comets.
Biega, 27, has appeared in one game with Vancouver and in 14 games with Utica where he has registered six points (1-5-6) and eight penalty minutes. He made his NHL debut in 2014.15, appearing in seven games and notching one goal as a member of the Vancouver Canucks. Last season, Biega registered 19 points (3-16-19) and 24 penalty minutes in 62 games, ranking second in scoring among defencemen on the Utica Comets. Biega also played in 23 playoff games for Utica, collecting four points (0-4-4) and 16 penalty minutes.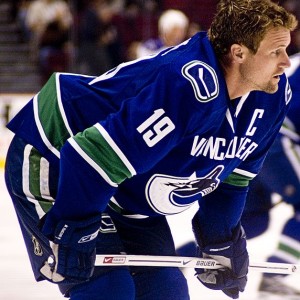 Naslund, Morrison, Bertuzzi to Return to Vancouver
The following is a press release from the organization:
Vancouver, BC – As part of the Rogers Arena #20in20 celebration, the Vancouver Canucks are excited to announce that the West Coast Express line of Markus Naslund, Todd Bertuzzi and Brendan Morrison will be reunited on December 7th when the Canucks host the Buffalo Sabres at Rogers Arena. The players will be part of a ceremonial puck drop before the game and highlights and stories from their memorable run in the early 2000s will be featured throughout the game. A limited number of great seats are still available for what is expected to be a sell-out. Visit canucks.com/tickets for more information.
"Nazzy, Bert and Mo formed one of the best lines in the NHL for years," said Canucks President of Hockey Operations Trevor Linden. "As a teammate it was thrilling to watch them compete every game with their combination of speed, skill and power. We're excited to have the West Coast Express back at Rogers Arena to celebrate their legacy with Canucks fans as one of the best line combinations in franchise history."
Read More here.
Scores of the Week
Anaheim Ducks – 4 : Vancouver Canucks – 0
Los Angeles Kings – 2 : Vancouver Canucks – 1 (OT)
Vancouver Canucks – 2 : Dallas Stars – 4
Vancouver Canucks – 0 : Boston Bruins – 4
Current Record: 9-11-8 (26 Points ~ 4th in Pacific Division, 10th in Western Conference, 22nd in NHL)
ANALYSIS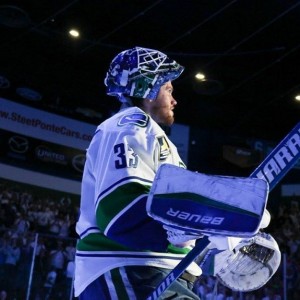 Jacob Markstrom Quietly Holding His Own
On paper, Jacob Markstrom hasn't had a particularly impressive 2015-16. With a record of 1-2, as well as a GAA and SV% of 3.06 and .904 in six appearances, one could assume that Markstrom still hasn't been able to establish himself at the NHL level. That is not the case. The 25-year-old has quietly put together a nice body of work, with many solid performances that, on a couple of occasions, have kept the Canucks from absolutely embarrassing themselves. Despite his high level of play, the Canucks coaching staff appear to still have some doubts regarding Markstrom, and while there should be some caution, he has more than warranted the occasional extra start. Considering the fact that starter Ryan Miller's play has been deteriorating over the past couple of weeks, Willie Desjardins and co. may very well want to consider rewarding Markstrom's strong play, and maybe even start to consider the fact that the former Panther may very well take over as the #1 once Miller parts in a year or two.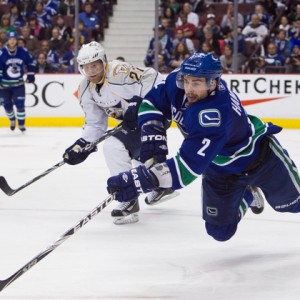 Blue Line Is Falling Apart at the Seams
The Canucks blue line is an absolute atrocity at the moment. There is no good way of putting this. Ever since Ben Hutton, and more recently Chris Tanev went down, the D-core has been in shambles. With recent games ending with at least three goals being scored and north of 30 shots being thrown at Canuck netminders on a regular basis, as well as very little to contribute offensively, it is currently at the point where it would be hard to imagine the blue line getting any worse. With recent games ending with at least three goals being scored and norht of 30 shots being thrown at Canuck netminders on a regular basis. It's not just the depth guys either; As bad as Matt Bartkowski, Yannick Weber consistently are, and as mediocre as Luca Sbisa has been, two of the biggest problems have been Alex Edler and Dan Hamhuis. Hamhuis, a former gold medalist, has put up a 49.7 CorsiFor%, significantly lower than many recent years, and has been arguably the most volatile member of the Canucks defense. Edler, who had quite a strong start to the year, has been far more up-and-down of late, and has been the victim of making some absolutely dreadful mistakes (particularly in overtime in the Canucks' 2-1 loss to the Los Angeles Kings). If Vancouver wants to stay in the race, they need to get their back end in order, and fast.
Official stat sheet says the Canucks have 8 giveaways.. Can only assume that's a per minute rate.

— Blake Price (@BlakePriceTSN) December 2, 2015
AROUND THE BLOG-O-SPHERE
Fun links about the Vancouver Canucks from all around the internet
Canucks prospect report from the month of November [Sportsnet]
An analysis of the Canucks past, present and future rivals [The Province]
Five takeaways from the Canucks' 4-2 loss to the Dallas Stars [MetroNews]
Brandon Prust was ejected for the brutal spear on Bruins' forward Brad Marchand [NESN]
"You Can't Quit" says Willie Desjardins to Canucks vets [CTV News]
Some odds and ends from the world of the Canucks summed up by Jeff Paterson [Jeff Paterson]
Markus is a Vancouver Canucks columnist out of Victoria, BC. Markus is also a Staff Writer for Last Word on Hockey, an Editor and Staff Writer for country music website The Shotgun Seat, and founder of This Is Country Music.