'The Nuck Stops Here' is a Vancouver Canucks news, opinion and analysis column that runs every Sunday through the regular season, and will continue to run periodically throughout the summer.
NEWS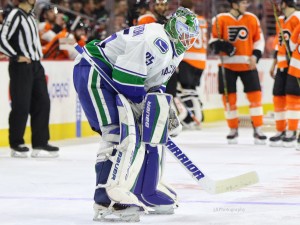 Canucks sign goaltender Jacob Markstrom to extension
The following is a press release from the organization:
Vancouver, B.C. – Vancouver Canucks General Manager Jim Benning announced today that the Canucks have signed goaltender Jacob Markstrom to a three-year contract extension. The contract will carry an annual average value of $3.67 million and will run through the end of the 2019.20 season.
"Jacob is a talented, competitive goaltender with size and a proven ability to make big saves at crucial moments in a game," said Jim Benning. "He set career highs in several statistical categories last season and two years ago led the Comets to their first Calder Cup Final. He's motivated and wants to help his team win. We're excited to have Jacob competing in a Canucks uniform for years to come."
Appearing in his sixth NHL season in 2015.16, Markstrom established career highs for games played (33), starts (30), wins (13), shots against (988), saves (904) and minutes (1,848). The 26-year-old finished the season with a 2.73 goals against average, a .915 save percentage and set career-highs for most shots faced (48) and most saves made (47) in a single game on March 22, 2016 at Winnipeg. Markstrom also posted a record of 1-0-1 along with a 2.40 goals against average during a two-game conditioning stint with the AHL Utica Comets to start the season. In 83 career NHL games split between Vancouver and Florida, the 6-6, 201-pound goaltender has a record of 26-42-9 along with a 3.00 goals against average and .904 save percentage.
On the international stage, the Gavle, Sweden native has represented his country in numerous tournaments including the IIHF World Championship in 2016, 2013 (gold) and 2010 (bronze) and at the IIHF World Junior Championship in 2010 (bronze) and 2009 (silver). He is also set to represent Team Sweden at the 2016 World Cup.
Markstrom was acquired by Vancouver from Florida alongside Shawn Matthias in exchange for Roberto Luongo and Steven Anthony on March 4, 2014. He was originally selected by Florida in the second round, 31st overall, at the 2008 NHL Entry Draft.
Canucks sign Mike Zalewski, Richard Bachman to extensions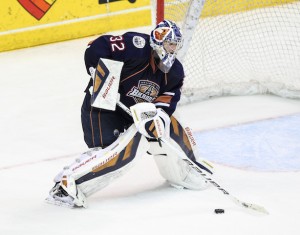 The following is a press release from the organization:
Vancouver, B.C. – Vancouver Canucks General Manager Jim Benning announced today that the Canucks have signed forward Mike Zalewski and goaltender Richard Bachman each to a one-year, two-way contract extension.
Zalewski, 23, appeared in 58 games for the AHL Utica Comets this past season where he ranked tied for fifth in points (33) and tied for third in goals (16). He also skated in three games with Vancouver in 2015.16, collecting an assist (0-1-1) along with two penalty minutes. In 2014.15, Zalewski collected 12 points (3-9-12) and 18 penalty minutes in 55 games played with the Comets. He made his NHL debut on April 12, 2014, at Edmonton and registered his first NHL point (assist) the following night versus Calgary.
Prior to making his professional debut in 2014, the 6-2, 205-pound forward spent two seasons with the Rensselaer Polytechnic Institute (RPI) Engineers. In 71 career NCAA games, Zalewski compiled 47 points (21-26-47) and 75 penalty minutes.
The New Hartford, New York, native was signed by Vancouver as a free agent on March 14, 2014.
Bachman, 28, spent the 2015.16 season with the AHL Utica Comets, posting a record of 17-12-5 along with a 2.75 goals against average and .900 save percentage. He also made his debut with the Canucks last season, registering a win on October 30, 2015 at Arizona. The 5-10, 183-pound goaltender has played in 43 career NHL games, amassing a record of 18-14-2, a 2.93 goals against average and a save percentage of .904.
On the international stage, the Salt Lake City, Utah native represented the United States at the 2012 IIHF World Hockey Championship, earning a win in his only start. Prior to his professional career, Bachman played two seasons at Colorado College. He was named WCHA Player and Rookie of the Year, NCAA Rookie of the Year and NCAA West First Team All-American with a record of 25-9-1, four shutouts, and program-record GAA (1.85) and save percentage (.931).
Bachman was signed by Vancouver as a free agent on July 1, 2015. He was originally selected by Dallas in the fourth round, 120th overall, at the 2006 NHL Entry Draft.
Canucks sign forward Michael Carcone
The following is a press release from the organization:
Vancouver, B.C. – Vancouver Canucks General Manager Jim Benning announced today that the club has signed forward Michael Carcone to a three-year entry level contract.
Carcone, 20, appeared in 66 games for the Drummondville Voltigeurs of the QMJHL in 2015.16, where he ranked tied for the team lead in points (89) and finished first in goals (47) and second in assists (42). His goal total on the year ranked tied for second among all QMJHL skaters while his 16 power play goals ranked third in the League. The 5-10, 170-pound forward has appeared in 116 regular season games over two seasons for Drummondville, registering 130 points (59-71-130) and 112 penalty minutes.
Prior to joining the Voltigeurs, the Ajax, Ontario native spent the 2013.14 season with the OJHL Stouffville Spirit, where he led the club in scoring during the regular season notching 37 points (12-25-37) in 49 games.
ANALYSIS
Brendan Gaunce deserves to be an NHL lock
After being drafted 26th overall in the 2012 entry draft, Brendan Gaunce has had a bit of an up and down journey to the NHL. After falling off the radar a bit after arriving in the pros (in the AHL), Gaunce rebounded over the course of the past season and now finds himself back in the upper echelon of Canuck's prospect rankings.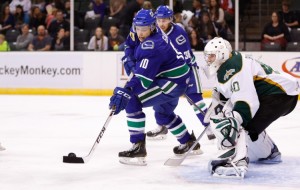 While always being strong defensively, Gaunce has now refined the offensive side of his game and looks to be a well-rounded player going forward. Gaunce saw stints in the NHL this past season, and looked poised, confident, and more than ready to take on a full-time role, even scoring his first NHL goal (against the Arizona Coyotes).
Though his skating isn't perfect quite yet, it's much better than it was, and he hardly looks out of place on pro ice. For a team that's trying to retool on the fly, Gaunce, 22, is an NHL-ready forward who could seamlessly fit into the bottom-six, while also contributing to the youth movement.
He's a low-risk player who would fit right into the youth philosophy currently going on in Vancouver and is fairly well rounded, bringing a game with grit, character, some offensive awareness, and defensive stability. Barring an unforeseen terrible training camp, Gaunce deserves to be given a spot on the roster in 2016-17.
Andrey Pedan: Stuck in the middle
The Canucks' blue line has many different dynamics surrounding it heading into the 2016-17 season. Between the questions surrounding the future of Luca Sbisa, how Nikita Tryamkin will adapt to a full NHL season, whether Erik Gudbranson is truly top-four material, and just how good Philip Larsen really is, there's some instability regarding the makeup of the Canucks defense.
The answers to these questions will determine just what kind of role Andrey Pedan will play within the Canucks organization. The most likely scenario is that Pedan starts the season in the AHL with emergency stints at the NHL level, but it's possible that with the right moves and with enough strong play, he could work his way into being at least a semi-regular in Vancouver.
Of course, this would require the movement of Sbisa off the roster, or the failure of Tryamkin as a viable NHL option, both of which are borderline longshots at this point. With size, some mobility, and the capacity to play at both forward and at the blue line, Pedan's a valuable asset both for the future and the present. He has proven himself to be at least a serviceable depth defenceman at the highest level of hockey, but unfortunately for him, he may end up stuck in the middle.
AROUND THE BLOG-O-SPHERE
Fun links about the Vancouver Canucks from all around the internet.
Can Philip Larsen save the Canucks' powerplay? [Vancouver Sun]
Who could the Canucks add as a 'proven scorer'? [The Hockey News]
Willie Desjardins looking forward to putting the 2015-16 campaign behind him [Yahoo! Sports]
Jacob Markstrom ready to bet he Canucks No. 1 [The Province]
Do the Canucks actually have a second line? [CanucksArmy]
David Booth may still have nightmares about John Tortorella.
Is it bad that I still have nightmares about torts?

— David Booth (@D_Booth7) July 15, 2016
Markus is a Vancouver Canucks columnist out of Victoria, BC. Markus is also a Staff Writer for Last Word on Hockey, an Editor and Staff Writer for country music website The Shotgun Seat, and founder of This Is Country Music.