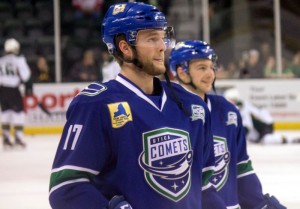 Hello everyone! Before you start reading today's piece, I'd like to explain to you what exactly The Nuck Stops Here is. It's a column that focuses exclusively on the Vancouver Canucks, and during the off-season, runs Mondays, Wednesdays and Fridays. During these pieces, there will be a news round-up, an analysis of topics surrounding the team, and a fun little feature at the end (such as: Where Are They Now?, where we give a bio of a past Canuck, Around the Blogosphere, a Canucks link roundup, and Voice of the Fanbase, where I get fan's opinions on hot-topics around the Canucks.) If the summer goes well, once the season kicks in, it will likely switch to a once a week thing, but for now, I hope you enjoy The Nuck Stops Here!
News
Goaltender Joe Cannata Signed
The following is a press-release from the organization:
Vancouver, B.C. – Vancouver Canucks General Manager Jim Benning announced today that the club has signed goaltender Joe Cannata.
Cannata, 25, split time this season between the AHL Utica Comets and the ECHL Ontario Reign. With Utica he appeared in five games, posting a record of 3-2-0, a goals against average of 1.99, and a save percentage of .932. In 21 games with the Ontario Reign this season, Cannata posted a record of 12-6-2, a 2.02 goals against average, and a .927 save percentage. He also posted two shutouts for Ontario during the 2015 Playoffs.
The Wakefield, MA native was originally selected by Vancouver in the sixth round, 173rd overall in the 2009 NHL Entry Draft.
With Jacob Markstrom looking at an NHL job next season, it seems likely that Cannata will find himself backing up, or even starting for the 2015-16 Utica Comets, depending on what decision Joacim Eriksson makes about staying in North America.
Cory Conacher Signs in Swiss League
Deadline pickup Cory Conacher, who was acquired from the New York Islanders in exchange for Dustin Jeffrey, will sign with SC Bern in Switzerland, and will play under his former head coach from Tampa Bay, Guy Boucher. In 28 AHL regular season games with the Comets, Conacher put up 16 points in 20 games, but dropped off drastically in the post-season with a mere eight points in 23 contests.
Despite his NHL career starting off strong, with 24 points in 35 games, he fell off the radar after being traded to the Ottawa Senators for Ben Bishop at the 2012-13 trade deadline, and has been floating around the NHL, AHL and waiver wire consistently over the past couple of seasons.
Swiss media is reporting that Cory Conacher (@conhockey19) has signed with SC Bern. Joins his former @TBLightning coach Guy Boucher.

— Mark Caswell, Jr. (@MarkCaswellJr) June 18, 2015
Analysis
Long-Term Gain of Comets' Calder Cup Run
As has been pointed by many Vancouver media members, the last time a Canucks farm organization made the Calder Cup final, the 2009 version of the Manitoba Moose, the only player to have a significant impact in Vancouver was now-Devils starter Cory Schneider. Canucks fans and management are hoping that that is not the case this time around, and that the 14-15 Comets are able to spawn at least a few quality NHL players. Considering that some of the organization's most prized and promising prospects, such as Hunter Shinkaruk, Jake Virtanen and Adam Clendening took part in this year's run to the finals, a better result seems likely, and it's also probable that this playoff success helped further develop these young players. It's been said time and time again that prospects need to grow up in a winning environment, and that's exactly what's happening in Utica. The list of beneficiaries also doesn't end with merely the high-profile skaters. A guy like Alex Grenier, who isn't exactly a household name even among casual Canucks fans, finished third on the Comets in scoring with 15 points in 23 games and, according to close observers of the Comets, has stepped up in terms of physical and two-way aspects of the game. Time will tell whether the effects of this year will be felt years from now, but if they are, the Canucks could end up being a powerhouse again sometime in the not so distant future.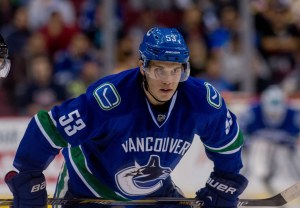 Bo Horvat for 3rd Overall Rumors: Should Vancouver Have Accepted?
There are rumors circulating the internet that Jim Benning phoned up the Arizona Coyotes about their 3rd overall pick, but resisted due to the fact that to do so, Bo Horvat would have to be involved, not something Benning feels comfortable with, but could it have been the right move? As good as Horvat has looked early in his career, it's hard to pass up on a player like Noah Hanifin, who could be the elite blue liner this organization has been lacking for pretty much it's entire history. Would it have been worth it to snag that kind of player, especially considering the development of Jared McCann and Cole Cassels, who are also centermen? It just might have been. However, it also depends on what exactly was discussed. Horvat alone would have been worth it, but if Horvat plus their 23rd overall selection was the asking price, Benning rightfully drew the line. If the Canucks are able to land say, Oliver Kylington with that pick, you're giving up a potential top-four defender in addition to a potential top-line center for a potential top-pair defenceman, which would have been too much from a Vancouver standpoint. We don't know enough to fully analyze the situation, or if there's any actuality behind these rumors, whether it was the 3rd for Horvat straight-up or Horvat plus the 23rd, but if it's the former, as much as you may love the 2013 9th overall selection, it's hard not love the thought of Hanifin as a Canuck.
Where Are They Now?
Chad Brownlee
Chad Brownlee, born out of Kelowna, British Columbia, was a defenceman drafted in the 6th round of the 2003 entry draft (190th overall.) After playing 35 games with the ECHL's Idaho Steelheads, Brownlee walked away from the game, and has since become a successful country music star in Canada. During his time in hockey, Brownlee was known as a physical, stay at home defenceman. After making the transition into the music industry, he said "I will always love the game, but I wasn't enjoying it".
Since turning his attention away from hockey, Brownlee has released three full-length studio albums, Chad Brownlee (2010), Love Me or Leave Me (2012), and The Fighters (2014). He won the Rising Star award at the Canadian Country Music Association Awards, and has been nominated for different awards on several occasions (including Male Artist of the Year twice, back-to-back in 2012 and 2013.)
Markus is a Vancouver Canucks columnist out of Victoria, BC. Markus is also a Staff Writer for Last Word on Hockey, an Editor and Staff Writer for country music website The Shotgun Seat, and founder of This Is Country Music.