'The Nuck Stops Here' is a Vancouver Canucks news and opinion column running every Sunday throughout the season.
NEWS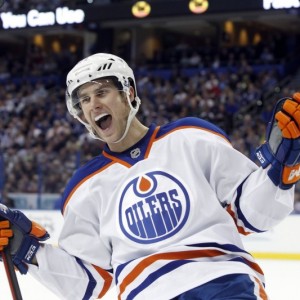 Canucks Recall Taylor Fedun
The following is a press-release from the organization:
Vancouver, B.C. – Vancouver Canucks General Manager Jim Benning announced today that the club has recalled defenceman Taylor Fedun from the AHL Utica Comets.
Fedun, 27, has appeared in 14 games with Utica this season, where he currently sits tied for first among Comets defencemen in scoring with six points (2-4-6). He also leads the Comets in plus-minus with a +6 rating. Fedun split the 2014.15 season between San Jose and the Worcester Sharks. He collected four points (0-4-4) in seven games with San Jose and 34 points (6-28-34) in 65 games with Worcester, where he was tied for fourth in team scoring. He also appeared in four playoff games for Worcester, notching one goal.
The Edmonton, Alberta native has appeared in 11 career NHL games with San Jose and the Edmonton Oilers, posting six points (2-4-6) and four penalty minutes.
Radim Vrbata, Brandon Sutter Injured
Forward Radim Vrbata missed his second consecutive game with a groin injury, and will be re-evaluated. This comes in addition to news that centerman Brandon Sutter will be out for an additional two weeks, after having not played since November 10th. Vrbata, 34, has three goals and eight points in 19 games while Sutter, 26, has four goals and eight points in 16 games.
Daniel Sedin reaches 900-point milestone
Saturday night against the Chicago Blackhawks, Daniel Sedin became only the second Canuck to ever reach the 900-point milestone, behind only his brother Henrik Sedin. It came on a pass across to Henrik who scored a powerplay goal to tie the eventual 6-3 victory at one. He proceeded to score three more points on the night.
Scores of the Week
Montreal Canadiens – 4 : Vancouver Canucks – 3 (OT)
Winnipeg Jets – 4 : Vancouver Canucks – 1
Vancouver Canucks – 6 : Chicago Blackhawks – 3
Current Record: 8-7-6, 22 Points (3rd in Pacific, 9th in Western Conference, 17th in NHL)
ANALYSIS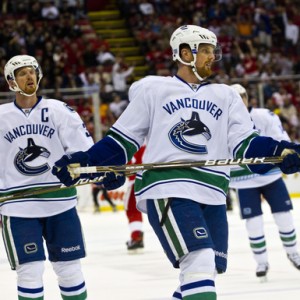 The Sedins are having extremely productive seasons
Just over 20 games into the season, the Sedin twins have taken plenty of flack from fans and media alike, with many declaring them to be finished as high-level producers of the National Hockey League. While it's true they haven't been as consistent as many may like, it's hard to deny the fact that, on paper, Henrik and Daniel are producing at a first-line rate. Through 21 games, Daniel Sedin has produced a team-leading ten goals and 22 points in 21 games, a pace of 39 and 86 respectively (a 19 goal and ten point improvement on last season). Meanwhile, Henrik has put up six goals and 20 points in 21 contests, an extremely solid 23 goal and 78 point pace. They may not be the Art Ross winning dynamos they once were, but early on, it appears the Sedins still have something left in the tank.
Jake Virtanen needs to contribute more
One of the selling points around keeping Jake Virtanen in the NHL was his physical play, the fact that he brought a desire to be involved in the game physically. When Virtanen began the season, he was a wrecking ball on an almost nightly basis, creating energy and momentum with his explosive hits, meaning many were more than willing to overlook some offensive issues for the 19-year-old. However, of late, the teenager hasn't been contributing nearly as much, going unnoticed for long stretches at a time physically. The offence also hasn't been coming along for Virtanen, with four points in 16 games, certainly not terrible production, but a bit underwhelming considering he hasn't brought a whole lot else to the ice of late. When the Canucks' injury woes come to an end (both Radim Vrbata and Brandon Sutter currently sit on the sidelines), the former 6th overall pick may find it tough to keep his spot in the lineup on a nightly basis.
AROUND THE BLOG-O-SPHERE
Fun links about the Vancouver Canucks from all around the internet
The fantasy value of Jacob Marsktrom [NHL.com]
The Canucks' 4-1 loss to the Jets in pictures [Vancouver Sun]
Pacific Division at the Quarter Pole, featuring the Canucks [Last Word On Sports]
David Ebner on the Canucks' recent struggles [The Globe and Mail]
Post-game from the 6-3 victory over the Blackhawks, courtesy of CanucksArmy [CanucksArmy]
And finally, Canucks fans had to say goodbye to beloved radio personality Jeff Paterson this week:
In hockey terms, I'm an unrestricted free agent. In real life, I'm unemployed pic.twitter.com/oDyCm9zSz1

— Jeff Paterson (@patersonjeff) November 17, 2015
Markus is a Vancouver Canucks columnist out of Victoria, BC. Markus is also a Staff Writer for Last Word on Hockey, an Editor and Staff Writer for country music website The Shotgun Seat, and founder of This Is Country Music.