The Edmonton Oilers lost more than just a game on Saturday night. They fought hard, but ultimately fell thanks to a miscue by goalie Ben Scrivens. He shouldn't shoulder all the blame, however, considering how well he's been playing, but it was an injury to the Oilers leading scorer that was most concerning. Taylor Hall's six goals and 10 points are tops on the team, and he has been arguably their best player this season. Hall took an ugly spill into the net that led many to feel flashbacks of Steven Stamkos' injury last season.
Hall stayed on he bench briefly before leaving the game for good. Thankfully, the injury isn't as serious as everyone feared, and he should be about about a month with what the team is calling an MCL sprain. It's another road bump in Hall's young career, and certainly a cause for concern in Edmonton. The Oilers are wallowing at the bottom of the Western Conference, despite a hope they things were starting to turn around. The loss of Hall isn't going to make things any easier for this team.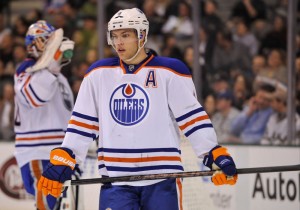 Without Hall on the ice, there are other guys, mainly Jordan Eberle and David Perron, who will counted on to pick up the slack. But Hall was really starting to step his game, so it's more than just point they will be missing. The Oilers are a team who are constantly on the cusp of "finding their potential" all the while not accomplishing much of anything. The bulked up in some areas in the offseason, but overall still aren't very good in a tough Western Conference. Some thought (hoped) they would compete, but not only are the usual suspects looking good, but Nashville has had a great start, Vancouver looks much better than expected, and even Calgary is picking up points. The Oilers weren't going to challenge for a playoff spot even with Hall. Now, without him, things might get even more painful.
The Oilers Lose Their Captain to Suspension.
Taylor Hall isn't the only guy on the sideline. Captain Andrew Ference has been suspended three games for an illegal hit to the head on Canucks forward Zack Kassian. It was a nasty hit, and pretty unnecessary. We like Ference. We like how hard he plays. We like that he chose to come and help this team despite how bad it was. We like his experience. But hits like that, we don't like, and we don't need, especially from the guy wearing the "C".
It's Ference's third suspension since 2012, so clearly he hasn't been learning his lesson. How much will the Oilers miss their supposed leader? Not as much as they will miss their best player. And Hall will gone a lot longer than Ference will. Sadly for Ference, one of the games that he has to sit out is against his former team, the Boston Bruins. But, that's what happens when you lunge yourself at someone's head. Considering how much taller Kassian is, it was quite the leap. Don't follow your captain's example, young Oilers.