To Montreal Canadiens general manager Marc Bergevin's credit, he seems keen on not seeing history repeat itself by trading away another superstar in goalie Carey Price.
More Bergevin on Price:
Q: "Can a team win with a goaltender being the highest paid player?"
A: "I hope so because he's not going anywhere"

— Amanda Stein (@amandacstein) April 24, 2017
Even entertaining the idea of so doing would be akin to biting the hand that feeds him. As has been made obvious since Price established himself as one of the world's best goalies in 2013-14, where he goes so too do the Canadiens. That just wouldn't work logistically if he were to be moved to another city.
Only One Scenario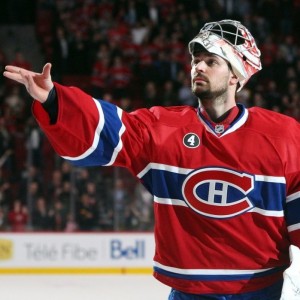 Jokes aside, there is only one scenario in which trading Price away would even come close to being a justifiable option for the team from a managerial standpoint. With Price heading into the final year of his contract, he would have to make it absolutely crystal clear to the Habs that he has no desire to return, in which case the team would have to at least consider getting something for him in exchange by next year's trade deadline.
Still the stars would have to align oh, so perfectly. For example, the hypothetical return would have to be out of this world. Even if it were, you would have to believe the sum of whichever parts were coming back wouldn't come close to equaling the whole.
Look at it this way: Who could the Canadiens conceivably acquire that would be as much of a difference-maker as Price, a Vezina and Hart Memorial winner? There really aren't that many names out there. So, if you come to terms with that, you have to believe that it would be more of a package coming back the other way, with no one player coming close to Price's game-breaker status. Think along the lines of the Patrick Roy trade from 1995. Because that deal worked out so great for the Canadiens.
Secondly, if Price is moved at the deadline, it makes sense that, without a contract beyond next year, he'd be shipped to a contender. Few sellers would give up a king's ransom for a player, even one of Price's caliber, who won't necessarily be sticking around past the following June.
Position of Weakness
So, right then and there, the Canadiens would be negotiating from a position of weakness, especially considering any self-respecting contender at that point would already have above-average goaltending. And, if they're only looking to upgrade at that one position, they'd be far from desperate and unlikely to give up a key component from elsewhere in the lineup. So, prospects in other words… prospects who are far from sure things.
And make no mistake: Price would only be moved at the deadline, at the last possible moment when all other options had been exhausted, because dealing him any earlier would be making an already horrible situation so much worse from an optics standpoint. No general manager, least of all one on already shaky ground like Bergevin, would be able to recover from that, trading away his team's generational talent without giving the appearance of having squeezed out every last penny from the other party.
That's especially true since the team would essentially be giving up on the season at that point. You're not going to trade away the one player on whom the team's success depends the most in October and the only way you're going to do it in March is if you're so far out of the playoff race that you're being lapped by teams with their own postseason aspirations on life support.
Bergevin Is Not an Idiot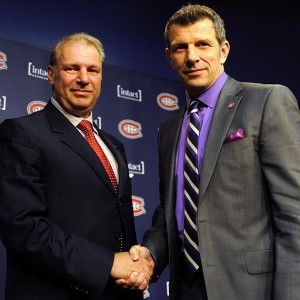 He just made a mistake, albeit a pretty huge one, when he traded P.K. Subban for Shea Weber. Bergevin most definitely knows it too. Firing Michel Therrien would hint significantly at that hypothesis being true. So, if it's logical to assume Bergevin secretly acknowledges all of this, he understands the position he's in. Even if he says he doesn't believe in windows, the Canadiens' is closing fast. Trading Price away would slam it shut along with his time as GM of the team.
There are no doubt reasons why trading Price is a good idea, with him turning 30 in August placing firmly at the top of the list. He can't stay on top of his game and the hockey world forever and it makes sense to try and maximize the return you would get on a goalie, before his play starts to slip. His Vezina Trophy nomination is a sign that his value is still incredibly high, but any No. 1 center that Montreal would get in exchange would be of the not-yet-established, work-in-progress variety. They already have one of those in Alex Galchenyuk.
In other words, there are no sure things here. That admittedly includes Price staying a Canadien the rest of his career. He may leave someday, but the chances of it happening under Bergevin are so remote, it's not worth speculating about anymore. That's not just because he may be fired sooner rather than later.
Bergevin's legacy has arguably been compromised already with the Subban trade. There's little chance that he willingly secures his spot in history as the guy who traded away both him and Price, even if the hypothetical deal would be in the team's best long-term interests.
Yes, history tends to repeat itself, but it's also written by the winners. The Canadiens may admittedly not be winning with Price at the moment, but they lose no matter what by trading away the best goalie in the world.