In the near six years that have passed since being selected first overall in the 2011 NHL Entry Draft, Edmonton Oilers forward Ryan Nugent-Hopkins has gone through quite the transformation. After being touted as the organization's next great centre and putting together one heck of a rookie campaign in 2011-12, the sky seemed to be the limit on just how good the Burnaby native could be. Fast forward to the present day and my how things have changed.
How so you ask? Well, consider for a moment Nugent-Hopkins has been praised for his play throughout this year's Stanley Cup Playoffs and has a grand total of two assists to show for it. Instead of developing into the offensive dynamo many predicted he would be coming out of junior, the 24-year old has morphed into the ever popular "200-foot player" and at least for the moment, the Oilers are a far better team for it.
PRE-GAME RAW | Ryan Nugent-Hopkins #Oilers https://t.co/1OuiEYNNDk pic.twitter.com/bcApOWY8GP

— Oilers Report (@oilers_fanly) April 30, 2017
With as unique a talent as Connor McDavid now in the mix, the need for Nugent-Hopkins to be that offensive driver was no longer a priority. Instead, transforming the talented youngster into a far more defensively responsible player had become a "pet-project" of sorts for Todd McLellan over the course of his two seasons with the club and both are starting to reap the rewards of those efforts.
For those of us who were hoping Edmonton had found that star attraction who could play down the middle of the rink and been absent from this organization since the departure of Doug Weight following the 2000-01 season, it was difficult to watch. Taking a kid with the potential of being a "point-a-game" player and turning him into something he wasn't, in his early 20's no less, seemed rather curious. To be perfectly honest, it still does feel that way but it was a necessary evil with the Oilers current set-up.
After watching McDavid play the first month of games during his rookie season, it was obvious he was ready to take on the role of being a first line centre as a teenager. With that being the case, the organization had to make a decision as to who would take on those so-called "heavy minutes", both in the immediate and foreseeable future, which they did not want to burden their new star pupil with.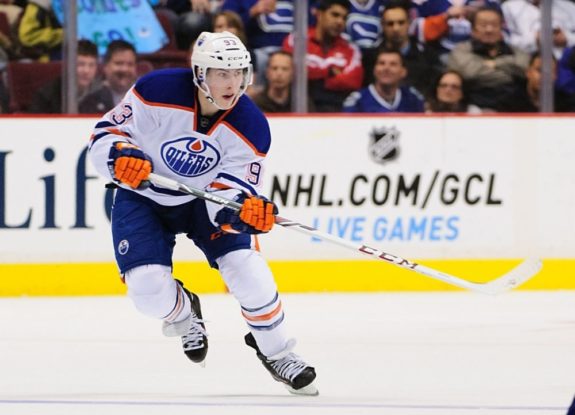 Life Hasn't Been Easy for RNH
They decided that No. 93 was going to be their man but making that transformation would take time and patience was going to be required. While the organization was perfectly fine with living through those growing pains, much of the Oilers fan base was not so understanding. Not surprisingly, as his production continued to decline, the masses started to question his effort and whether or not the club would be better off by shipping him and his $6 million cap hit to another organization.
Ironically enough, a good chunk of that very same fan base is once again praising the man affectionately known as "The Nuge" for his outstanding performance against both the San Jose Sharks and Anaheim Ducks during the post-season. With Leon Draisaitl and McDavid carrying the load upfront, suddenly the lack of production from the second line became a bit of an afterthought…especially when they continue to hold their own against the opposition's top players.
The importance of having a guy as talented as Nugent-Hopkins in such a role cannot be overstated. His presence alone gives McLellan the option of giving McDavid that necessary helping hand from the drop of the puck and it also keeps the likes David Desharnais and Mark Letestu from taking on far more than they should. Funny thing is, those two have combined for seven points and scored five goals between them during these playoffs…something the former Red Deer Rebels' standout has yet to accomplish. Clearly, the numbers don't always tell the story.
And yet, it doesn't seem to really matter. Don't get me wrong, it would benefit the Oilers greatly if the trio of Jordan Eberle, Milan Lucic and RNH could chip in on the scoresheet with greater frequency but my guess is the head coach will gladly give that up in exchange for kind of work Nugent-Hopkins delivered in Anaheim on Friday night.
Nugent-Hopkins Has Elevated Game
In nearly 21 minutes of ice-time, six of those minutes being evenly spread out on special teams and the remaining time coming in situations his head coach could seemingly only trusted him with handling, the three-time 50-point man left everything he had on the table. Going up against a player of Ryan Getzlaf's stature is never easy but Nugent-Hopkins has certainly risen to the occasion and taken the challenge head on.
In the mind of Edmonton Oilers Radio Play-By-Play man Jack Michaels, the six-year veteran delivered what was the finest all-around game of his career and it is hard to argue against that point. Considering Nugent-Hopkins already has a five-point effort and a couple of hat-tricks on his resume, the fact we are talking about a game in which he picked up a single assist speaks volumes. Let's not forget, this is a player who had been widely criticized for years about his apparent lack of effort towards the defensive side of the game. Safe to say those critiques can finally be put to rest.
#Oilers not getting complacent with 2-0 series lead & know the "overall intensity has to go up" as they return to Edmonton for Games 3 & 4. pic.twitter.com/NZeHSROELA

— Edmonton Oilers (@EdmontonOilers) April 29, 2017
In my mind, the gifted offence player most experts felt this organization was getting when they decided to take Ryan Nugent-Hopkins with the No. 1 pick of the 2011 NHL Draft is still in there and will resurface as some point…perhaps even as early as next season.  However, in the here and now, continuing down his current path is all that matters and again….the Edmonton Oilers are a far better team for it.