Last night's 5-3 loss at the paws of the Boston Bruins (4-7-0) proved to be the end of the Ottawa Senators' six-game winning streak. With fast skating and with applying heavy pressure to the Boston puck carriers, the Senators (7-6-0) looked like a team on route to a seventh straight win after sporting a 2-1 lead going into the second frame.
Looking drained and less hungry than the B's in the second period, though, they allowed two goals in the second period, one of which came from former Senator forward Chris Kelly. The third period looked promising for the Sens as rookie defenceman Jared Cowen scored his first NHL goal to tie up the game at 3-3.
Two minutes later, the Senators allowed two goals in 37 seconds.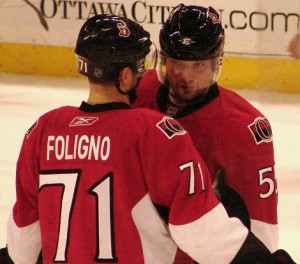 "It stings. We were feeling good about our game. We just got away from the things that we were doing really well tonight," said Senators forward Nick Foligno, who factored in on all of the Senators' offensive output last night with a goal and two assists. "They're a good team over there. They're fighting for wins and they're desperate and they showed that tonight, we just didn't have that answer back."
Ottawa will now fall to at least 5th in the Eastern Conference before their next game.
To the Senators credit, playing a gruelling weekend of back-to-back games before facing the defending Stanley Cup champions trying desperately to win didn't end as terribly as it could have. The team was kept afloat by secondary scoring, proving that they can score when forwards Jason Spezza and Milan Michalek are invisible. Veteran defencemen Chris Phillips and Filip Kuba appeared extremely comfortable in their own end, using their size to challenge forecheckers on the chase; Kuba was rewarded with a +1 rating in over 26 minutes of play in a 5-3 loss. The Senators are counting on their veterans to keep holding steady.
However, to get back into the winning groove, the Senators will have to be able to come up with the puck when the opposition plays a "dump-and-extremely-hard-chase" style of game. They were outmatched behind the net and along the boards, something the players and coaching staff will likely address in practice. Their top players, including their trio of players in the top-15 of the NHL's point scorers (Jason Spezza, Milan Michalek and Erik Karlsson) will need to be more visible and get more scoring chances.
The Sens (7-6-0) will try to stay above .500 and keep pace in the East in back-to-back games against division foes Montréal and Buffalo this Friday and Saturday before Wednesday night game against the New York Rangers.
—
Fans in Canada's capital have dubbed the team "The Cardiac Kids" for the dramatic and heart-stopping way they are winning games. Last Thursday, the Senators pulled off a 4-3 victory over the Florida Panthers in way that nearly killed the author of this article. Up 3-2 with goals from Daniel Alfredsson and rookies Stéphane Da Costa and Colin Greening, the Panthers tied the game with a wrist shot from Kris Versteeg with only 47 seconds left in regulation.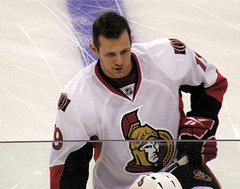 A shot from Alfredsson and a Nick Foligno charge to the net for a rebound amid five Florida players 44.5 seconds later, the Senators pulled off a second winning goal in the final five seconds in as many games. The look on Folign0's face while celebrating was priceless.
A night and an afternoon later, the Senators stormed back from a 4-1 deficit to send their game against the New York Rangers to a shootout, where they dismissed the Rangers and went on to win 5-4. Milan Michalek again proved to be an absolute late game menace, scoring twice in the third period and then once more in the shootout.
The next day, round two of the Battle of Ontario commenced, and the Senators tied up the series 1-1 with a 3-2 home win. AHL call-up Robin Lehner played in net for the Sens giving Craig Anderson a much deserved break, and Ottawa's two power play goal early in the game helped buoy them to a win. Of note were David Rundblad's rink-spanning pass to set Colin Greening on a breakaway, resulting in a goal, and rookie call-up Kaspars Daugavins' first NHL goal (which was the game-winning goal).
A.S. Hagi is married and is a resident of Canada's National Capital and a fan of its Ottawa Senators. He is a graduate of the University of Ottawa (B.SocSc'11) and is currently pursuing an MBA from the University of Southern Queensland.