Dear Hockey Fans in Edmonton,
When Nail Yakupov was drafted first overall by the Oilers in 2012, what were your expectations? In retrospect, was he your ideal choice? Would Alex Galchenyuk have been a better option? How about one of the defencemen, because there were some solid ones available that year. Or are you just annoyed the Oilers weren't worse in 2013, when Nathan MacKinnon and Seth Jones were available, or in 2014 when Aaron Ekblad was on the board? Perhaps you're in the camp of those who believe that Yakupov was the best available player, and the Oilers had no choice but to take him.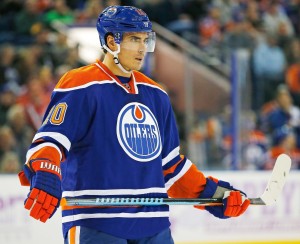 Yakupov has skill, and speed. He was just flat out better than most of the players in junior, and maybe that helped raise his stock. But he appears to lack hockey sense, and vision on the ice. He can't create offence on his own and seems to look confused as to where he should be. Is he truly at best a third line winger? Were you hoping for better than that? Has he simply not been afforded a real chance by his coaches to be better? Is he given every opportunity to succeed? There seems to be somewhat of a divide when it comes to Nail Yakupov, and this story out of the Edmonton Journal from Oilers' practice is just adding fuel to the fire.
"Every player on the ice was either involved in the power plays or killing the penalties. Even the extra guys that weren't in either were standing on the blueline next to where the power play drills were and Yakupov was over at the Oilers bench on the other blueline. Todd McLellan has tried a lot of different things with Nail in putting him on with the top players and putting him on with the bottom line and trying to get anything to spark his game and it hasn't worked, and you just wonder if it's not heading to an inevitable separation this summer where maybe for both parties Yakupov would probably be better served being elsewhere ".  [Cult of Hockey]
Just to be clear, Yakupov didn't leave the ice. There was some confusion about an optional skate but the above exert is regarding the teams' full practice this past Saturday. Obviously, there is a level of frustration here. Nail cares about hockey. He cares about the Oilers and he cares about playing well. But his confidence is shot, his spirit is broken, and the team is running out of solutions. Fans on Twitter weighed in with their thoughts on the much-maligned winger.
Here is my take on yakupov . If he was better than a third line player he would have more than 6 goals no matter who he plays with

— Ernest (@dyckster57) March 15, 2016
I tend to agree. A player with his skill should produce more. But how many times have we seen guys with all the natural tools who just couldn't get it done in the NHL. Many a player has come and gone, with a boatload of talent, yet too one dimensional to have success at this level. Is Nail one of those guys who doesn't provide anything if he isn't scoring, and thus doesn't deserve minutes?
@4enzix I agree but I see more people placing the burden on Yakupov when the organization deserves an equal share of blame (if not more).

— Kjell Iverson (@KjellIverson) March 15, 2016
It's particularly interesting that Yakupov's best CF% is with Hall and Draisaitl, yet hasn't had enough time with them to produce anything.

— Jim Roepcke (@JimRoepckeOilrs) March 14, 2016
Have the Oilers not handled his development appropriately? Is usage the problem? Has there been a concerted effort to find the right fit of linemates?
I still believe Nail Yakupov will be a 30+ goal scorer in the NHL. Unfortunately, it just won't be with the Oilers.

— Inside Oilers (@InsideOilers) March 14, 2016
Yakupov has his supporters, there's no doubt. Some fans call him lazy, while others feel as though he wears the disappointment of an organization and that's not fair. Yakupov has that feisty edge to him, and he doesn't shy away from physical contact. That's one facet of his game that really should be built upon, because it will give him another dimension. It's unfortunate that his value is probably at it's lowest, and if fans believe the Oilers can get a huge return should he be traded, they'll likely be disappointed. Head coach Todd McLellan spoke the hard truth.
"So to get comfortable and say 'I'm just going to go into my spot here in Edmonton', I think would be a grave mistake by many of our players, including the very upper end guys. I did a study the other day, went back and looked at Edmonton's roster from last year. If (a player is thinking), 'If it's not in Edmonton it's going to be somewhere else,' I'd go do that homework. Because for a lot of them it wasn't somewhere else, it was nowhere. We're in the 28th to 30th place range and those players aren't quite as desirable as the Stanley Cup champions." [Oilers Nation]
Rough, but accurate. The atmosphere in the Oilers organization is all wrong, and needs to be modified. We throw around the word "culture" in sports, and not everyone buys into it, but there is a reason certain franchises consistently have a level of success. Somewhere along the way, Edmonton become a toxic environment for hockey, and that can't be remedied overnight.
As for Nail Yakupov, you have to wonder if his limited minutes and exclusion from the power play is an indication of what the organization thinks of him. Yet, he continues to be dressed, so this could all be the process that McLellan thinks will help him find his game. We may not have to wait much longer, as the upcoming offseason could provide us with all the answers we need.
Marcy, a former hockey player, is a hockey correspondent on CTV News and TSN radio. She began her career as a Sports Journalist in 2009 and has been part of The Hockey Writers since 2010, where she is currently a senior writer and editor.