The Philadelphia Flyers went way off board at the 2012 NHL Draft when they selected Shayne Gostisbehere with the 78th overall pick. Gostisbehere was a 19-year-old draft re-entry player who was not even ranked on the mid-term Central Scouting List. By the time of Central Scouting's final rankings, "Ghost" was ranked as the 148th prospect.
As an 18-year old, Gostisbehere was an unknown player. He went undrafted in 2011, most likely because he played the 2010-11 season with South Kent School, a boarding school in Connecticut. He was over a point-per-game player during that year at South Kent, earning 36 points (7G, 29A) in 24 games.
During his freshman season at Union College, Gostisbehere put up decent numbers, 22 points (5G, 17A) in 41 games. It was this season that put him on the Flyers' radar. Then, after being drafted, it was during his sophomore season at Union that Gostisbehere took off. He earned eight goals and 18 assists through 36 games.
Shortly after this breakout season, the Flyers made it a point to load up on defense prospects. It was at the 2013 draft that the Flyers began building their defensive-prospect arsenal, selecting Samuel Morin 11th overall and Robert Hagg 41st overall. Immediately, the three defensemen became the best defensive prospects in the Flyers' system.
It was in 2013-14 that Gostisbehere made his most vital impression on Flyers fans. After posting fantastic numbers throughout the season, Gostisbehere led his team to the Frozen Four.
Gostisbehere was electric during the tournament and he put on a show during the final game. Playing at the Wells Fargo Center, he earned a goal and two assists and was promptly awarded tournament MVP honors.
As the 2014-15 season began, Flyers fans were salivating at the thought of seeing Gostisbehere in the orange and black. It was expected that Gostisbehere would be sent to the AHL at the start of the season, but there was plenty of hope that he would be in Philadelphia by Christmas.
Unfortunately, after only five AHL games (during which he earned five assists) and two NHL games, Gostisbehere tore his ACL. The injury put an abrupt ending on his first professional season.
Prior to the injury, Gostisbehere's development had been a straight line in the right direction. He had improved every season and looked to be on the cusp of the NHL. Now, one year later, many seem to think that he has to "restart" his professional career.
I beg to differ. Gostisbehere belongs in the NHL and here are a few reasons why:
1. Style
The first and most important reason that Gostisbehere belongs in the NHL is his style of play. He clearly has the ability to play at a high level and is a potent offensive defenseman. If you need proof that he can handle the offensive responsibilities of the NHL, take a look at the two goals he scored on Tuesday night:
GIF: The Kids are alright. Konecny to Ghost. 4-2 #Flyers pic.twitter.com/P9iVZr8HSS

— Brady Trettenero (@BradyTrett) September 23, 2015
Beyond just his shot, Gostisbehere has puck skills and hockey sense that many defensemen lack. New head coach Dave Hakstol has been open about his desire for his defensemen to be active in the offensive zone. Through the first few preseason games, Gostisbehere has been the best young defenseman at doing just that.
Sure, Gostisbehere may have some defensive issues, but he is also much improved in that area. If the Flyers are serious about having an active defense corps, they need to find room for Gostisbehere on the opening night roster. He is a perfect fit for Hakstol's system.
2. Age
About a week ago, there was some speculation that it was "now or never" for Scott Laughton to make the NHL. To his credit, Laughton denied that his situation was that dire, but at 21, Laughton knows that he should be breaking into the NHL soon.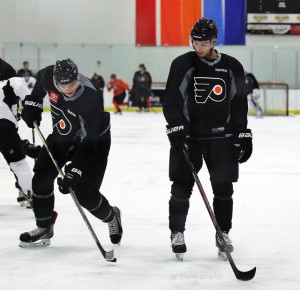 Gostisbehere is 13 months older than Laughton. Although he had an injury that kept him out of the lineup for most of last season, he is still 22-years old. By the time they reached the age of 22 most, if not all, good defensemen in the league had already broken into the NHL. Even those who were the beneficiaries of patient organizations (see PK Subban, Alex Pietrangelo, etc) were in the NHL by age 22.
This does not mean that the door is shut on Gostisbehere if he does not make the NHL out of training camp. However, he is nearly two years older than Robert Hagg, the next oldest defense prospect with high-end upside. So the time is now for Gostisbehere to show that he belongs with the big boys.
3. Size
When Gostisbehere was  drafted, he was listed as 5 feet 11, 160 pounds. On the Flyers 2015 training camp roster, Gostisbehere is listed as 5 feet 11, 186 pounds.
Recent years have seen a plethora of small players break into the NHL. In an organization that featured Kimmo Timonen for so many years, and currently employs Mark Streit, the size of Gostisbehere should not be an issue. With the weight he has put on, there is no reason that Gostisbehere can not handle the rigors of an NHL season.
On top of his growth, Gostisbehere has not lost his skating/speed. His small stature may at times hurt his ability in the defensive zone, but there is no matching his speed and elusiveness. Hakstol has emphasized playing "fast defense," something that will clearly benefit Gostisbehere.
———–
Even though the Flyers have eight defensemen on NHL contracts, they need to find a way to get Gostisbehere into the lineup. His skill set and style of play are unique and would bring out the best in Hakstol's system.