The pathway to the Stanley Cup for the New York Rangers is not as hard as everybody seems to think. It doesn't revolve around anybody going off and trading the entire team for younger talent that will somehow gel together and create a great team. At this point in the offseason, in the middle of arbitration, there's not much that can be done but there are a few moves that I feel could help complement the extremely talented team the Rangers already have, with just a few small additions to the current team.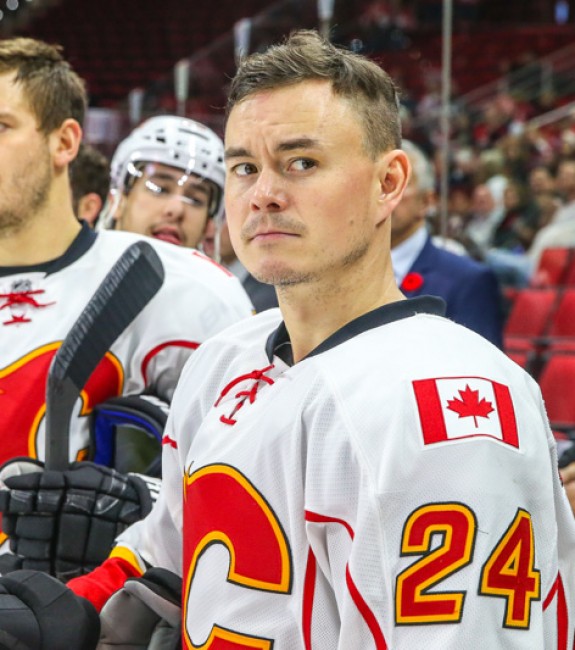 Signing Jiri Hudler After Buying Out Dan Girardi
First things first, the Rangers do not have six forwards who are definite top six forward caliber players. The free agency pool is very, very watered down at this point but there is one big name free agent who is a good two-way forward with a keen ability to find the back of the net, and that is Jiri Hudler. Hudler is one season removed from a point-per-game season with Calgary, putting up 46 points in 72 games with Florida and Calgary last season. Chances are he won't command a big contract and he likely won't want to play for a non-contender at this point. Nobody wants to end their career on a perennial loser. That's the first reason the Rangers and Hudler would be a perfect marriage.
The boys in blue are a tier two contender at this point. Definitely not a top team in contention like the Penguins or the Capitals, but they're nowhere near being a top five pick team. This is a team with an immense amount of talent about to hit their prime with players like Stepan, Brassard, Kreider, Hayes, and Miller all likely to be big contributors next year. Now, post-RFA, there may not be much money left to sign Hudler. That being said, there's a few options of what the Rangers can do.
First things first, buyout Dan Girardi. Next, bury Tanner Glass in the minors. Pick up Hudler after those two moves occur.
Hope RFA arbitration contracts are low, or the players going to arbitration sign on a cap hit, and then pick up Hudler.
For scenario number one, and nothing against Tanner Glass, but now with Gerbe and Grabner on the team, his days with the Rangers are likely limited. Glass doesn't do anything better than them other than be the bulky enforcer on the team, which will likely be given to Dylan McIlrath next season, so Glass has no reason to be manning the fourth line as one of the most useless offensive players in the history of forwards. Girardi's buyout would command a good chunk of money over the next few years, but it would open up the cap space to sign a legitimate second line left-wing to take the pressure off younger players like Jesper Fast and Pavel Buchnevich.
Scenario number two is a long shot. A pure long shot. Kreider deserves to get paid, as does Miller and Hayes, so the likelihood that they take a smaller contract from the Rangers that isn't handed to them through arbitration is a ridiculous thought, but it's an option if GM Jeff Gorton can make them realize what they could have with a few additions to the team.
Signing Sam Gagner
Gagner is a competent fourth line forward who can fill in for Oscar Lindberg while he is recovering from hip surgery. Gagner can get the job done. Gagner had eight seasons straight of 37 or more points in Edmonton or Arizona, and I feel like he could put up big numbers with the always shifty speedsters Nathan Gerbe and Michael Grabner. Along with his offensive talent, he's a very legitimate replacement for Dominic Moore, with his HERO charts signifying a budding defensive superstar of a center. While HERO charts don't account for aging, analytics show the future of the game and what a team is likely going to get out of their player, and these HERO charts are wonderful for a player who is floating around free agency with little interest.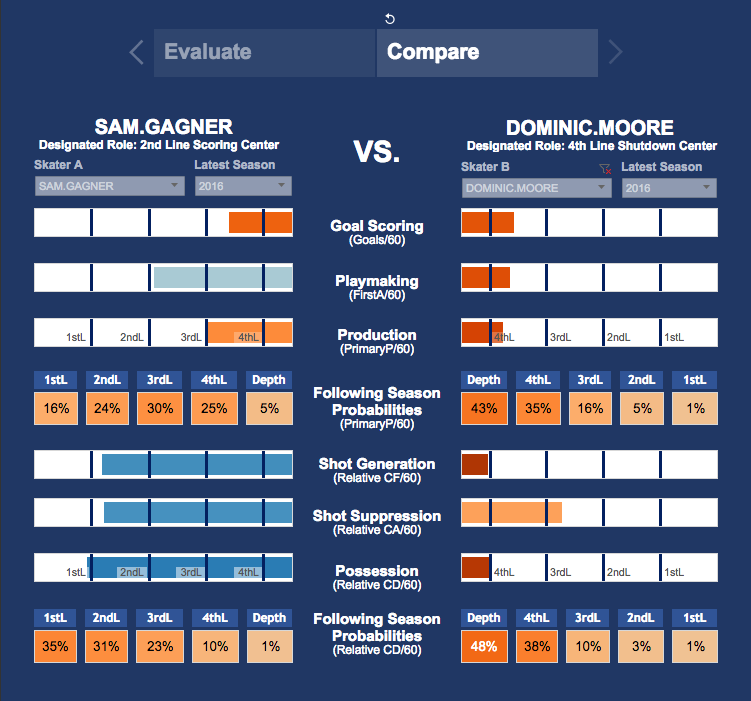 (Credit to http://ownthepuck.blogspot.com/)
The simple explanation for these charts is that Gagner has developed into a great defensive player with middle of the line offensive talent, and for a contract likely to be a one year, million dollar deal, he's worth every penny.
http://gty.im/53121740
Let Jeff Beukeboom Implement Defensive Styling
Jeff Beukeboom was never a really athletic player. He wasn't a blessed skater. He was, however, one of the best simplistic defensive players to bless Madison Square Garden as a Rangers legend. Beukeboom was constantly throwing his body around and catching up to players much faster than them because of a simple but effective strategy. His strategy was always the same, throughout his career. He went out of his way to be defensively in position. Being constantly paired with offensive minded defensemen throughout his career, Beukeboom knows better than anyone how to teach the younger players how to play shutdown defense while being relevant in the offensive end. If the Rangers defensive strategies are changed to where they play safe hockey for 60 minutes, not allowing breakaways or odd man rushes, they'll win the majority of the games they play.
Basically, the thinking needs to be that the defensemen without offensive talent do not need to be part of the offensive play other than during the cycling of the puck. McIlrath and Staal don't necessarily need to be touching the puck and putting it on net. Instead, they need to be in position to where nobody can get an odd-man rush or a breakaway on Hank. Lundqvist is one of the best goalies in the league when he isn't being left out to dry, and that needs to be exploited as much as possible if the Rangers want a return to the Cup.
If the Rangers really plan to be contending next season, they've got to do something. I feel as if this is a best case scenario, but it's a very possible scenario that could play out if the front office decided it was a good time to add a few fresh faces who could put up big output for the team.