The Rangers came into training camp knowing that there would be some difficult decisions to be made, and with only one game left they have gotten some of their work done, but not all. As it stands the Rangers must decide what to do with Dylan McIlrath and Rapheal Diaz on defense, while also managing forwards Jayson Megna, Emerson Etem, and Tanner Glass. The team could keep 23 players, but may keep less for some cap relief.
Up Front
Here is a rough draft of the Rangers forward core,
Miller- Brassard- Zuccarello

Kreider- Stepan- Nash

Stalberg- Hayes- Fast

Lindberg- Moore- Stoll
At the start of camp Viktor Stalberg, Oscar Lindberg and Jarret Stoll were also in the mix of players who didn't have a defined role, but as camp has moved along, all of them have been steady. Stalberg has shown off his blazing speed and physicality, and  looks like he will be suiting up on the wing of the Rangers' third-line; while Stoll appears to be slated for the fourth-line with Lindberg (who has been excellent). This would leave one forward spot open for the remaining guys; and that would be as this teams 13th man.
You would have to think that Etem has the edge over Glass and Megna considering the Rangers traded Carl Hagelin for him over the off-season; but to this point Etem hasn't been great. I see him getting the job because of his speed, upside, and the fear of losing him to waivers. If it was based solely on the camp they might end up giving the job to Megna. Glass on the other hand has grit going for him, but again it's hard to see the Rangers dismissing a very skilled young player for a hard nosed winger.
1/2 Vigneault makes it clear that Tanner Glass must earn roster spot. "We all know skill set he brings and we don't have a lot of that…

— Larry Brooks (@NYP_Brooksie) September 24, 2015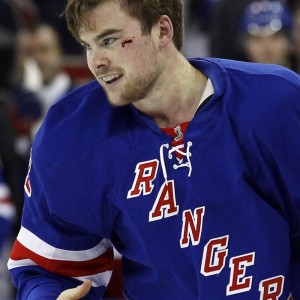 Defense
Right now the battle for the seventh defenders slot sits between Diaz and McIlrath; and to this point I would give the job to McIlrath. He has been sound in his own end, responsible with the puck, and physical. In the past McIlrath would make some bad decisions that always seemed to end up in the back of the net, but thus far he has been calm under pressure and he has shown massive development.
Diaz is suited for the Rangers style, but aside from his two goal outing against the New Jersey Devils, Diaz has been less than stellar. He has been good with the puck, but just "ok" in his own end. What makes the discussion difficult is that Diaz is more cut out for a role as a seventh man. McIlrath is 23-year-old and is now finding his game, so you have to think that the Rangers want him playing. Diaz on the other hand is 29 and is a journeymen defender. The situation is sticky, because the Rangers can't just send McIlrath down, he would have to pass through waivers, and I don't see anyway that this kid goes unclaimed. I also can't see the Rangers being willing to just lose him for nothing after putting so much time and effort into his development. Rangers' Head Coach Alain Vigneault spoke to the media about McIlraths' game following Monday's contest against the Flyers, "The last two periods of the Jersey game and tonight, he's been very dependable, on the ice. He's made some smart plays with the puck, so that's good to see."
My Take
I have been so impressed with McIlrath thus far, that I would have him in my top-six. He has shown huge improvements in his skating, and is much more confident with the puck. The bonus with him, is that he instantly becomes one of the toughest guys in the league. This pre-season has had plenty of heated moments, and that should help the Rangers realize how valuable a gritty defender can be.
As good as I think the veterans have been I have to note that the Rangers defense isn't very young, and if they are going to compete in the coming years then they will need to get some fresh blood back there.
On the forward front, I can't see how Etem doesn't grab the role as the spare man. He hasn't been great, but he has been showing speed and determination. I love how Glass plays, but he simply looses his value if McIlrath makes the club, and Megna is good, but there is a reason that the Rangers grabbed him as a free-agent. I think we will end up seeing Etem and Lindberg both bouncing in and out of the line-up for one another, which would allow each guy to get accustomed to the team.
Whatever the Rangers do, they will be leaving some good players off their opening night roster, but I suppose that's a good thing for the organization.