Even before it was announced that Johan Franzen had been cleared to play NHL hockey again, the Red Wings found themselves with a big problem: too many forwards.
This was supposed to be the year that the youthful Red Wings finally cemented their place in the lineup. As it stands, the Red Wings are $2.4 million over the cap (without using any LTI relief), with 17 forwards listed on their current roster. This list includes Andy Miele, who is very unlikely to play in the NHL this year, but also doesn't include Eric Tangradi who signed with the Red Wings back in July, possibly to a two-way contract.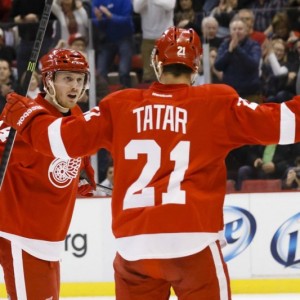 Salary cap problems aside, how do the Red Wings field a forward corps this year? With Landon Ferraro the only forward with a known two-way contract, there is a good chance he starts the year in the AHL, but who else will join him?
Assuming Datsyuk doesn't start the season healthy, the Red Wings lines could look something like this.
Zetterberg – Richards – Helm
Tatar – Sheahan – Nyquist
Jurco – Andersson – Franzen
Abdelkader – Glendening – Miller
Pulkkinen
As mentioned before, Ferraro will likely be in the AHL to start the season, and there is a chance that Tangradi will as well. Rumour has it that Daniel Cleary will be demoted. If that's the case, that 13th forward spot would belong solely to Teemu Pulkkinen while Datsyuk is out. Pulkkinen and Tomas Jurco will most likely swap places during that time, as Jurco struggled at the end of last season, and saw a fair amount of time on the fourth line.
As soon as Datsyuk returns, things get a bit more complicated.
Zetterberg – Datsyuk – Helm
Tatar – Richards – Nyquist
Jurco – Sheahan – Franzen
Abdelkader – Glendening – Miller
Ferarro/Pulkkinen/Tangradi/Cleary/Andersson
I left the fringe forwards at the bottom to give a glimpse of who will be fighting for the last roster spot. This Red Wings log jam only gets further complicated when you consider the likes of Mitch Callahan, Dylan Larkin, Anthony Mantha and Dominic Turgeon all hoping to crack the NHL roster this year.
With the problems they have up front, there is a small possibility the Red Wings trade some of their utility forwards. Ken Holland is more likely to waive the player at risk of being taken, than to trade them away. We saw last year that people have their eye on fringe Red Wings players, as Andrej Nestrasil was claimed last year by the Hurricanes, so there is a very good chance that if players such as Andersson were waived, they would be claimed.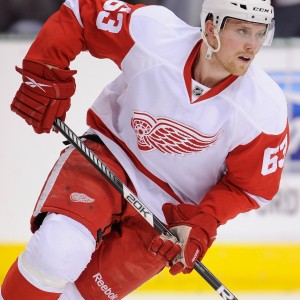 When all is said and done, there is only a small chance that Joakim Andersson ends the season as a Detroit Red Wing. He is 26 years old, and hasn't progressed at the same speed as Gustav Nyquist.  He has also been surpassed by younger players such as Tomas Tatar. He makes $215, 000 more than Ferraro (another fringe forward), $80,000 more than Pulkkinen, and $190,000 more than Luke Glendening. His age and pending UFA status may be a draw for teams looking for some depth scoring (I use the term "depth" very loosely here as Andersson only put up 8 points in 68 games last season) by plucking him off of waivers.
It's hard to say what Holland's thought process was in signing Tangradi. Originally, fans thought he would be a great addition to the fourth line, before noticing the Brady Bunch scenario that the Red Wings found themselves with up front; I won't even get into the politics behind the Cleary signing. With Pulkkinen's rising stock, is there even a spot for him on this roster? Will he get his shot after an injury to the team's top six? 
This season is sure to be an interesting one for the Red Wings. The 12 forwards who start the season on the roster could be vastly different from the 12 who finish the season on that same roster.