For hockey fans who've seen Miracle, the excellent movie about the 1980 U.S. Olympic Hockey Team, one scene in particular stands out. Following a lackluster performance in an exhibition game against Norway, Coach Herb Brooks (played by Kurt Russell) keeps his team on the ice for an excruciating session of "Herbies," the infamous blue line-back, red line-back, blue line-back and goal line-back sprints. The cadence of the whistle, followed by Brooks' insistent call, "Again," echoes through your mind long after the movie ends. That must be how the Florida Panthers and their fans feel.
Last spring, the Panthers fell short of the playoffs. Again. It was their third consecutive year without a post-season appearance. Again. The 2014-15 campaign also marked the thirteenth of the last fourteen seasons in which Florida failed to make the playoffs. Again. Frustration, pressure and fatigue have built up over time. Fortunately for the team and fans, a new day is slowly dawning in Sunrise.
In 2014-15, the Cats occupied, or were tied for, the eighth (and final) playoff seed through the first 40 games of the season. They remained in the playoff hunt until mid-March, when injuries to key players Roberto Luongo and Nick Bjugstad dashed the Panthers' post-season hopes.
Florida struggled to score through the first three-quarters of the season, averaging a paltry 2.28 Goals/Game. When GM Dale Tallon acquired future Hall of Famer and ageless wonder Jaromir Jagr at the trade deadline, both "Jags" and the Panthers were reinvigorated. Over their last 22 games, Florida compiled a record of 12-7-2 while averaging 2.81 Goals/Game. Tallon wasted no time, signing Jagr to a one-year deal less than 24 hours after the regular season ended. Can the 43-year-old superstar and his teammates pick up in October where they left off in April?
2014-2015 RECORD:  38-29-15 (6th in the Atlantic Division)
KEY ADDITIONS:
Jaromir Jagr
Reilly Smith
Lawson Crouse
Rocco Grimaldi
KEY LOSSES:
Brad Boyes
Jimmy Hayes
Sean Bergenheim
Tomas Fleischmann
Scottie Upshall
Tomas Kopecky
FORWARDS:
Projected Lines:
Huberdeau-Barkov-Jagr
Crouse-Bjugstad-Smith
Jokinen-Bolland-Grimaldi
Pirri-Mackenzie-Trocheck
Jaromir Jagr
The Panthers were a different team after acquiring Jaromir Jagr, averaging .53 Goals/Game more with number 68 in the lineup. Jagr was a different player, too. His Goals per 60 minutes jumped from .67 in New Jersey to 1.07 in Florida, while Points per 60 went from 1.76 to 3.2 and Corsi For % rose from 55.73 to 60.73. Dale Tallon didn't ink him to a one-year deal merely for his production, though. Jags' on- and off-ice leadership, as well as his ability to serve as a mentor/role model for the Cats' young and talented core, made the signing a no-brainer. The Czech winger has said he'd like to play until he turns 50, but the question must be asked: Will Jagr, who turns 44 in February, have enough gas left in the tank for a productive 2015-16 season (and a potential playoff run)? If so, fans in Florida can look forward to more of this in the months ahead:
Jonathan Huberdeau
The Panthers' first round pick in the 2011 NHL Entry Draft is meeting the expectations associated with being selected third overall (behind only Ryan Nugent-Hopkins and Gabriel Landeskog) and winning the Calder Memorial Trophy in 2013, as he's rapidly become Florida's top left wing. Huberdeau's 2014-15 stats reflect the "Jagr Effect": In 58 games pre-Jagr, he posted a stat line of 9-24-33 and a Shooting % of 7.32. With the superstar, his stats changed considerably: 21 GP, 6-15-21, S% 12.77. Can Huberdeau maintain that point-per-game pace over a full season on a line with Barkov and Jagr? If so, he'll enter "elite" territory. Before that can happen, however, the restricted free agent has to sign a new contract. As of this writing, George Richards, Panthers beat writer for the Miami Herald, had the most recent updates on the situation:
Word is #FlaPanthers and Jonathan Huberdeau have agreed on total years of new contract; negotiation on money continues. Two sides talk today

— George Richards (@GeorgeRichards) September 3, 2015
#FlaPanthers Dale Tallon confident Jonathan Huberdeau deal will get done before camp opens. — George Richards (@GeorgeRichards) September 11, 2015
Applying a bit of pressure to the young left wing, the Panthers have in recent days invited UFA left wings David Booth and Martin Havlat to training camp on tryouts. Both the team and Huberdeau would benefit from getting a deal done prior to camp.
Lawson Crouse
Another one of Dale Tallon's first rounders, Crouse was taken eleventh overall this past June. Tallon stated plainly that the 6'4″, 215-pound left wing will be given every opportunity to earn a spot on one of the Panthers' top-two lines. Certainly, the Panthers would love for the eighteen-year-old to spend an entire season under the mentorship of  Jaromir Jagr. Though Crouse, described as a "prototypical power forward," didn't put up the gaudy numbers in the OHL one might expect of a top draft pick, his style of play is reminiscent of Rick Nash, as this highlight reel shows:
Nick Bjugstad
Florida's leading goal scorer in each of the last two seasons missed the last ten games of the 2014-15 campaign after undergoing back surgery. In a late-May interview, Bjugstad stated he was "…feeling 100 percent." That's great news, as the still-developing 23-year-old is already an offensive force and solid no.2 center. Should Lawson Crouse make the big club out of training camp, the temptation to pair the 6'4″ winger with 6'6″ Bjugstad will be strong (and opposing defensemen would surely wince every time the two towering power forwards stepped onto the ice), but second-year coach Gerard Gallant might want to split these two big Cats in order to give the team a strong net-front presence on each of the top two lines. No matter who skates on his wings, Bjugstad is expected to be one of the Panthers' top producers once again.
DEFENSE:
Projected Pairings:
Campbell-Ekblad
Kulikov-Gudbranson
Mitchell-Petrovic
Aaron Ekblad
Any eighteen-year-old defenseman would benefit from being paired with Brian Campbell, a veteran offensive defenseman with a Stanley Cup ring and four All-Star Game appearances to his credit. Aaron Ekblad certainly made the most of it, netting 12-27-39 in 81 games and skating away with the Calder Memorial Trophy. Also of significance, his CF% of 57.65 was tops among Panthers who played at least 21 games. The top pick in the 2014 NHL Entry Draft is poised to be the star of the Florida defense corps for years to come. Going into the 2015-16 season, the only question is: What will Ekblad do for an encore?
Brian Campbell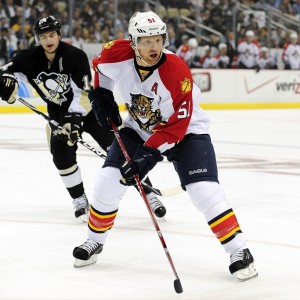 As alluded to in the above paragraph, Campbell was instrumental in Ekblad's rookie success, mentoring him in all aspects of the game. The smooth-skating puck mover did see an alarming drop in points last season, posting 3-24-27 along with a near-career-worst Shooting % of 2.5 (he had 7-30-37 and a 6.0 S% in 2013-14). Whether the drop in production can be attributed to a combination of simple bad luck and his teammates' struggles to score or to the natural decline of a player in the twilight of his career remains to be seen. Assuming he stays healthy, the 36-year-old will play his 1,000th NHL regular season game late in the coming season. "Soupy" is entering the final year of his contract, so his performance through the first half of the season will be a factor in whether the Panthers attempt to re-sign him, move him at the trade deadline or simply let him walk next summer.
Dmitry Kulikov
Dmitry Kulikov turns 25 and begins his seventh NHL season in October. Like Ekblad, Kulikov was drafted in the first round by the Panthers and jumped straight into the NHL. Unlike his Calder-winning teammate, the Russian defenseman might've been better served by spending a year or two in the minors first. Though his first three seasons showed great promise, his development was impacted by injuries and coaching changes (Gerard Gallant is Kulikov's fourth head coach in Florida). 2014-15 was a bounce-back year for Kulikov, however. If he continues to progress, he'll be a solid, and sometimes spectacular, no.2-3 defenseman in Sunrise.
Erik Gudbranson
Remember the "Taylor vs. Tyler" debate leading up to the 2010 NHL Entry Draft? Erik Gudbranson was the third player taken in that draft. He was selected ahead of Ryan Johansen, Vladimir Tarasenko and even Nick Bjugstad, among others. With a high pick comes high expectations, and Gudbranson has struggled to meet them. Everyone, including the 23-year-old defenseman, would be better off understanding what he is, and is not, as a player. Erik Gudbranson isn't a top-pairing, puck moving, power play quarterback; he's a rock-solid, hulking (6'5″), crease-clearing, forward-flattening, shutdown defenseman. He makes his defense partners better by allowing them to be more creative offensively, safe in the knowledge that no.44 has their back. While his decision-making with the puck could stand improvement, Gudbranson is still an above-average top-four blueliner who hasn't reached his ceiling.
GOALTENDING: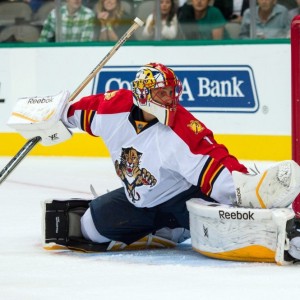 Florida's starting goalie, now and for the foreseeable future, is Roberto Luongo. The 36-year-old netminder is under contract for six more seasons after 2015-16, having signed a cap-circumventing deal with Vancouver before such contracts were outlawed by the current CBA. While age may be a concern, Luongo's stats (.921 Sv% and 2.35 GAA last season) indicate he's in the prime of his career. Clearly, he's a happier, more relaxed goalie in Florida than he was in Vancouver. The Panthers need more than just a happy goalie, though; they need a healthy one. The 61 games Luongo played last season marked his most appearances since 2009-10, but he missed two critical weeks in early March due to injury. 60 games is ideal for the starter, given his age, but Florida needs a dependable backup to allow Luongo some off nights without hurting the team. Al Montoya had a sub-par season in relief (and was injured, too), and will be challenged in training camp.
BREAKOUT PLAYER:
The top line center on any team might seem an odd choice to "break out," but Aleksander Barkov fits the bill perfectly. Just seventeen when Florida made him the second-overall pick in the 2013 draft, the Finn turned eighteen less than two weeks before his first NHL training camp. Florida's approach to developing top prospects seems akin to teaching a child to swim by throwing him into the deep end of the pool. Over the last two years, young Barkov has slowly, steadily learned to swim in the NHL's unforgiving waters. While his defensive game has developed nicely, Barkov's offensive maturation has lagged. He, like Huberdeau, benefited greatly from Jagr's arrival in Sunrise, finishing the season with 7-8-15 in the last 21 games, for a total of 71 GP, 16-20-34. Obviously, top line centers need to produce more than 34 points. The 20-year-old pivot begins his third NHL season next month. A full season with Jagr on his wing will do wonders for Barkov's offensive game, and should be reflected in his stat line.
PLAYER WITH MOST TO PROVE: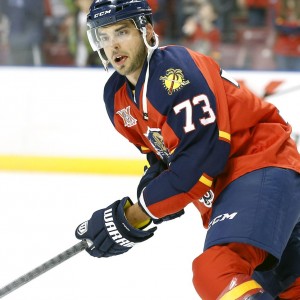 Brandon Pirri is a sniper, plain and simple. In a 26-game stretch last spring, he found the back of the net 19 times. The winger finished the season with the rather bizarre stat line of 22-2-24 in 49 games, making Pirri the number two goal scorer on the team. While his goal scoring is impressive, injuries and healthy scratches limited his appearances. The questions facing the 24-year-old ex-Blackhawk going into the 2015-16 campaign are:
How long can he keep up his sky-high shooting percentage (15.2% through 105 NHL contests)?
Can he correct his defensive deficiencies and become a solid two-way player?
Can he beat out Lawson Crouse for a spot on one of the top two lines?
Prior to training camp, Pirri can be penciled in on any of the bottom three lines. Where he ends up in October, and whether he's still there in April, will be determined by the answers to these questions.
SEASON OUTLOOK:
Dale Tallon has done a fantastic job of drafting high-end talent since becoming general manager in May 2010. While the GM has developed much of that talent by "throwing them into the deep end of the pool," he's also made it a point to keep those players in the Panthers' pool, rather than trading them away in a misguided attempt to "win now." In shedding the contracts of veteran forwards Brad Boyes, Scottie Upshall and Tomas Kopecky, Tallon has created roster space for still more youngsters, giving them the opportunity to absorb all they can from their older, superstar teammate. Florida fell seven points short of a playoff berth in 2014-15. Prior to Jaromir Jagr's arrival, they were on pace for 87 points. With Jagr in the lineup they went 12-7-1, a 103-point pace which would've been good enough for third place in the Atlantic Division. Which version of the Panthers will we see in 2015-16? Florida enters the 2015-16 season with multiple emerging talents on the roster, led by a 43-year-old future Hall of Famer forward, a 38-year-old captain on the blue line and a 36-year-old goalie. If the veterans can feed off the energy of their young teammates…if they can stay healthy…a 98-point season and a return to the playoffs isn't out of the question. On the other hand, if Jagr's tank finally runs dry or Luongo misses significant time, the Panthers could come up short. Again. One thing's for certain: This team is heading in the right direction. It's morning in Sunrise.  
Matt blogged about all things hockey at On Goal Analysis/The OGA Blogs from 2008-2014 and has written several travel articles for The Dallas Morning News. He began covering the Dallas Stars and Florida Panthers for The Hockey Writers in August 2015. Matt is also writing a biography of "Tex" Rickard, the Texas cowboy who founded the New York Rangers and the Madison Square Garden Corporation.